Back on August 30th, I wrote about Verizon Communications (NYSE:VZ), and recommended staying away from buying the stock because the dividend yield wasn't high enough at the time. I promised to take a second look at the company once the yield exceeded 4.75%. As of today, Verizon yields 4.8%, and so I think it's worth a look.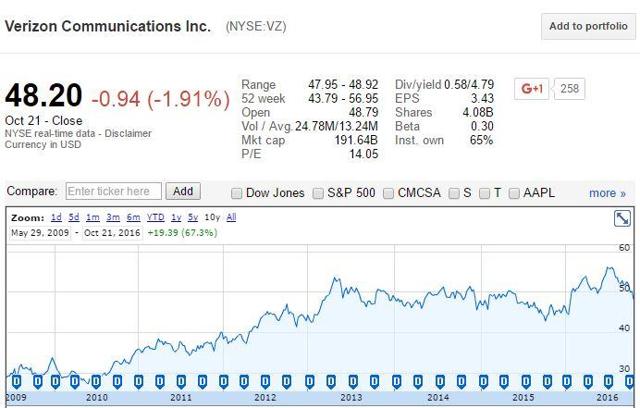 Click to enlarge
Courtesy of Google Finance
Verizon's yield is higher since late August for a couple reasons. First, shares have dropped from $52.50 per share to $48.20 today. Second, Verizon raised its dividend by another 2.2%. This article takes another look at Verizon, with the latest quarterly performance, and the news of potential acquisitions, in mind.
A Tough Quarter
The headline numbers from Verizon indeed do not look very good. Some of that, but not all, is from divestitures. EPS declined 2.9%, and revenue declined a much more noticeable 6.7% versus the same quarter last year. Excluding the divestiture of its enterprise landline business to Frontier Communications (NYSE:FTR), revenue declined by only 2.9%.
Even without the divestiture, revenue and EPS are declining. Much of that is because 4G net post-paid subscriber adds are declining, meaning that data demand growth should be slowing. Of all Verizon's wireless, postpaid customers, 83.7% are now on 4G LTE. A brief walkout from union employees also affected things somewhat.
In addition to this, Verizon continues to move away from the smartphone subsidy model. For Verizon, this means more up-front money for equipment, but to compensate, the company is having to maintain low monthly rates for data and voice, just like most other telecoms are having to do. For this reason, wireless revenue declined another 3.9%. I suspect this headwind will not be removed until Verizon starts lapping previous quarters with fewer phone subsidies. Also, new smartphone releases should help boost equipment revenue.
Verizon's "wireline" business is faring better. Its revenue was up 0.2%. While much of the landline business continues to be in decline, Verizon's broadband and cable service, FiOS, saw revenue grow 4.2%, and that slightly more than offset the declines.
Clouds of Uncertainty
If this latest quarter's news was the only news about Verizon, I'd be very tempted to pick up some more shares here. However, all of this news is being eclipsed by the potential deal between Verizon and Yahoo (NASDAQ:YHOO), and whether it will even go through. The deal was originally slated to be a $4.8 billion cash transaction, but that could be changed due to the recent data breach at Yahoo.
As it is, I'm not sure how I feel about the Verizon and Yahoo deal. In 2013, just three years ago, Verizon did a massive acquisition of Vodafone Plc's (NASDAQ:VOD) 45% stake in Verizon Wireless, which was, at the time, one of the biggest corporate deals ever done. At the time, Verizon's credit rating was knocked from A3 to Baa1, down one notch. Management expects not to recover its credit rating until 2018. The plentiful number of acquisitions since then, Huffington Post, AOL Inc., Fleetronics and now potentially Yahoo, are not helping Verizon's effort to repair the balance sheet, especially because the Yahoo transaction will be for cash.
Telecoms appear to have readily accepted the fact that lines between entertainment and telecommunications have blurred as consumers use smart phones and tablets to watch sitcoms, movies and sports events. Looking at the rash of latest acquisitions; Verizon of AOL Inc., Huffington Post and now potentially Yahoo, AT&T (NYSE:T) of DirecTV and now Time Warner, Inc (NYSE:TWX), and Vodafone of various cable businesses throughout Europe, it seems to me that these companies are scrambling for assets, perhaps in fear that the other guy might snap them up instead.
When acquisitions turn into "feeding frenzies," as I believe is happening here, that's when I get a little hesitant to pull the trigger. I'm already long Verizon, and will stay long. A $4 billion acquisition isn't a game changer for a company with a $190 billion market cap, but I do want to keep my money on the sidelines until there is more clarity as to what the telecom space will look like when all the dust settles. This isn't a shot at Verizon as a company itself, but I just see a lot of uncertainty in the overall industry. As a long-term income investor, I've learned to be averse to uncertainty in most cases. The rest of the market certainly is.
Valuation & Conclusion
There's no denying that Verizon is fairly cheap. It trades at 12.3 times trailing, operating earnings. According to data from FAST Graphs, the stock has averaged 15.3 times trailing operating earnings over the last 10 years. This puts Verizon at a 24% discount; not bad at all. It is tempting. The dividend is also only about 58% of free cash flow, so that's not bad.
I am tempted to add shares of Verizon, but here is what would push me over the edge: One way or another, I'd like to see some more clarity with the Yahoo deal, and at this point, I'd also like to know just how much Verizon plans to acquire. I fully understand the need to move over to entertainment in order to remain relevant in a world where communications and programming are merging, but I think these acquisitions have to be balanced. Right now, for the industry as a whole, I see a scramble for assets. My fear is that we will wake up one morning and see Verizon, or any other big telecom, making a huge acquisition along the lines of similar media acquisitions that happened in the early 2000s. If history is any guide, those don't tend to end very well.
Therefore, I don't believe there is much harm in waiting to watch the dust settle. I don't know what the telecommunications space will look like in five years, but frankly, at this point, most CEOs probably don't know either, and the rapid-fire pace of these landmark acquisitions is giving me pause.
As for Verizon in particular, I do think it has been the most measured of the major telecoms in terms of big acquisitions, and that counts for something. I will continue watching Verizon Communications, and will recommend it when I believe the time is right and things are a bit more clear. If you're interested in Verizon, feel free to follow me here on Seeking Alpha. I intend on writing update articles when doing so is both material and relevant.
Disclosure: I am/we are long VZ.
I wrote this article myself, and it expresses my own opinions. I am not receiving compensation for it (other than from Seeking Alpha). I have no business relationship with any company whose stock is mentioned in this article.