By Parke Shall
The bad news simply continues to pile up for Concordia International Corp. (NASDAQ:CXRX). The company, under intense scrutiny by short sellers, has seen the price of its equity get absolutely destroyed over the last six months.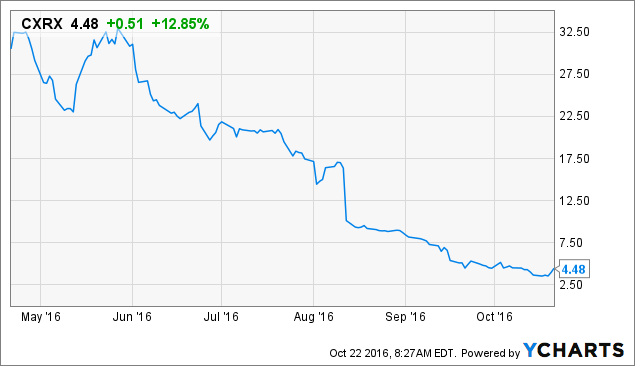 CXRX data by YCharts
This all came to a head on Friday afternoon when it was announced that the company was reviewing a succession plan for resigning CEO Mark Thompson who had adamantly fought for the company up until just recently. Bloomberg reported:
Concordia International Corp. announced that its founder, Chairman and Chief Executive Officer Mark Thompson, will leave the specialty pharmaceutical company once a successor is named.

The company's shares surged 19 percent to $4.75 at 2:40 p.m. in New York, after earlier trading as high as $5.55, the biggest gain since January 2014. The shares are down 85 percent in the past 12 months through Thursday.

A search process is already underway for new leadership, the Oakville, Ontario,-based company said in a statement. No specific reason was given for Thompson's departure from Concordia, which recently completed a $350 million debt offering. He and the board agreed that it was an "ideal time" for a change, said Jordan Kupinsky, the company's lead independent director.
We had written about Concordia a couple of times in the past, advising to avoid owning the company based not only on its alarming debt levels, but also on the actions of the company CEO. It was in the news a couple of weeks ago that the CEO came out and filed a lawsuit against a critic of the company, a move that we could only describe as a red flag that we've seen from several companies fending off short sellers who usually have good points. In this case, Concordia is very similar to the Valeant (NYSE:VRX) story. It is a roll-up pharmaceutical company that has extremely high debt ratios and relies on non-GAAP accounting that does not take into account the constant cost of acquisitions to produce good quarterly numbers.
Some may be thinking that CEO Mark Thompson stepping down could be a good sign. We read several arguments on social media over the last two days suggesting that his departure may finally be an inflection point for the stock price and that the new CEO may help lead a turnaround at the company that could see the equity price recovering. We could not disagree more, and we wanted to talk about why in this article.
First, Thompson had been vehemently defending the company as recently as a couple of weeks ago. He canceled an appearance that he was supposed to make on BNN a few weeks ago as well, leading us to believe that this transition from his role may have been in the works for some time now. There have been speculation and musings online that Thompson's piece of the Concordia puzzle still is not over, but we are not in a position to make any assertions about Thompson going forward without any evidence.
The sequence of events - Thompson vehemently defending the company of late and suing a critic, then stepping down just weeks later - should be an alarming turn of events that should give all investors a prompt to question what is taking place behind the scenes with Mr. Thompson and with Concordia. Another piece of the puzzle that concerns us is the fact that the company does not have a new CEO lined up. A lot of times when a CEO decides to step down, they are often transitioned by an independent director or C-Level executive (or anybody else) who can step in an interim role while a new CEO is being looked for.
In this case, Concordia's press release indicates to us that nobody has been found to fill the spot as of yet, and while a committee on the board looks for a replacement, the company will continue without the highest of its executive level positions. The looming problem is that when you are dealing with a company that is as levered as Concordia is, nothing is off the table. The company just raised $350 million in a small round of debt financing, only adding to its debt total. More debt is not the answer for a company as levered as CXRX. The company now has 3.26B in debt, or about 8x EBITDA, and just $145M in cash, according to Yahoo Finance. When there is this much debt, the creditors and those senior on the capital structure are the only parties with any leverage or anything to realistically look forward to.
There is a way to draw a straight line to bankruptcy for Concordia, although the company has not commented on this, and we are simply speculating. Surely, if the company was considering these options, having the CEO resign and moving forward without a new CEO could be a piece that fits into that puzzle. Again, this is speculation, but with as much debt as Concordia has, it is a real possibility that investors must weigh. We have been short Concordia on and off over the last six months. Given the volatility in the price action on Friday, we are not going to establish a new position in the company at any point. We continue to believe that the company should be treated with a significant amount of skepticism and avoided by investors.
Disclosure: I/we have no positions in any stocks mentioned, and no plans to initiate any positions within the next 72 hours.
I wrote this article myself, and it expresses my own opinions. I am not receiving compensation for it (other than from Seeking Alpha). I have no business relationship with any company whose stock is mentioned in this article.