This is the fifth article in a series comparing the largest Canadian banks. Feel free to check out the articles on The Bank of Nova Scotia (NYSE:BNS), Toronto-Dominion Bank (NYSE:TD), The Royal Bank of Canada (NYSE:RBC), and The Bank of Montreal (NYSE:BMO).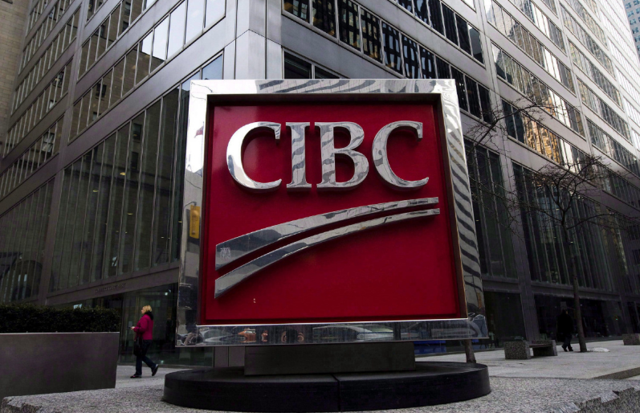 The Canadian Imperial Bank of Commerce (NYSE:CM) is the fifth largest bank in Canada, with a market capitalization of ~$30B (NYSEARCA:USD). They have been in business since 1867 and have since grown to provide services to over 11M clients. CM has paid a dividend every year since 1868. This shows a conservative culture and a long history of returning capital to their shareholders.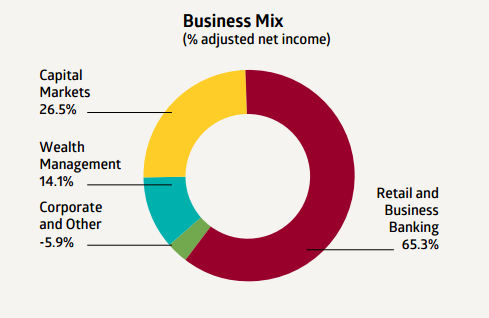 CM is the least geographically diversified of the large banks in Canada. TD and BMO are both well diversified into America, RY has operations in both the U.S. and other foreign developed markets, and BNS has expanded heavily into emerging markets. However, their acquisition of Private Bancorp should allow them to push into America, like their larger peers.
The majority of their business comes from consumer and business banking and loans. With this, they have significant exposure to Canadian mortgages. For those investors who have read my previous articles or follow Canada closely, you already know about the fears over rising home prices in Toronto and Vancouver. However, these fears are likely overblown, and steadfast banks like the big Canadian 5 should have little issue weathering a downturn.
Loan Portfolio

Loans/assets and loans/deposits are important ratios showing a bank's willingness to drive profitability through more loans, and also their ability to drive loan growth. However, a ratio that is too high can be risky, especially when defaults rise during a hard economic downturn. CM has the highest ratios in both measures than all the other banks, including Wells Fargo (NYSE: WFC), a conservative favorite south of the border. However, a common benchmark for loans/deposits is 80-90%, which they are just inside of. I don't believe their loans ratios are too high to still be considered a conservative and safe investment.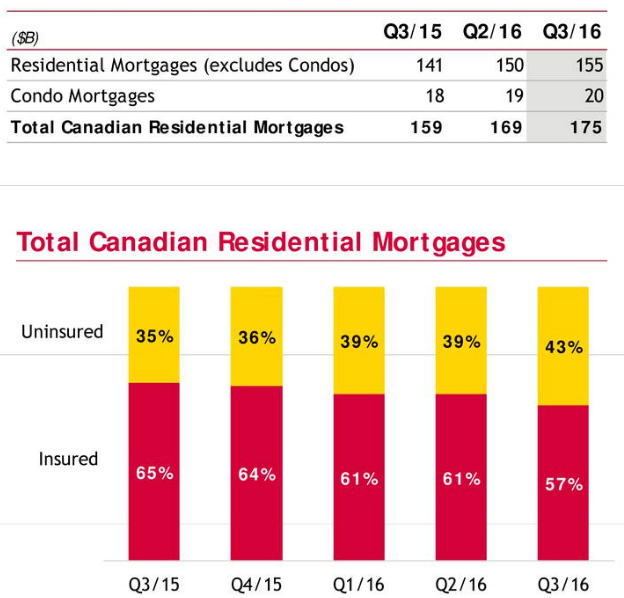 Detailed above is a breakdown of CM's Canadian residential mortgage portfolio. Notice that the majority of the loans are insured, but that number has been decreasing. They don't have a significant exposure to the condo market, which is going to be most heavily represented in the city centers, where the prices have been driven up the most. The massively inflated prices that are occurring inside Toronto and Vancouver may be overhyped, as well. Vancouver's housing market has actually seen prices decline significantly this year, while Toronto's has continued its trek upward.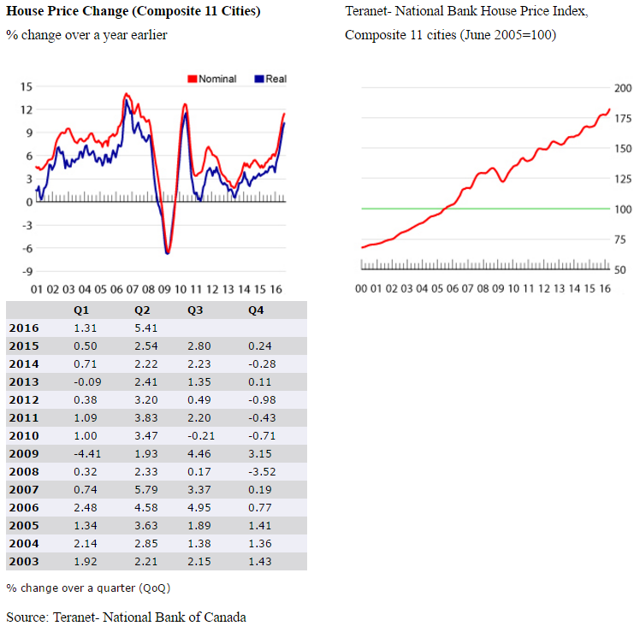 The Canadian housing market is different than America's. All that an American investor needs to hear is the words "housing bubble" to get a prickly fear and a flashback to 2008 all over again. However, there is significantly more regulation involved. Additionally, there are requirements for LTV (loan to value) and Canadian equity in their houses is significantly higher than it is in America. Although CM has less diversification, and thusly more exposure to the Canadian housing market, I would not be worried that a downturn is going to take the bank down.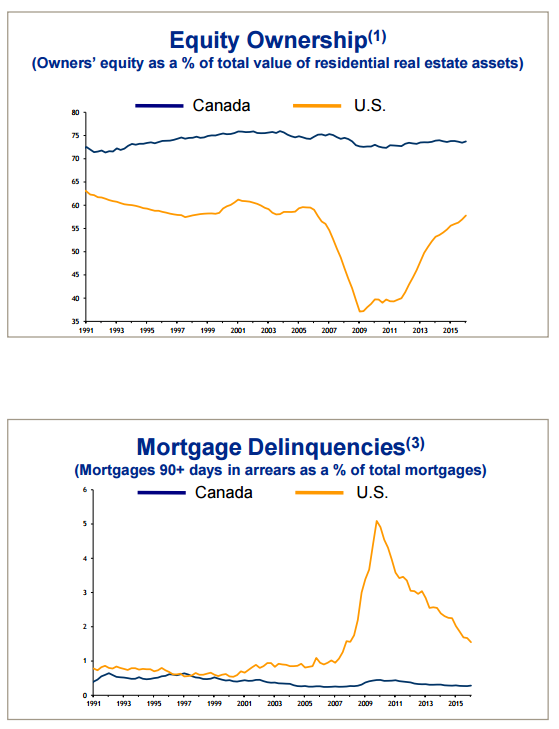 CM's oil and gas exposure has taken a turn for the better in the last quarter, as well. PCL's (provisions for credit losses) have returned to their normal level from past quarters after spiking in Q2 2016. 68% of their oil and gas loans are investment-grade, and it is likely that the greatest risks are past now that the price of oil is on the rise.
Growth
CM's acquisition of Private Bancorp was announced this last summer and will close early next year. This will lead to over 10% of their net income being earned in America, and the growth prospects should allow that percentage to grow to a quarter or more over time. This will give them a foothold in many large metropolitan areas around America.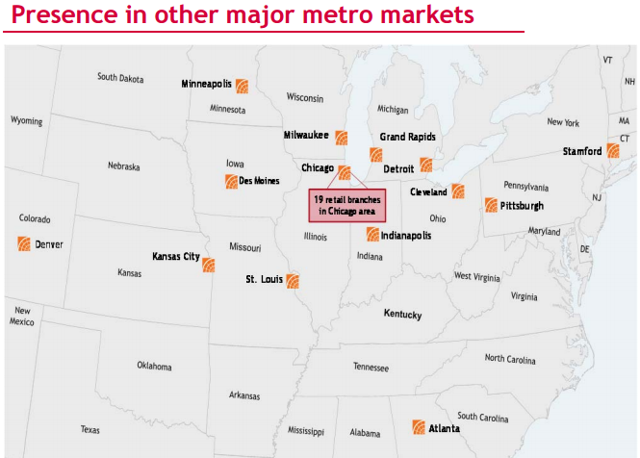 It will add a diversified portfolio of loans to CM, and should allow for faster growth and better diversification going forward. One of the biggest knocks investors have had on CM over the years is their lack of growth into markets outside of Canada, and this acquisition seems to be a win on that front.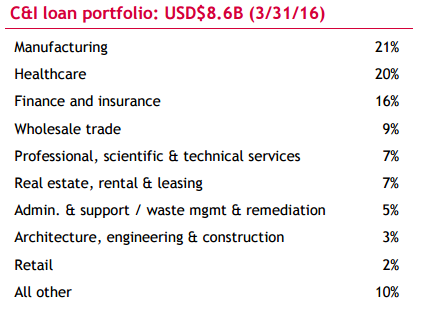 This acquisition will dilute EPS for the first 2 years and is expected to become accretive in year 3 (2019) due to the lack of synergies. However, I believe that this is management taking the long view and should place them in a better position in comparison with their peers going forward. In order to preserve their Tier 1 Equity Capital Ratio above 10%, the bank is financing the acquisition with 60% stock and 40% cash. This will dilute the share count by ~29.5 million.
CM recently launched a new type of checking account called a SmartAccount, the most recent innovation in the battle for customer deposits. These accounts charge lower fees, and is attempting to be more fair in order to drive deposit growth and higher customer satisfaction scores. This will give the bank lower fees, but it may be necessary to compete for new customers.
Financials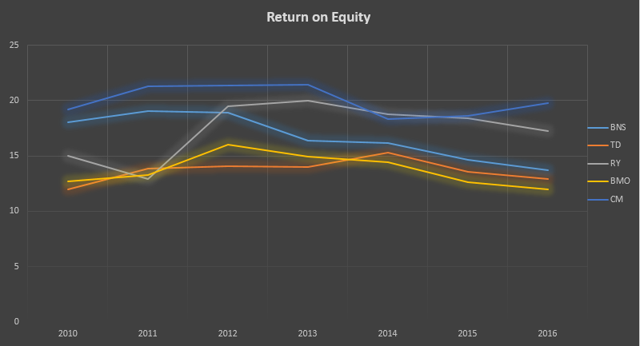 CM is leading the pack on return on equity among the Canadian banks. This will come back to Earth some with their recent acquisition, where for one they are issuing ~29.5M shares, and secondly they are expecting the acquisition to be dilutive for some time.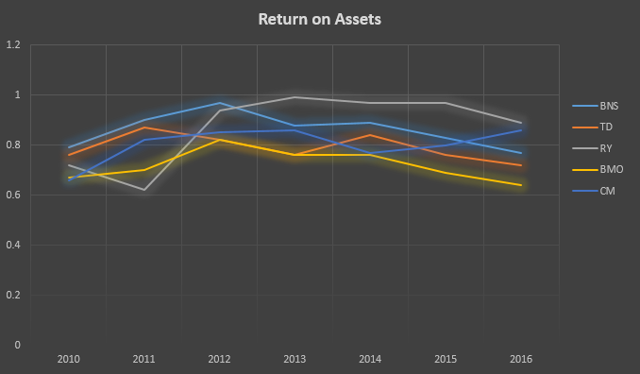 As expected from their return on equity, CM is near the top in return on assets, as well. It has been boosted by their strong net income growth over time, and I would expect future growth to be just as impressive in a few years with the recent acquisition.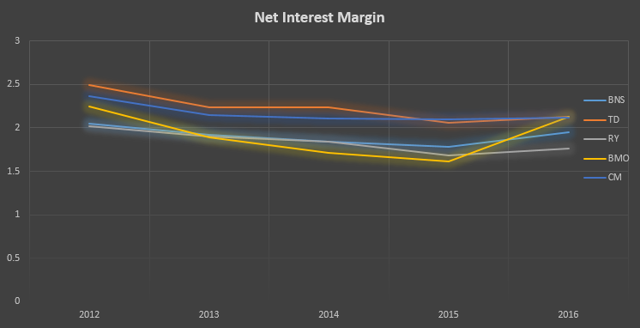 Their net interest margin serves to show how their business mix compares with peers. CM, TD, and BMO all have about the same interest margin, and investors can expect that all 5 banks will benefit hugely when interest rates rise and the net interest margin trends back up.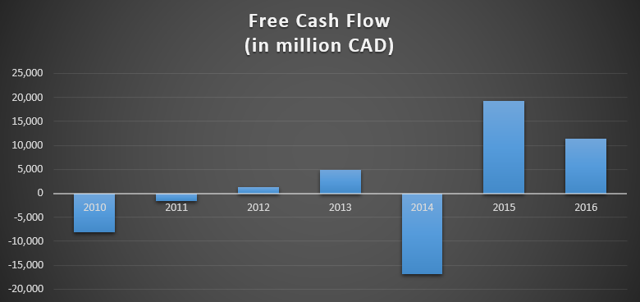 FCF ends up being my biggest knock on CM as a bank. Though more consistent than BMO, CM shows here that they don't deserve the status that the bigger 3 banks do when it comes to being a cash cow. The last 2 years have seen solid and positive FCF generation, and it can cover the dividend. However, I wouldn't expect to see aggressive share buybacks anytime soon unless they are fueled by debt. Based on the way they just acquired Private Bancorp, I doubt they want to take on any debt to drop their Tier I Ratio below 10%.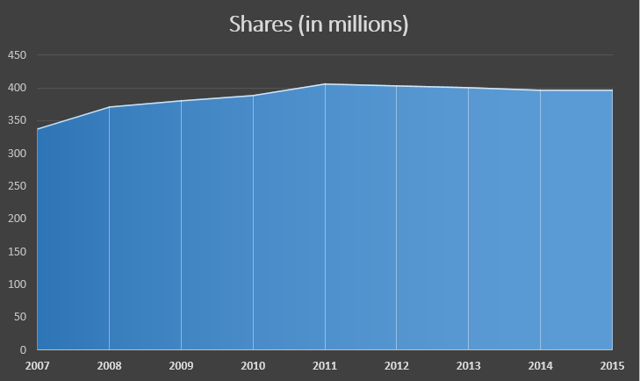 Like all the Canadian banks, CM has been a net share issuer and have diluted the shareholder equity by 16.8% since 2007. With their new acquisition, they will increase their share count to ~425M shares. This pushes them up to 25.5% dilution, in line with the other 3 banks besides RY. It could be said that CM needed to do this, in some ways. They didn't want to lower their Tier I Equity ratio by issuing debt, and in order to find growth and diversify they needed to acquire outside of Canada. I wouldn't expect them to aggressively repurchase shares any time soon, but it would be good to see them buy back the share issuance for the recent acquisition.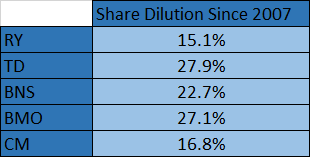 Valuation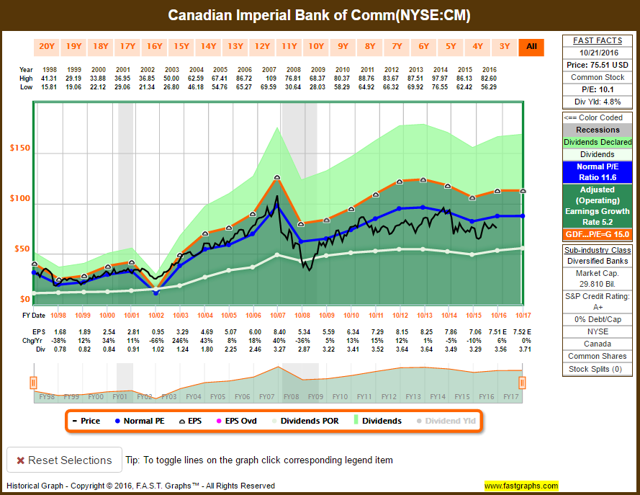 CM is probably the most undervalued of the Canadian banks today. Notice that they typically trade at around the same multiple as the rest, 11.6X. However, shares are trading for a P/E of ~10X today. Also, their dividend yield is at 4.8%, the highest of all 5 banks.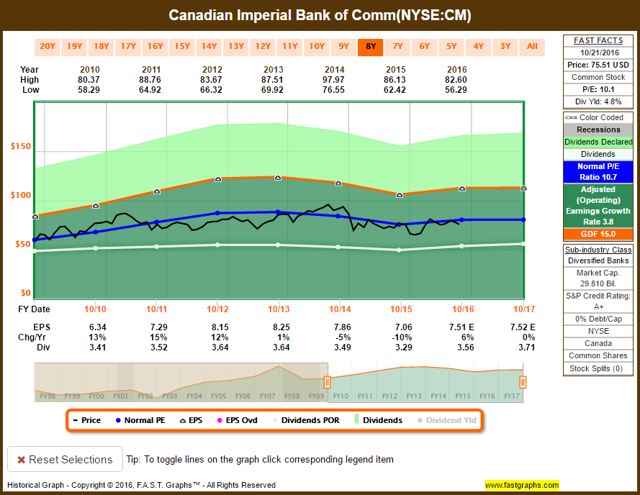 Zooming in to the 8 year view, they look slightly less undervalued, but their dividend yield is still significantly higher than the rest of the banks. BMO and BNS are ~4.2%, and CM is offering a 4.8% yield today.
Conclusion
CM is the highest-yielding, lowest priced Canadian bank today. They have recently expanded into America, and with that have some solid growth prospects going forward. They also lead the pack in ROE and ROA, at least until their acquisition closes. Like their peers, investors should watch the share issues to ensure they are not continuing to dilute shareholder equity. I believe that they make a good investment today.
If you liked this article, and would like to read more like it, please click the "Follow" button next to my picture at the top and select Real-time alerts. Thanks for reading.
Elsewhere on Seeking Alpha
Financial statistics were sourced from Morningstar, with the charts and tables created by the author, unless otherwise stated. This article is for informational purposes only and represents the author's own opinions. It is not a formal recommendation to buy or sell any stock. Please do your own due diligence and/or consult a financial professional prior to making investment decisions.
Disclosure: I/we have no positions in any stocks mentioned, but may initiate a long position in CM, BNS over the next 72 hours.
I wrote this article myself, and it expresses my own opinions. I am not receiving compensation for it (other than from Seeking Alpha). I have no business relationship with any company whose stock is mentioned in this article.