European banks (EUFN) look in deep trouble. Or at least they did. I think there is still 40-50% upside in this counter-trend rally.
The Problems
EU banks are facing two major issues:
Bad loans. As Bloomberg recently reported, 'European banks have the highest ratio of bad loans among developed countries, and progress to lower the share has been slow. According to the report, 5.7 percent of all loans were overdue on average in the first quarter, more than three times the ratio in the U.S. or Japan. The ratio varies widely, from close to 50 percent in Cyprus to around 1 percent in Sweden. High NPL levels are a capital constraint, hurt profits and limit new lending, according to the agencies.'
Low interest rates. This is a problem affecting banks across the globe. The current environment of low interest rates cuts into profit margins from lending.
Of course, the problems are complex and the above two paragraphs barely scratch the surface. As much as I'd like to, I don't have a deep understanding of the situation. I simply don't have time to research everything.
But others do. The participants who move the market leave their mark. If they are covering shorts and accumulating longs, I can often tell in the charts. The reasons are not always clear, but I assume following in their footsteps will make me money.
Reading charts is only a way of interpreting what smart money has done, what they are doing and what they are likely to do.
The Charts
The STOXX Banks EUR Price (SX7E) is a STOXX sector index for the European banks. It has 26 components, including Deutsche Bank (NYSE:DB), Unicredit (UCG) (OTC:UNCFY) and most of the large European banks. The chart shows prices are hovering around the 2009 financial crisis lows. The situation is obviously dire.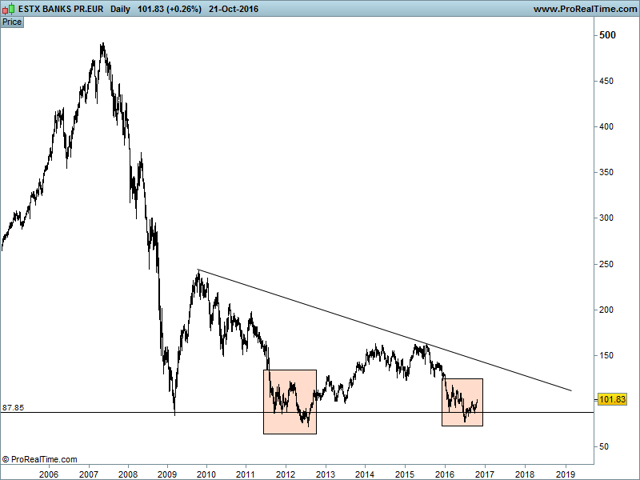 Click to enlarge
But we can still profit. Actually the above chart looks short-term bullish to me. In 2011-2012, prices tested the 2009 lows, bounced, then flushed the lows before a much larger rally. This is quite a common sequence as the last low takes the sell stops before the move higher.
The same price action seems to have repeated again in 2016. There was brief panic while the 2009 lows were taken out, but the move back above looks constructive. The trend line at 141 is a target for a 40% increase.
Mario Draghi commented in September that 'Europe has too many banks'. It doesn't fill one with much confidence when trading individual names, and is why I would suggest to stick to an index or ETF like the above. However, there are some interesting charts in the individual names too.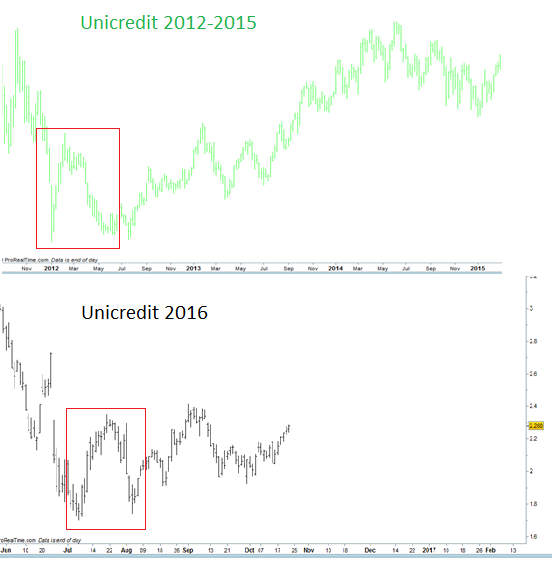 Unicredit is based in Italy and is one of the banks clearly in crisis. It trades at 95% below the 2007 highs and 40% below the 2009 lows.
The above chart shows it is bottoming in a similar way as 2011-2012. This is in a much smaller scale, but participants are obviously behaving in a comparable way. Indeed the whole 2015-2016 decline looks like a smaller version of 2010-2015; it's a self-similar fractal.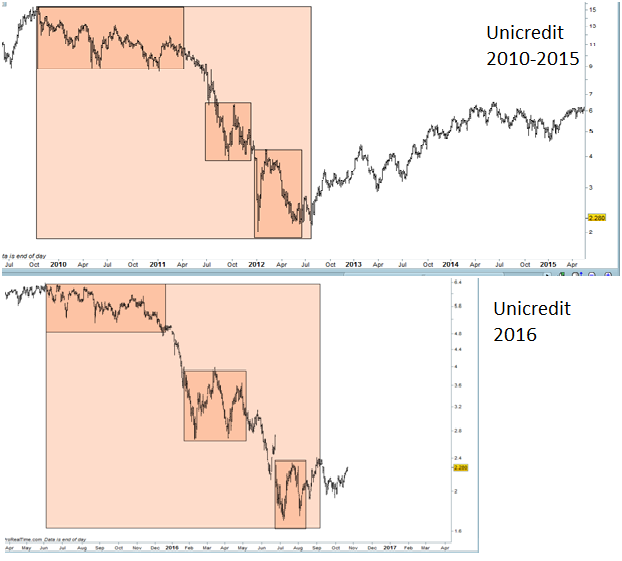 This suggests two things.
Firstly, the current rally should reach as high as 3. Again this is a 40% increase from recent prices.
It also suggests the factors driving this market are having less and less effect; prices may be moving in the same way and participants may be doing the same things, but the extent of the moves are decreasing. Eventually the pattern will weaken and new drivers will come into play.
Another interesting chart comes from a name in the eye of the storm, Deutsche Bank, which is listed on the NYSE.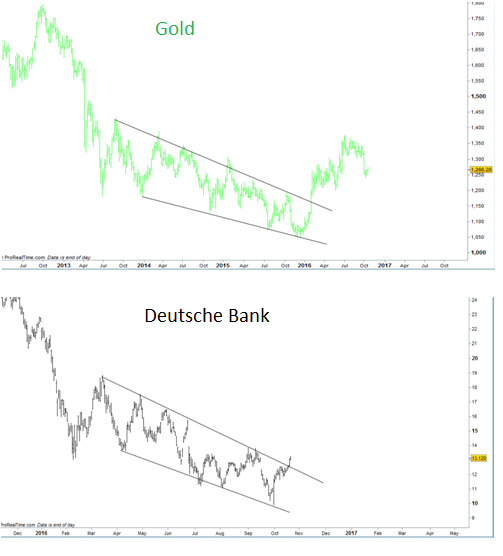 Deutsche Bank has broken from a declining wedge, much like gold did earlier in 2016. You may be asking, 'why the gold comparison'? But first let us first ask, 'is the comparison helpful'?
I called for an October bottom in Deutsche Bank back on August 2nd based on the above comparison. Later in September, I called for one more low to complete the decline.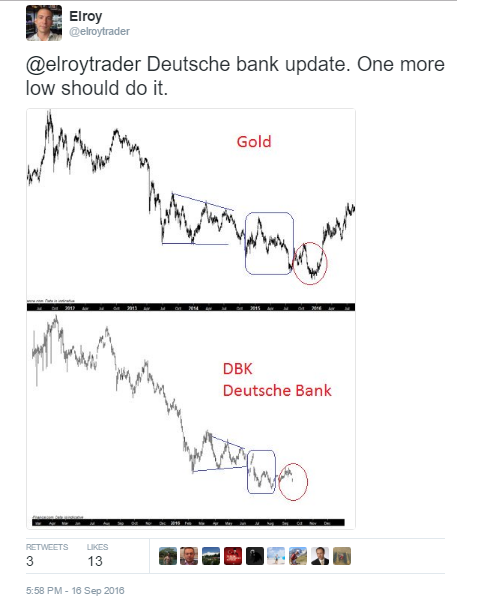 The next low was indeed 'it'. For three months, the gold comparison has helped me navigate the Deutsche Bank moves. So I can certainly say it is helpful.
A proportionate move higher as suggested by gold targets around $17.5, or around 35% higher.
If you want to delve deeper, there may be fundamental reasons for the similarities. I see gold as a leading indicator of inflation, and its reversal in 2016 may be a sign of things to come. Inflation is certainly picking up in in the EU zone. As per tradingeconomics.com,
Consumer prices in the Eurozone increased 0.4 percent year on-year in September of 2016, following a 0.2 percent gain in each of the previous two months and in line with preliminary figures. It is the highest inflation rate since October of 2014, boosted by cost of restaurants and cafes, rents and tobacco.
Rising inflation may cause the ECB to re-consider the policies that have led to negative rates in Europe. At the last ECB press conference in October Mario Draghi said there had been no discussion of extending QE. Actually he also said there had been no discussion on taper either. Quite what they have been discussing isn't clear, but they will need to reveal a whole lot more in December's meeting.
Any hint of taper could spark a rally in rates and help EU banks.
Conclusions
European banks look terrible. By the time this crisis is over there will likely be a few less of them.
That said, I currently like the banks for a medium term swing long. I'm already long DBK (Deutsche Bank listed on the German Xetra) and will add the STOXX Banks EUR Price if it pulls back to 88-90.
Disclosure: I am/we are long DB.
I wrote this article myself, and it expresses my own opinions. I am not receiving compensation for it (other than from Seeking Alpha). I have no business relationship with any company whose stock is mentioned in this article.
Additional disclosure: I am long DBK, not DB.