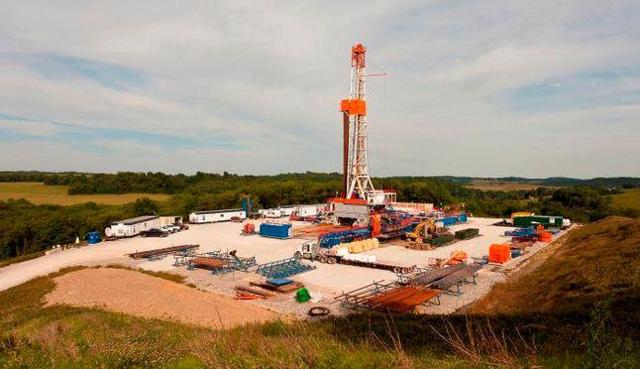 Click to enlarge
Source: Stock Photo
A lot has been made of the cut in capital expenditures on the part of oil companies since the price of oil tanked, and there is still a lag in understanding concerning the impact increased efficiencies as a result of improved technology and methodology they are having and will continue to have on the oil sector in the years ahead.
That means even though the cut in spending has been deep and real it isn't going to have the impact on supply in the near future a lot of people are predicting or concerned about.
The depth of the disruption from the U.S. shale industry still isn't comprehended by many, and it's not only on the supply side in general, but in how much supply shale producers can bring to market with far less spending.
There are still thousands of drilled but uncompleted (DUC) wells in the U.S. that can quickly be completed and add to supply without the need to spend at levels as in the past. Not only that, but the wells being brought on line are of the highest quality and they will generate more supply with less expenditure.
Failed decline rate predictions
I'm including one example of many failed conventional decline rates projections that have generated the idea production levels are ready to collapse by a significant amount.
In September 2015, it was projected that in 2016 and 2017 decline rates slash production by as much as "several million barrels per day" for each year. The caveat in that writer's view was the only thing that would stop the erosion would be to invest in a way that would maintain the current levels of output from the fields now producing oil and to invest in replacement fields.
This was directly related to "conventional oil fields" and didn't include the extraordinary potential inherent in U.S. shale locations and the growing improvement in costs and supply levels. Many have drawn the conclusion conventional fields would be a key factor in rebalancing the market when in fact those days are already behind us.
Not only was the projection wrong, it was so far off it confirms there was and still is a disconnect between the disruption coming from the shale revolution and the idea falling production at conventional oil fields as a result of less spending will determine the price of oil.
Shale has been a big factor, but so has been the resultant decline in the price of oil which also has forced conventional oil producers to improve efficiencies and productivity as well. That's why oil supply continues to soar, and in fact, not only has conventional oil output not collapsed, it continues to climb.
Another element in the mix is big oil producers have also entered the shale market and they are also able to spend less to generate more supply there than in the past.
Drilled but uncompleted wells
Government estimates have the number of DUC wells at 5,069 in the "seven most prolific drilling regions."
According to Wood Mackenzie, the additional wells could produce crude of over 250,000 barrels per day. Since those numbers are based upon existing wells this only represents in my view a lower figure than what will emerge if the price of oil finds support as these wells can be quickly drilled and completed if the price environment warrants it.
On the other hand, if the price of oil drops, even with the bulk of spending behind them, shale producers aren't going to go all in if they're selling into a loss. This is why they've been slow to bring production back at a rapid pace. There is still a lot of uncertainty surrounding the fundamentals, and the decline in global economic growth and the pace of growth for demand is causing a lot of caution going forward.
There also is the upcoming recession which the shale industry hasn't gone through since 2014, and we'll have to wait and see how deep it is and how it impacts the price of oil. I think it's going to bring oil back down to the low $40s or even into the $30s again.
Oil producers know this and are trying to gauge the inevitable economic contraction that will be here some time in the next few years.
The good news is they've removed a lot of cost out of the production process and a growing number of shale producers are able to generate a profit a prices in the mid-$30s to mid-$40s. If they continue to remove costs out of production they can produce at a higher pace without fear of selling oil into a market they can't generate earnings in.
Thousands of drilled but uncompleted wells are waiting on the sidelines to be completed, and if oil finds support at about $50 per barrel, they're going to bring them on line with a vengeance, which over time will frustrate the purpose of a production cut from OPEC, if it has any real teeth to it.
Conclusion
A decline in upstream spending doesn't have the importance it would have had in the past. Conventional production continues to soar, and even with a production cut shale producers will step into the gap and offset most of that cut.
Since parts of Africa and the Middle East are entering into cooler weather patterns, the cut in oil on the domestic side from some members of OPEC mean at the global demand level these production cuts will be meaningless. All they'll do is reflect a decline in domestic production. It won't have much if any impact on oil exports.
The little actual cut in output that will have an effect on the global market will quickly be replaced by an increase in shale production as a result of completed wells. OPEC or Saudi Arabia aren't going to give up market share in a way that harms their economies more than they already have been by lower oil prices. Neither will Russia, which is producing at record post-Soviet levels.
Lower costs associated with both conventional and shale producers means spending doesn't have to be what it has been in the past in order to produce close to similar results. Even on the conventional side the supply levels from older fields continue to surprise the market to the upside, which means the amount of reserves have to have been more than believe or producers have also improved on ways to extract oil that they hadn't been able to in the past.
Either way, it has yet to be proven that lower capex by producers will result in any major drop in supply. So far the opposite has been the case, and with thousands of wells ready to be brought to market, I don't see this being an issue for another four to five years, if it is even then, as even more wells will be developed and completed that can offset any production loss that may come from conventional oil.
Disclosure: I/we have no positions in any stocks mentioned, and no plans to initiate any positions within the next 72 hours.
I wrote this article myself, and it expresses my own opinions. I am not receiving compensation for it (other than from Seeking Alpha). I have no business relationship with any company whose stock is mentioned in this article.