Often, sell-side research provides information that is largely reflected in the market price. An investor should try to find information that is not reflected in the market price. The less followed a stock, the greater the possibility of finding alpha (non-market related outperformance). In seeking alpha, we believe that an investor must develop expertise in a certain sector and an information edge within various niches/companies in order to achieve alpha; this is the investment thesis for our firm's technology funds.
With this backdrop, I will discuss some key takeaways from my visit this week to the Mobile World Congress (MWC) in Barcelona. I will mention companies for illustrative purposes (e.g. to illustrate a theme) or as a follow-up to companies that I have previously written about. For a subset of those companies, I will try to present what is not being priced into the stock today.
The main MWC themes were the same as last year (see here for last year's MWC article) - #1 smart phones, #2 Long-Term Evolution (LTE) 4G networks, and #3 mobile apps. Other themes that I will discuss include deep packet inspection (DPI), hands-free communications, and mobile payments.
Smart Phones
Smart phones dominated the show. A big crowd gathered at the Microsoft (NASDAQ:MSFT) booth. Microsoft was having an app upload contest with visitors' Apple (NASDAQ:AAPL), Blackberry (RIMM) or Android (NASDAQ:GOOG) phones, to see which phone uploaded quicker. It was more for show, as Microsoft used its newest version versus older versions of the other mobile phones. But beyond the buzz, we could be seeing the first signs of saturation in the smart phone market, especially in the US and Europe. According to one research report, Q4 smart phone sales in the US accounted for two-thirds of handset unit volume and 87% of handset revenue. Ceva (NASDAQ:CEVA), for the first time in recent history, reported an easing in demand from mobile baseband chip suppliers during Q4, although that includes some low-end phones as well. In the meantime, Ceva along with everybody else, is still waiting for demand for LTE-enabled smart phones to take-off. The larger first wave of initial smart phone buying is mostly behind us in the Western world. While smart phone revenue growth will continue via Asia and upgrades, the low-hanging fruit and high growth rates are history. This fact may not be reflected in certain stock prices, and certainly was not a discussion topic at vendor-driven MWC.
LTE
The carriers may push-out LTE deployments in the near term. The explosion of mobile bit traffic, however, makes a faster and more robust LTE network inevitable. One LTE-related stock that may be underappreciated by the market is Sequans (NYSE:SQNS). Sequans stock was massacred by a major drop-off in WiMax chip revenues. Sprint, Sequans largest customer, suddenly switched to an iPhone platforms last year, and suspended its WiMax chip orders. The company went into the red in Q4, and pre-announced a larger-than-expected Q1 loss of $10M earlier in February. 2012 will be a money-losing transition year. Current net cash of $57M should hold the company over until profitability returns unless China LTE deployments expected in 2013 are delayed.
On the positive side, Sequans has announced nine LTE chip design wins. Sequans LTE revenues could be well over $100M by 2014, conservatively assuming a small market share. Some investors worry about larger competitors like Texas Instruments (NYSE:TXN), Samsung (OTC:SSNLF), and Marvell (NASDAQ:MRVL) among others that will be entering the LTE chip arena. All things being equal, these larger competitors have lower costs than Sequans. But all things are not equal. Sequans LTE chip is on average 2x to 3x smaller and five generations more advanced than those of its peers. Sequans advantage emanates from several years of WiMax chip design oriented towards data networks. Sequans native design capabilities fit well with LTE requirements, and it will take competitors at least a few years to catch up. Sequans has an attractive risk-reward for investors with a long-term vision.
SQNS, $3.06, 10-month price chart since IPO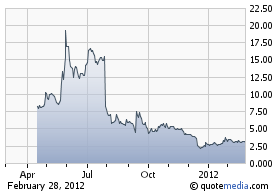 Apps
Within apps, mobile cloud computing is starting to take shape. A private UK start-up, Private Planet, has a platform-as-a-service that can be compared to Dropbox on steroids. BroadSoft (NASDAQ:BSFT) offers a broad mobile user interface platform for mobile carriers, including its BroadCloud offering for rudimentary cloud-based services.
While games are the most popular mobile apps, the mobile media and advertising companies were the most prolific at the show. Velti (VELT) has transformed itself from an Eastern-European SMS company, to a global mobile marketing company. Mobile advertising campaigns now account for over 50% of revenues. Privately-held Smaato and Yoc (YOC, Frankfurt-listed) are two pure plays in the fast-growing mobile media segment.
DPI
DPI and related intelligent policy enforcement continue to be rapidly deployed (see here for previous DPI article). DPI has been around for several years. Initially, DPI was an analytical tool to monitor network traffic. The explosion of data and video network traffic in recent years, have led carriers to use DPI to 1) charge for certain bandwidth hogging traffic, 2) lower peak traffic loads by incentivizing customers to do heavy surfing during off-peak hours, while 3) still continuing to provide quality of service, security, and knowledge of the network. Thus, DPI has become a revenue-generator and bandwidth optimizer for the carriers. Moreover, DPI costs the carriers very little, providing a very quick payback.
The four DPI pure plays - Allot (NASDAQ:ALLT), Procera (NYSEMKT:PKT), Sandvine (OTC:SNVNF) and privately-held Vineyard Networks, are riding the global traffic management wave. Combined fourth quarter revenues for the three public DPI companies grew 21%. All three public DPI companies announced major new customer wins this month, and their booths were packed with potential clients at MWC. DPI revenues should grow closer to 30% in both 2012 and 2013. DPI annualized revenues as a whole are still only a couple hundred million dollars. US and German mobile providers have not even deployed intelligent policy enforcement yet, and there is plenty of headroom in most countries. Thus, we are still in the early stages of riding the DPI wave.
DPI Pure Play Revenue Trends
| | | | |
| --- | --- | --- | --- |
| Company ($, millions) | 2011 Q4 | 2010 Q4 | % change |
| Allot | 22.0 | 16.2 | +36% |
| Procera | 15.6 | 7.5 | +108% |
| Sandvine | 20.6 | 24.2 | -15% |
| Total | 58.2 | 47.9 | +21% |
The one area of contention in policy enforcement is peer-to-peer (P2P) video streaming. DPI alone is not efficiently enforcing these bandwidth hogs. Sandvine recently announced dynamic tracking of variable cell capacity and subscriber location as part of their new traffic congestion solution. On a stand-alone basis, Sandvine's solution addresses this P2P video streaming issue for smaller networks (e.g. the island of Malta), but becomes cost prohibitive to deploy for larger networks (e.g. Spain). A more scalable solution does exist for larger networks. Privately-held Movik Networks presented its Radio Access Network (RAN) solution at MWC this week. Movik's technology creates content awareness and real-time policy controls at the edge of the network, that can then be integrated with a DPI box closer to the central office.
Hands-Free Communications
Hands-free communications is being demanded by consumers, and is even being mandated for motorists in certain jurisdictions such as Spain. At the show, Jabra, a subsidiary of GN Store Nord (GN, Copenhagen-listed), was exhibiting its state-of-the-art earbuds and other hands-fee equipment. Although not at MWC, US-based Plantronics (NYSE:PLT) sells consumer mobile headsets and notably office and call center headsets. Plantronics strongest growth comes from its unified communications platform (more akin to certain BroadSoft offerings).
Parrot (PARRO, Paris-listed) is a leading producer of hands-free communication equipment for the automobile industry ranging from mobile telephony, voice recognition, connectivity, and more recently navigation, internet/3G access, and messaging. Parrot is Europe's closest clone of Apple - a hotbed of innovation in both hardware, software and system design for consumers, albeit in slightly smaller end markets. Parrot launched its AR Drone in September 2010 (with Android command capabilities in 2011), which already grew to €52M ($70M), or 21% of 2011 revenues (on a side note, a new federal law, signed by President Obama in February, compels the Federal Aviation Administration to allow drones to be used for all sorts of commercial endeavors, which should open up the drone market even more, especially for AR Drone that retails for only $300).
Parrot made savvy acquisitions last year of two French technology jewels - Dibcom (mobile TV and radio chips) and Varioptic (liquid-based optical lens systems). These two acquisitions will create an integrated car infotainment and communication system with full internet, navigation and other services, superior image processing and digital TV and radio capabilities that will exponentially increase Parrot's share of automobile OEMs' budgets. Not only will Parrot's solution add tremendous value to end-users, but most of the solution will be a low-cost system on a chip, leading to a win-win for both Parrot and its customers profitability. We expect a full launch of Parrot's new car infotainment system in late 2013, in line with launches of 4G networks. In the meantime, Parrot is a growing company generating positive cash flow in all market conditions. Parrot's retail product visibility has decreased in the current quarter given weak European consumer trends, but the steadily growing embedded IC auto division will provide stability and positive cash flow for the company as a whole. Flush with cash, Parrot's current valuation of EV/Sales of 0.7x, EV/EBITDA of 4.3x, and P/E of 10x using 2011 figures, does not at all incorporate the huge upside from its future product portfolio, while over-discounting the value of its current cash-generating products. One possible reason for the discounted valuation is the macro discount of a European consumer play. This would be an overgeneralization, and does not correlate to the company's positive cash flow results during the last economic downturn a few years ago.
Mobile Payments
Near-Field Communications - NFC - has been an emerging payment technology for nearly a decade. But infighting between banks and mobile operators, on where to incorporate the NFC chip, who owns the end user, charging, etc. has slowed down the process. But all is not lost, Google Wallet is incorporating NFC, and other deployments are getting started. Two chip beneficiaries of NFC are NXP Semiconductors (NASDAQ:NXPI) and Inside Secure (f.k.a. Inside Contactless) (INSD, Paris-listed). But most companies are taking a wait-and see approach. Online and mobile payment processor, Wirecard (WDI, Frankfurt-listed), is not using the NFC chip, but has a credit card sticker on the back of the handset. One disruptive start-up, Kuapay, is trying to bypass the whole NFC process by using a two dimensional bar code in an encrypted payment process. Kuapay's solution appeared fairly simple and low cost. Although they are working with credit card companies today, potentially they can bypass MasterCard (NYSE:MA) and Visa (NYSE:V) and work directly with the banks and merchants. The only catch is Kuapay has to sign up each merchant which could take a very long time. Maybe a recent Ingenico partnership can help resolve that issue.
Ikanos Follow Up
As a follow-up to my recent Ikanos (NASDAQ:IKAN) update, we visited competitor Broadcom (BRCM) at MWC, at an open-house product demonstration for investors. The engineer involved in the VDSL chip-set development showed us their combo (modem and WiFi) VDSL chip set. The key information is that according to this engineer, Broadcom's node scale vectoring combo VDSL chip's planned launch will be at the Broadband World Forum in October 2012. It has been a time-consuming process, especially establishing the data exchanges. In the interim, Broadcom has been using a multi-line card solution that can go up to around 72 ports. But the service-level (i.e. node scale vectoring) 384 port product wont be ready for customer qualifications until October.
As a backdrop, Ikanos other main competitor, privately-held Lantiq, released its node-scale vectoring VDSL solution in January 2012. Ikanos has been testing its node-scale vectoring solution with various carriers such as China-based ZTE (OTCPK:ZTCOF), but is in the midst of some silicon tape-outs to work through some design bugs. Still, Ikanos is expected to release its node-scale vectoring solution near the end of 2012. Ikanos has an extensive patent portfolio (with no expirations until 2019 and beyond), including VDSL and node-scale vectoring. Up to now, management has chosen not to enforce its patents.
WiFi chip manufacturers like Marvell, that already partners with Ikanos' VDSL modem chip, could be interested in acquiring Ikanos. This would save Marvell the time and complexity of DSP chip design/vectoring development, that even took communication chip leader Broadcom a few years to develop. My humble advice to Marvell and Ikanos is if you're going to merge, let's get going. Waiting only hurts the value of both of your companies by allowing Broadcom to establish its combo VDSL vectoring chip first.
Disclosure: I am long PKT, IKAN.
Additional disclosure: I am also long two non-U.S. listed stocks: YOC and PARRO.