BHP Billiton (NYSE:BHP) is currently trading within a trading band (one month) of $76 to $82 per share, though the last two weeks it has been more concentrated within a trading band of $76 to $78. The stock is trading well below its 52 week high of $104.59 (April, 2011) and ~25% above its 52 week low of $62.54 (October, 2011). The stock is well below the intrinsic value of the share price, which is not reflective of the longer term market outlook, nor the significant development of infrastructure that BHP is investing capital in. Much like Caterpillar's (NYSE:CAT) management, who reinvest capital and concentrate on performing during bear markets, BHP's reinvestment of capital and restructuring of operations places it firmly in a position to outperform competitors as market pressures ease.
BHP Billiton 30 Day Performance Chart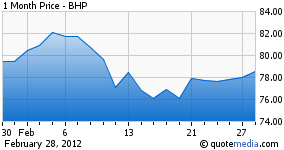 Minerals Industry Outlook and Infrastructure Expansion Required
The Minerals Council of Australia recognizes the challenges facing the mining industry in Australia, and has a plan to progress economic and industry reform during 2012 - 2013 despite a current softening market, a key component of which is a focus on expanding the limited infrastructure constraining some operations. Chief Executive Mitchell Hooke stated on February 24:
"The MCA is urging the Government to shift gears from spreading the benefits of the boom (through higher and ineffective taxes like the carbon tax, ad hoc spending and increased regulation) to tackling the real challenges of fiscal sustainability, productivity growth, expanding supply-side capacity and enhancing the economy's structural flexibility."
BHP and RIO Tinto (NYSE:RIO) are both significantly diversified miners and are progressing ahead with key infrastructure upgrades and expansions, which will increase the capacity of current operations to meet growing demand from Asia and the Indian sub-continent, in addition to the steady supply of natural resources to China. This is exactly the point the MCA is making with respect to the requirement for government and industry to build capacity:
"Efficient Capacity Building - Efficient public sector investments and targeted reforms are needed to overcome current and future capacity constraints given the structural changes taking place in the Australian economy. Growth in the minerals industry is highlighting pressure points on skilled labor and inadequate social infrastructure in mining regions."
The magnitude of the infrastructure required is significant, and by looking at the expansion of the Olympic Dam Project, readers can gain an understanding of the of the scale of infrastructure expansion that the miners are implementing with a longer term view beyond current economic conditions, as I have written about previously:
"For the Olympic Dam expansion though, which received its environmental approvals on 10th October, BHP announced approval on Friday of $1.2 billion pre-commitment capital for the expansion, the initial spend of a $30 billion project that will potentially take up to 20 years to generate returns on investment."
As an aside, the infrastructure expansion required for Australia in terms of railroad and port development is more keenly felt within the coal industry, as anyone who has flown in and out of Sydney would know, as you see the 'armada' of ships lined up off the coast near Newcastle waiting to be loaded. This has been an issue confronting government and industry since 2006 (see extract from the ABARE research report below).
"In the longer term, the ability of Australian coal producers to maintain Australia's position as a leading coal exporter and respond to the growth in global coal consumption is contingent on a number of factors. These include the timely and responsive development of new mines and supporting rail and port infrastructure, access to water resources and the availability of skilled human resources. For such development to take place, a strategic approach to infrastructure planning is required."
The catch-22 in building the infrastructure required is the ability to do it quickly, efficiently, and without an over-reliance on excessive debt which is difficult within current funding markets. The Labor government missed a key opportunity during the global financial crisis to use its stimulus spending to prepare Australia's industry infrastructure for the next 50 to 100 years. Instead, it embarked upon a wasteful stimulus package that injected money into consumers for retail spending, a farcical home insulation program, and an unwanted and unneeded school infrastructure program that squandered vast amounts of money. Which is why much of the infrastructure spending and development required is being funded by the big corporations, such as BHP at Olympic Dam, and Chevron (NYSE:CVX) on the Gorgon Project.
The Underlying Value in BHP
BHP's key financials are as follows:
EPS of 8.54
PE of 9.10
Dividend Rate of 2.20
Yield of 2.8194
Market Capitalization of ~ $211 Billion
An additional strength for BHP is that unlike some of the small to mid-cap miners in Australia, such as Fortescue Metals Group (OTCQX:FSUMF) (a pure play iron ore resources company), OZ Minerals (OTCPK:OZMLF) (copper and gold) and Panoramic Resources (OTCPK:PANRF) (nickel and gold), BHP is diversified both geographically and through revenue streams (aluminum, base metals, coal, iron ore, petroleum, uranium, and more). This gives it global reach across different resources, regions and markets to ensure that all revenue is not focused on one market. The company has a five year track record of positive earnings, and in its 2011 Annual Report, management reported increases in revenue (35%), net profit growth (85%) and EPS growth (87%). Buy/sell signals in Australia gives the stock a long term rating (fundamentals) of 5 / 5. BHP reported the following half year results for the year ended 31 December 2011:
Strong financial results with Underlying EBITDA(1) up 8% to US$18.7 billion and Underlying EBIT(1)(2) up 6% to US$15.7 billion. Attributable profit down 6% and Attributable profit excluding exceptional items(3) down 7% to US$9.9 billion.
Underlying EBIT margin(4) remained in excess of 40% despite significant volatility across many of our core markets while Underlying return on capital was 28%.
Record production for two commodities and six operations.
Robust operating cash flow(5) of US$12.3 billion and a rigorous project approvals process underpin our fundamental commitment to a solid A credit rating.
Gearing increased to 25% following the successful acquisition of Petrohawk Energy Corporation. We will continue to focus efforts on the most productive areas of our high quality Onshore US acreage as we strive to maximize economic returns from our investment program.
Interim dividend of 55 US cents per share, up 20%.
Half year ended 31 December 2011
The company provided the following comment on the outlook for the economy and commodities:
"In China, after an extended period of policy tightening, the expected slowdown in fixed asset investment and industrial production is now occurring. As a result, growth rates are weaker although there is evidence that monetary policy is becoming more accommodating. Providing there are no large external shocks, it is expected that China will pursue targeted, albeit moderate measures to support balanced growth in its economy. While Indian growth contracted more quickly than anticipated as inflation forced policy makers to tighten aggressively, inflation has started to slow, which in time is expected to increase the scope for the relaxation of monetary policy. In the longer term, we remain positive on the outlook for the global economy as the drivers of urbanization and industrialization in China, India and other emerging economies are expected to underpin global growth and robust commodities demand."
And
"However, we expect underlying demand growth rates to remain robust, so long as the macroeconomic policy setting of the developing world retains a growth bias. Of the commodities, copper and iron ore are expected to remain supported by their compelling supply-demand fundamentals while the structural shift in Chinese demand for metallurgical coal remains well entrenched. Geopolitical factors are once again likely to influence crude oil pricing. In contrast, the outlook for the aluminium, nickel and manganese alloy industries remains challenging and has led to significant margin compression for most producers, almost irrespective of their position on the various global cost curves."
The demand for growth that BHP foresees underpinning demand is represented in the following graph:
Right-click to view enlarged image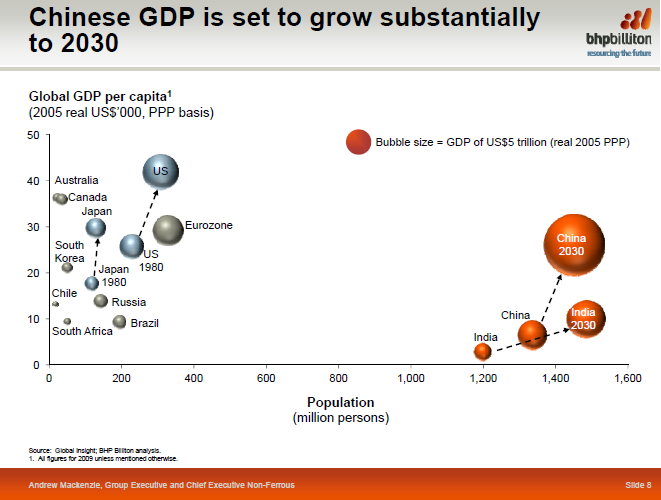 Conclusion
Yes, challenging times lie ahead, but with BHP rated as the number 1 out of 657 listed material companies trading in Australia, it has planned for and will continue to operate through slower demand driven markets while it invests capital into much needed infrastructure that will posture it for significant upside as global demand increases. The company remains a definite buy for long term investors, while short term positional traders can profit from current short term volatility. It is well under intrinsic value and consensus recommendations strongly place BHP in the Outperform to Buy range.
As an update for those following my Sun Tzu portfolio series (view the originating article here), BHP forms a core holding, and despite its relative underperformance of late (it has ranged from 0.3% to 8.29% increased value during February) I remain confident of its future performance as a core blue chip stock. With additional cash (reserve, profit and dividends) the portfolio has a total holding of $114,695. The shares component of the portfolio as at 24 February, 2012 is included below:
Right-click to view enlarged image


Disclosure: I am long BHP.
Disclaimer: This advice is general advice only. You should seek professional independent financial advice prior to making any investments of your own.