The US GDP for 2012 is forecast in a range of 2 - 2.4%. According to Portfolio123 we have low forward S&P 500 earning expectations whether you forecast it using current year EPS ($103.51) or by blending two trailing quarters with the forward two ($100.11). For perspective, the EPS of 2010 was $82 and in 2011 it was just shy of $95 (See Zacks report).
*Chart below outlines S&P 500 earnings growth since August 2011 using a blend of current year and next year's estimate. The more quarters into the current year you go the more it weights the number on next year's forecast.

With modest growth estimate, should the average investor believe that he can cherry-pick high-growth companies that will lead the pack? While some feel they can, I would recommend that others to protect against low growth with deep value dividend stocks.
Dividend Value During Slow Economic Growth
If the economy is growing comparable to molasses climbing uphill in the winter, should you pour money into companies that are aggressively spending net income on new growth prospects? This might lead to a big payoff down the road if large growth returns, but if your portfolio consists of too many 'potential high growth' stories you might find the average of your returns reverts to the mean of lower market-wide growth.
An alternative is to pick some choice companies that don't rely on earnings growth to put money back in your account.
Alliance Resource Partners, L.P. (NASDAQ:ARLP) - This Master Limited Partnership is trading just over $70 per share while current 'earnings' sit at a trailing $8.15 per share. This gives a price-to-earnings ratio of 8.6. Of course, with MLPs we need to be cautious using these figures as they have a different structure than other publicly traded companies and pay 'cash flows' based on the amount of 'units'. While we use common terminology with MLPs such as yield and earnings, it won't always be a fair comparison.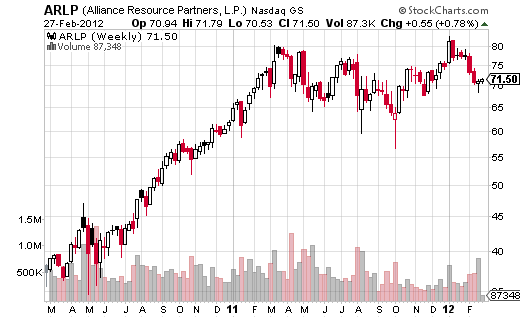 The 5 years earnings growth is put at 11.44% but we will assume zero growth going forward in earnings and dividends. Seeing as they are only paying out 44% of earnings there is a lot of hidden value here. True, the 2012 and 2013 earnings have recently been revised downward and there is the new factor of the acquisition of the Green River coal assets. I find the strong yield of 5.6% based on less than half of its 'earnings' with at least 8 strong and stable quarters means you don't need to factor much growth into the price for a potential 10 - 13% total gain between capital and income gains.
TAL International Group (NYSE:TAL) - While TAL has experienced 16.19% growth over the past 5 years and 12% per annum is the expectation for the next 5 years - what would happen if they simply held their ground with zero growth?
They are paying set to pay out a hefty 5.6% yield with a 60% payout ratio. The trailing PE is under 12 and the forward PE is under 10. But even if the company had no growth and gave back all the earnings to shareholders due to a lack of re-investment opportunity - the trailing $3.40 earnings per share would deliver an 8.6% yield. Imagine what would happen to share prices of Amazon (NASDAQ:AMZN) if the CEO suddenly came out and said, "We are still selling stuff but don't expect any earnings growth over the next 5 years". How far would the $178 share price fall if $1.40 annual EPS was all they could manage going forward?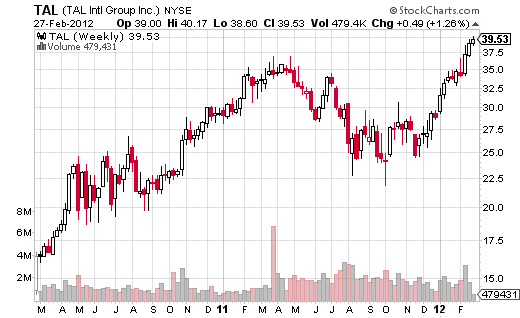 Hasbro, Inc (NASDAQ:HAS) - A trailing PE of 12.55 and a sub-11 forward PE means growth is expected. Once again, what if there was no growth? The low payout ratio of 44% still delivers a whopping forward yield of 4.1%. Even without earnings growth we have a great yield that could even be boosted to twice that number if need be. Provided Hasbro doesn't go turn into a reverse earnings growth story, I see share prices between $30 - $38 as good value that isn't dependent on rising profit to pass GO and collect $200.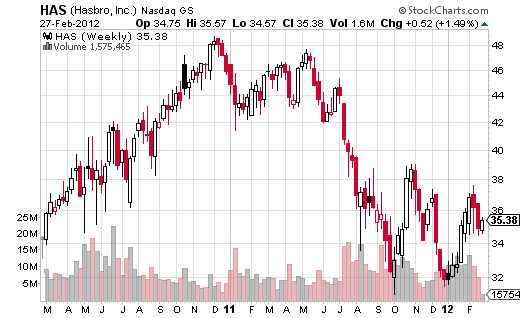 Eli Lilly & Co (NYSE:LLY) - LLY is one stock that has experienced some negative earnings growth of late but they are expected to make up much of the lost ground by 2013 and beyond. While I like a 5% yield based on a 50% payout ratio, I find the game of 'how low can you go' with earnings disconcerting. I'd pass on LLY since I prefer stocks with strong valuations and some growth expectations where the deep value dividends provides a cushion to fall on with zero growth. A decent pick for some but the negative earnings growth will keep my away for now.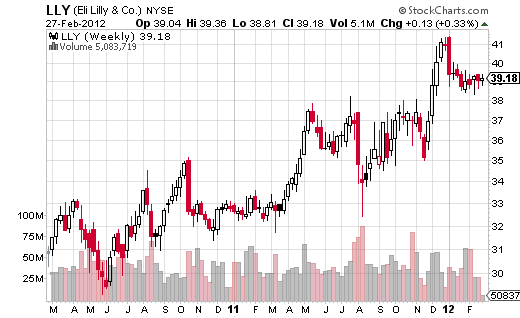 H&R Block (NYSE:HRB) - Tax season is when the real money is made. The next 5 years are anticipated at 12% earnings growth yet the last 5 are slightly in the red. What would happen if earnings didn't get the special rebate and growth remained flat? A 4.9% yield at 58% payout ratio shows that 8% total return per annum would not be out of the question.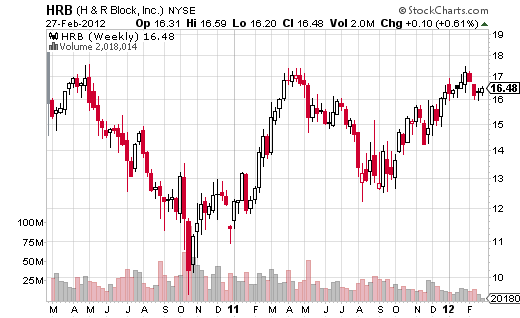 Strategy Wrap-up
There is always the risk that the company will experience negative earnings growth sending share prices spiraling down and the ability to pay dividends in the toilet. Others say that share prices could experience downward pressure even if the company did not have long-term growth thus harming your investment. True, but that is why we targeted deep value companies based on earnings yield since the more you push down prices the higher the yield gets. Many are sitting near the sweet spot where the investor knows he is getting earnings back in a mix of dividends and share price gain over the long-term assuming flat earnings growth. Consider the long-term picture of zero growth on one of the companies…
Hasbro has trailing earnings of $2.92. Assume zero growth for the next 10 years. The company pays out 100% of the earnings as dividends to satisfy shareholders who are angry that growth is flat. The share price of $35.38 immediately falls to what? With $2.92 being paid in dividends would it go as low as $29.20 for a 10% yield? In 10 years you would lose $6.18 in share prices yet get back $29.20 in dividends for a 65% total return in 10 years.
Of course, there is the risk that a company with zero growth will do something silly like cut the dividend and hoard cash which could see share prices fall pretty far until investors can tangibly see how they are getting some value out of the company. There is always a risk but by picking low PE stocks with decent yields on low payouts, you can lower your potential portfolio loss if the market-wide growth flat-lines due to economic pressures.
Disclosure: I have no positions in any stocks mentioned, and no plans to initiate any positions within the next 72 hours.
Additional disclosure: I may intra-day trade these stocks over the next 72 hours but currently have no plans to do so.