FMR LLC, also known as Fidelity Investments is one of the largest institutional investors in the equity market. Established in 1946 by Edward C. Johnson, the company serves more than 20 million individual and institutional investors. Fidelity is a truly global investment titan with near $1.5 trillion of assets under management. The company offers brokerage accounts, retirement services, college savings accounts, life insurance and annuity services, as well as, professionally managed accounts. Fidelity's most actively managed equity fund, Magellan, has near $20 billion in assets. The legendary fund manager, Peter Lynch, was the director of Magellan fund between 1977 and 1990.
According to Edgar Online, Fidelity has a well-diversified portfolio of U.S. equities. Technology stocks constitute 22% of the holdings, followed by service companies (18%) and financials (14.7%). In the last quarter, Fidelity increased its positions in 1360 stocks, and reduced positions in 1262 stocks. I have analyzed the 4 big buys, and 1 big sell from a fundamental perspective, adding the stocks' year-to-date returns:
| | | | | | |
| --- | --- | --- | --- | --- | --- |
| Company Name | Ticker | Shares Held | Change in Shares | % of TSO* | YTD Return |
| Apple | (AAPL) | 50.66 million | 48.73 million | 5.43% | 32.2% |
| JPMorgan Chase | (JPM) | 126.36 million | 36.54 million | 3.33% | 18.8% |
| McDonald's | (MCD) | 55.59 million | 8.97 million | 5.46% | -0.55% |
| Walmart | (WMT) | 20.16 million | 13.09 million | 0.59% | -1.4% |
| Transocean Ltd. | (RIG) | 4.43 million | -21.96 million | 1.26% | 43.4% |
*TSO: Total share ownership by Fidelity funds. Data obtained from Finviz/Morningstar and is current as of February 29.
Apple
Fidelity is extremely bullish on Apple as it increased its shares by 50.66 million. With a total share ownership of 5.43%, Fidelity is the top institutional shareholder of Apple. Becoming Apple's largest shareholder was a wise decision, since Apple reported an amazing quarter, which has driven the stock up by 32.2% in this year.
At a price of $535, Apple already made it half-way through a market cap of $1 trillion. If the technology titan can keep up its double-digit growth rate, I think Apple can hit $1 trillion benchmark within the next few years. My fair-value estimate for Apple is $750 per share, and the stock is obviously heading in this direction. However, with an RSI index of 85, Apple is in extremely overbought territory. Therefore, a pullback should be waited for. A price around $450-$500 range can offer a better entry point.
JPMorgan Chase
JPMorgan Chase is another company, Fidelity is wildly bullish about. Fidelity increased its ownership by 40.7% in the last quarter and currently owns 3.33% of the company. JPM outperformed the broad market indices, and returned 18.8% in this year.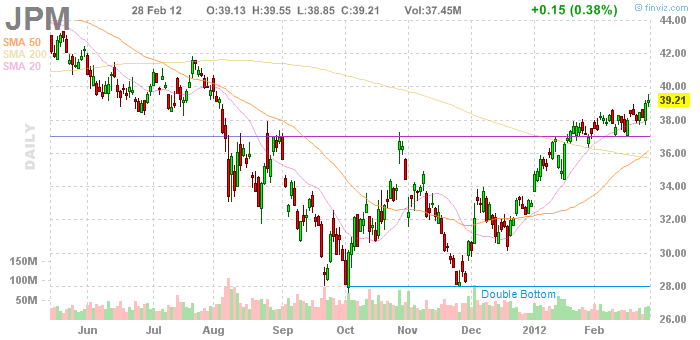 (Click to enlarge)
With a minimal exposure to toxic assets, JP Morgan largely avoided the sub-prime crises. Investing in financial stocks could be highly risky, but JPM is one of the safest stocks among financials. It also offers a yield of 2.55%, which is one of the best among large-cap banks. I think the stock is ready for a big bounce in this year.
McDonald's
Fidelity increased its stake in McDonald's by 19% in the last quarter. With a total share ownership of 5.46%, Fidelity is the largest shareholder of the company. McDonald's did not perform well in this year. While the market is up by significant margins, McDonald's ytd return stayed in the negative territory.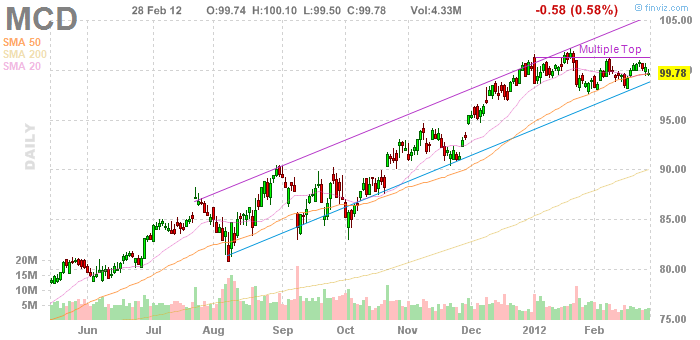 (Click to enlarge)
The stock could not pass the $100 resistance, and formed a multiple-top pattern. At the current price level, McDonald's is over-priced. I like the company, and I think McDonald's has a great moat in the business. However, a price around $90 could offer a better entry level.
Wal-Mart
Wal-Mart is one of the largest discount stores in the world. Fidelity increased its stake by 185% in the last quarter. Total share ownership stands at 0.59%.
Similar to McDonald's, with a negative ytd return, Wal-Mart underperformed broad market indices. However, unlike McDonald's, Wal-Mart is trading at a significant discount. The forward P/E ratio of 11.14 implies that the stock is undervalued by at least 26%. Based on an EPS growth estimate of 11%, my target price is at least $75. Barclays has an overweight rating with an upgraded target price of $65.
Transocean
Transocean has one the largest driller fleets in the world. As of 2011, the company owned or had partial interests in 138 offshore drilling units. Fidelity decreased its holdings by 83% in the last quarter. It still owns 4.43 million shares, which correspond to 1.26% of the outstanding shares. Unfortunate for the Fidelity investment managers, Transocean was among the top performers of this year, returning 43.4% in the last 2 months.
Since the Deepwater Horizon oil spill, RIG shares experienced a significant pressure. The company's market cap was slashed by more than half in the last year. At a price of $54, it is still trading 33% below the 52-week highs. At its heyday valuation, RIG was trading for as high as $140. The company offers a yield of 5.83%, which is one of the best among its peers. I think Transocean could be a great buy for this year.