Though much of the recent rise in the share price of Collective Brands (NYSE:PSS) can be attributed to takeover speculation, shares jumped over 4% in after-hours trading Tuesday as a result of much better-than-expected quarterly results. The company's fourth-quarter loss came in at $0.69 per share, but that result was materially better than consensus expectations. We are sticking with our above-market fair value estimate for Collective Brands at this time.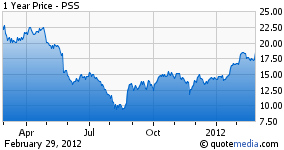 Consolidated revenue grew 5.4% thanks to strong PLG Wholesale results (up 21%) and PLG retail lapping a difficult fourth quarter in the year-ago period, with sales increasing 13.5%. PLG Wholesale continues to shine through as the crown jewel of the business. We've noticed, as management noted on the conference call, accelerating strength in Sperry Topsider. With most traditional wintery markets experiencing a mild to practically non-existent winter season, we've seen Sperry's rolled out earlier and at a higher price-point. The first quarter could be very profitable. Saucony and Keds are slowing slightly, but this isn't much of a worry at the moment, and could be seasonal.
PLG Retail was a pleasant surprise, after a very weak third quarter. Stride Rite posted nearly double-digit same store sale growth, and initiatives to drive revenue growth in the segment are paying off. We did notice that while revenues in the retail segment grew 13.5%, it still posted an operating loss. There's a chance Collective is slashing prices to inflate revenue growth, but we'll do some digging in evaluating such a possibility.
The most shocking number in the entire quarter was the 1.6% same store sales growth. Consensus was expecting negative same store sales figures, which has been the norm since the third quarter of 2009, so this gain, as small as it looks, was terrific relative to previous performance. Management attributed a lot of the success to a return to value as well as heavy discounting of old products. We also think the closing of unproductive stores and moving existing customers to stronger locations helped boost results.
As for the buyout rumors, the strategic review continues, and CEO Michael Massey reiterated that there will not be any updates until the review is completed. We suspect that the board may hold off on approving a deal until operating performance is strong for a few quarters to extract more value for shareholders. It's also important to note that input costs have come down, and during the first couple quarters of 2012, the company will be facing easy compares, including a dismal second quarter of last year that, in our opinion, couldn't have been much worse. With the high end of fair value range at about $30 per share, we still think Collective Brands belongs in the portfolio of our Best Ideas Newsletter.
Disclosure: I have no positions in any stocks mentioned, and no plans to initiate any positions within the next 72 hours.
Additional disclosure: PSS is included in the portfolio of our Best Ideas Newsletter.