Nvidia Corporation (NVDA) has some excellent marketing plans and appears positioned well for growth in 2012 through current clients calling for increased sales and how it has positioned itself for the smartphone market. Because of this, we see a potential options trade this year that could bring an investor a nice profit.
Nvidia provides visual computing, high performance computing, and mobile computing solutions that generate interactive graphics on various devices ranging from tablets and smartphones to notebooks and workstations. It operates in three segments: Graphic Processing Unit (GPU), Professional Solutions Business (PSB), and Consumer Products Business (CPB).
NVDA is the only publicly traded company that focuses exclusively on graphics chips. About 80% of the company's graphics chips go into PCs, with the rest split between servers, handheld devices, and video game consoles. NVDA's long-term growth is most threatened by competitors offering platforms that combine several chips using a central processing unit (CPU), operating system, and GPU. As a result, the growth of platforms is a major threat to Nvidia's core business. Intel (INTC) released its Centrino platform for notebooks and AMD has a similar platform called Puma.
NVDA sells the vast majority of its chips to companies that make computers. It is dependent on a small number of these companies as Nvidia's two top customers account for 25% of the company's revenue. Asustek (OTC:AKCPF) is the largest customer.
Asustek said on Feb 24, it sees a decline in shipments in the first quarter but a pick up for notebooks and tablets for the full year, after reporting a better-than-expected fourth-quarter net profit. This is good news for NVDA. When your best customer sees its overall market increasing, this is good news.
Outside of the Apple (AAPL)-Samsung smartphone world, NVDA has a good chance to compete with its Tegra 2 processor. It is expected to grow in sales in the smartphone industry by 50% in 2012. With this type of reporting in mind, we like the company's direction and stock performance. We see a good opportunity to trade with it.
(Click chart to enlarge)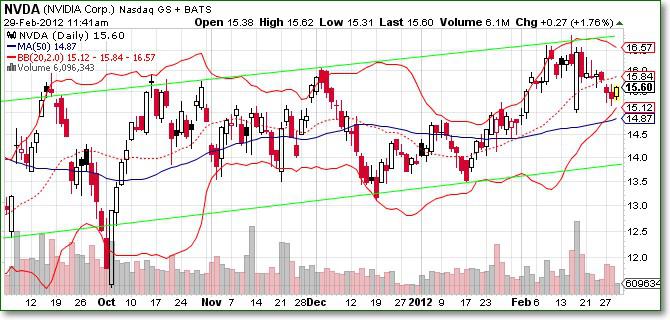 The Option Trade
NVDA has steadily been moving up in a Peak and Valley formation since mid September 2011. We do not foresee a change in this type of movement in the near future. It established a significant base last August and has steadily risen since then. The next area of resistance that will challenge its upward move is at $18 while it presently trades at $15.60.
We are looking for a bounce off the lower Bollinger band and expect it to challenge the (16.75-17.00) level before it pulls back. A nice Bull Call Spread here may work.
Buy a June 2012 '16' call option (presently priced at $1.15)
Sell a June 2012 '17' call option (presently priced at $0.78)
Starting Debit: $0.37
Max Profit: $0.64
June will provide enough room for the stock to inch its way up before we are able to make a profit on the trade.