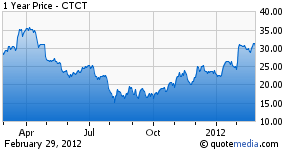 I recommended buying Constant Contact (NASDAQ:CTCT) last November when the stock was trading at ~$20. I expected stock to double in next one year. It has been less than four months and the stock has already given ~50% upside. I am getting a lot of emails from readers on where the stock is headed from these levels. Here is my take on the company now.
My immediate target for the stock is $35-$36. I expect the stock to cross all time high it made in April last year. The logic is simple. From the company specific perspective, it is making more money than in April, 2011; its expected growth rate is higher and at the inflection point; current quarter would be the first to see full impact of the company's social product; and next few quarters may see incremental upside as the company slowly roll back discounts on its social product.
The current macro backdrop is also much favourable than it was in April last year. Facebook (NASDAQ:FB) is coming with an IPO in next couple of month; Social is the buzz word among investors; and S&P 500 (NYSEARCA:SPY) is making a new 52 week high. So, overall better profitability, better growth prospects and a better macro backdrop than April last year. Clearly, its stock price deserves to be at better levels.
In addition, short interest at 33% of float remains high. There are a lot of new initiatives like local deals etc. from the company which will make shorts nervous. Bears often cite low barriers to entry and strong competition to justify their short thesis. However, these factors rarely work unless they are accompanied by actual fundamental deterioration at business level. In this case, on the contrary, the company is expected to see better fundamental trends in terms of user growth and ASPs as its social product start gaining traction. If we look at the historical stock price performance of any company near such inflection point, it has been very positive.
For eg. Investors had similar doubt about Apple (NASDAQ:AAPL) when iPod was the only hit product striking cord with customers. The bear argument at those times was what will happen if the competition increases and/or iPod reaches market saturation point. If iPod was the only Apple product, the stock price would never have reached where it is now. But things changed after iPhone launch and Apple's stock multiplied several times. Social media campaign product can do the same for Constant Contact.
Even for less successful stocks like Netflix (NASDAQ:NFLX), the stock never declined as long as ARPU and net user addition trends were strong. Investors like Whitney Tilson who shorted it only had to cover their positions at losses.
Green Mountain Coffee Roaster (NASDAQ:GMCR) is another stock where bears were always on the prowl looking for an opportunity. But they always had to run for cover whenever there was any key inflection point in the business. Be it a deal with Wal-Mart (NYSE:WMT) or an agreement with Starbucks (NASDAQ:SBUX).
Shorting is a tricky business and 33% short interest when the company is seeing key inflection point is just crazy recipe of disaster for bears. This is very evident from the company's stock price reaction after its earnings. Even after reporting mixed results, the stock rallied ~20%.
So, the next question now is when should one start booking profits? Investors who have taken position in low 20s can book partial profits in $36-$40 range which means a cool 20%-30% further upside from the current levels. This by no means implies that stock can't go over $40. As long as subscriber growth and ASP trends continue in the right direction the stock will see positive investor sentiments. However, the big discrepancy between the growth trends and price which existed in low 20s would almost be over when the stock crosses $36. The next thing dictating the stock price would be the company's actual performance and future initiatives. I'll keep updating you when I have any new data points available. Please click follow button on my profile to be in Constant Contact!!!
Disclosure: I have no positions in any stocks mentioned, and no plans to initiate any positions within the next 72 hours.