Not that the expectations are for natural gas prices to remain this low until 2015, but this is when the real possibility of the US exporting natural gas begins. Until then the possibility remains that the new shale production techniques will keep production ahead of domestic demand and prices low.
Without a serious energy policy to utilize this increased resource, it is very probable that this country will begin exporting our cheap energy supplies to Europe and Asia while still importing expensive oil and gasoline. That is assuming the big producers of natural gas remain in business in a subdued pricing environment.
The main catalyst for the focus on surviving until 2015 was the huge announcement yesterday that Blackstone would invest $2B in Cheniere Energy Partners (NYSEMKT:CQP) to provide the equity financing needed for the construction of export facilities at the Sabane Pass liquefaction project in Lousiana. This will be the first natural gas liquefaction export facility in the continental United States hence ushering the domestic market into the world prices similar to oil.
This deal seals the funding needed for the beginning of construction hopefully by April. That leads to the real possibility of the first exports in 2015. Considering Cheniere has already pre-sold baseline production, this shouldn't be much of a surprise that funding would open up. The question only appears to be the timing considering the excess supplies looking for a new home.
Actually it would require politicians to screw this up. Don't be surprised to see some uproars over the real threat that natural gas prices will rise in the future. This naturally pits exploration and oil service companies offering good jobs against industrial and consumer utility users rebelling against the higher prices that opening up the market could cause.
Below Figure 1 from a PIMCO blog post has a great picture of the current pricing differences in the global markets.
Figure 1 - Worldwide Natural Gas Prices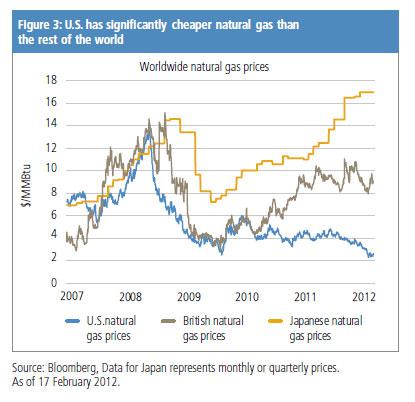 From a competitive reason, it is understandable that some people favor that cheap fuel supply to provide a competitive advantage to our industrial companies. The biggest issue is that the US would be favoring one industry over the other leading to lower employment, exploration, and technology advancement.
These points bring us back to the original concept of whether leading natural gas companies can survive on increased oil production until the gas market is opened up to the global markets. As stated, this isn't intended to signal gas prices will stay low until then just that companies should only have to survive until then at the latest.
Some of the leading gas stocks worth watching are Chesapeake Energy (CHK), Devon Energy (DVN), Southwestern Energy (SWN), and WPX Energy (WPX). These companies all rank in the top for US gas production and ended 2011 with a majority of production from dry gas resources.
The table will be useful in analyzing the ability of each company to survive the natural gas glut until export terminals are ready.
Figure 2 - List of Nat Gas Stocks
Stocks
WPX
SWN
DVN
CHK
Enterprise
Value
$4.6B
$13.5B
$33.1B
$27.5B
Total Proved
Reserves (Tcfe)
5.3
5.9
18.0
18.8
Liquids Production %
17.5
0
35
18
Liquids Production
Mbbl/d
30
0.1
258
87
Liquids
Reserves
%
23
0
41.6
25
Liquids
Reserves (MMbbl)
198.6
1.2
1,257
830
*All numbers based on Q4'11 average production and end of period reserves.
Based on the numbers, clearly Southwestern Energy would have the hardest time surviving a prolonged depressed natural gas price slump with virtually zero exposure to oil.
Chesapeake has both a weak exposure to liquids and a high debt level. The company is making a quick move towards liquids, but the debt will remain a huge issue if it can't unload assets for cash.
WPX Energy appears to be the only company not lined up in the roughly $2B valuation per Tcfe of proved reserves. Ironically though the stock with the most natural gas exposure has the highest valuation.
Chesapeake and WPX Energy likely have the best combination of gas reserves when the market recovers and ability to tap oil reserves for the next couple of years to survive the pricing slump. The valuations are also attractive assuming this scenario plays out providing long term gains for investors patient enough to wait for an opportune entry point in the near future.
Disclosure: I have no positions in any stocks mentioned, and no plans to initiate any positions within the next 72 hours.
Additional disclosure: Please consult your financial advisor before making any investment decisions.