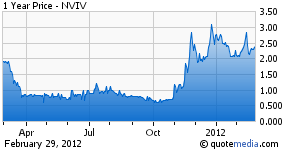 In May of last year, InVivo Therapeutics (NASDAQ:NVIV) and The University of Miami Miller School of Medicine's Miami Project to Cure Paralysis (The Miami Project) huddled to see how their science could be used to advance through partnership. That meeting is now yielding results that could be good news for spinal cord injury patients.
The Miami Project was founded in 1985 by Barth A. Green, M.D. and NFL Hall of Fame linebacker Nick Buoniconti after a paralyzing college football accident occurred with Buoniconti's son Marc. The Miami Project is now headed by Dr. W. Dalton Dietrich, Scientific Director and Marc Buoniconti and is a comprehensive spinal cord injury (SCI) research center in the country with a significant force of 250 scientists, conducting research and developing innovative approaches to SCI victims.
InVivo has demonstrated in preclinical results that their biopolymer scaffold device has enabled paralyzed rodents and monkeys to walk again within several weeks of treatment. The biodegradable device enables the spinal cord to heal quickly preventing subsequent secondary injury from bleeding, inflammation, and scarring. The Cambridge MA biotech also developed an Injectable Hydrogel for Local Drug Delivery that controls the release of drugs to counteract the inflammation that results during secondary injury after closed-wound SCI, and Its Biopolymer Scaffold Seeded with Autologous Human Neural Stem Cells offering extends the biopolymer platform technology further.
InVivo was co-founded by inventor Dr. Robert S. Langer who is the David H. Koch Institute Professor at the Massachusetts Institute of Technology. Langer received his bachelor's degree from Cornell University in chemical engineering.
Significant to The Miami Project and to the collaboration with InVivo Therapeutics is The Miami Project's Schwann Cell Transplantation Program.
I communicated with Marc Buoniconti of The Miami Project about their relationship with InVivo Therapeutics.
John Eastman: How is InVivo advancing the work you are doing at The Miami Project?
Marc Buoniconti: The Miami Project is proud to be in partnership with InVivo to advance the research in spinal cord injury and to ultimately find a cure. InVivo's proprietary scaffolding technology is being combined with The Miami Project's cellular regeneration and transplantation strategies to enhance cellular growth. The initial studies are focusing on the potential of peripheral nerve cells called Schwann cells to adhere to the scaffolding in order to create a binding medium. It has been demonstrated that the scaffolding creates a better environment for cellular growth and with the combination of drug releasing scaffolds, this twofold strategy holds great promise for human clinical trials in the near future.
John Eastman: What is the biggest anticipated benefit to The Miami Project from working with InVivo Therapeutics?
Marc Buoniconti: The biggest benefits that are anticipated are first, to begin animal studies to prove the concept of cellular adhesion on the scaffolding and then the subsequent expanded growth of cells. Once we have established a safe and functional therapy, is our intention to move into higher order animals and ultimately humans.
John Eastman: The partnership was formed in May of 2011. What mentionable progress or developments have been made since then?
Marc Buoniconti: Over the past year, both scientific teams have made progress in understanding the behavior of the scaffolding and the Schwann cells. It is important to document all the steps in order to make a safe therapy.
John Eastman: Are there milestones established and if so, what are they please?
Marc Buoniconti: Both scientific teams have created a timeline to grow the cells on the scaffolding and then prepare them for transplantation in our animal studies. It is the priority of both organizations to develop an improved therapy. We are confident that over the next few months that we will be in a position to conduct a study in animals to validate its success and we strive to implement this therapy in humans.
Much more analysis must take place in the basic science laboratories in order to have a proof of concept therapy. This research collaboration is also spawning new ideas and concepts that have helped unlock different approaches for a cure.
The Miami Project is excited about the future with InVivo and looking forward to our continued partnership.
InVivo Therapeutics is currently trading at $2.37, on volume of 16,094 with a 1YR Est of $4.50, and a market Cap of $123.85 Million. Its 52wk Range is 0.60 - 2.07.
Disclosure: I have no positions in any stocks mentioned, and no plans to initiate any positions within the next 72 hours.