Even though this is an under-the-radar deep value stock, the Natuzzi (NYSE:NTZ) brand is well-known all around the world and it is Italy's largest furniture company. Natuzzi generates about half a billion dollars per year in revenues and it has eight manufacturing plants, and more than 1,100 points of sale worldwide, including some company owned stores in the United States.
I wrote about Natuzzi in a recent article in which I suggested this stock could be poised to break out to new 52-week highs. It has not happened yet, but it still appears to be on track for such a move sooner or later. A lot has happened in the past week ranging from the Presidential elections, huge moves in currencies and a shift in investor sentiment towards consumer/retail stocks. Based on this, I wanted to give an update and also offer a few more reasons why I believe it makes sense to buy this stock before it potentially makes new 52-week highs. First of all, let's address the impact of the recent Presidential election: The market appears to be viewing a Trump Presidency as pro-growth. That has caused major moves (higher) in the U.S. Dollar and that is very positive for a company like Natuzzi.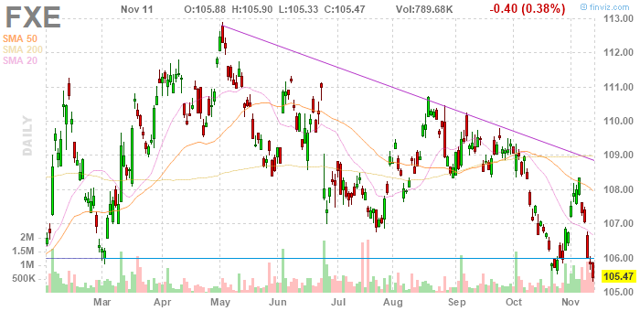 Click to enlarge
As the chart of the CurrencyShares Euro ETF (NYSEARCA:FXE) shows, the Euro currency has been in a significant downtrend for the past few months and has just broken below a key support level as indicated by the blue line on the chart, near the $106 range. It is now trading near the 52-week lows and could be prepared to make additional new lows soon, especially if the Federal Reserve raises interest rates in December. Some analysts and investors believe the Euro is bound to trade at parity with the U.S. Dollar, and that would create an additional hugely positive tailwind for Natuzzi. The United States is the largest market for Natuzzi, so the relatively recent drop and additional declines in the Euro can make a large difference in the profit margins. The rising Dollar and declining Euro is a major macro trend that is already benefiting Natuzzi and could benefit it even more in the future. A December rate hike could lead to new highs for the U.S. Dollar.
While we are looking at charts, let's see what Natuzzi is up to: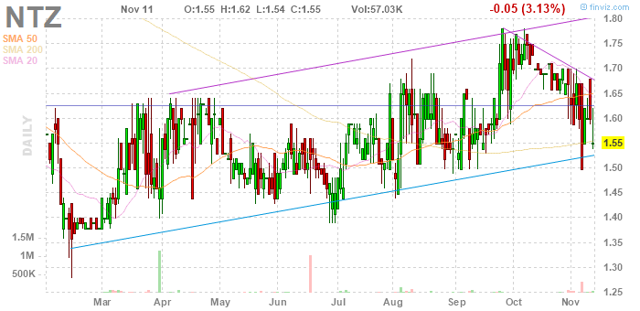 Click to enlarge
As indicated by the light blue and purple trend lines on the chart, Natuzzi has been in a steady uptrend for the past several months. This uptrend coincides with the also steady improvement in Natuzzi's financial results as well as the increasingly beneficial currency rates and the improving economic outlook in the Eurozone and the United States. The 52-week high for Natuzzi is $1.78, so it won't take much for this stock to hit new highs. A trade above the 52-week high of $1.78, could lead to a breakout from the recent trading range and I believe this, (along with a return to profitability) will help to eventually push this stock back towards (at least) book value which is currently around $3.13 per share. Also worth noting is that Natuzzi has about $65 million in cash on the balance sheet which works out to nearly $1.20 on a per share basis.
The election results have clearly pushed currency markets in a very positive direction for Natuzzi. There is also the strong potential that consumers (some of whom may have been holding back on major purchases for the past several months), may now decide to move forward with their spending plans. There is a sense that many U.S. consumers have restricted their spending due to the uncertainty of the Presidential election. However, now that the election is over, it could unleash bottled-up demand for many items, especially higher ticket products. Take a look at the chart of the S&P Retail ETF (NYSEARCA:XRT) below, and it is easy to see it has struggled a bit in the past few months. But now it has suddenly spiked up by about 10%, just in the past few days since the election. If the end of the election leads to more certainty and the release of bottled-up demand for consumer goods, and if Trump is able to put pro-growth economic policies on the agenda, this could lead to much bigger gains for retail and consumer/retail stocks. Although Natuzzi shares have not spiked up yet based on this theory, I believe that is mostly because it is such an under-followed stock, and that it could still make a move in the coming days as a "catch up" trade, especially if retail stocks remain strong or build on recent gains.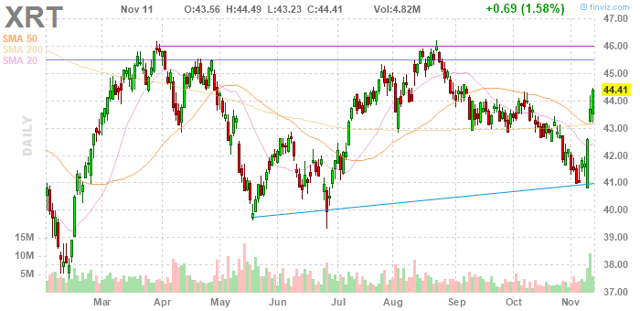 Click to enlarge
Natuzzi is scheduled to release earnings for the third quarter on November 17, 2016. I believe these results will show that Natuzzi continues to make progress on its turnaround towards profitability and gross margin expansion. For the first half of 2016, Natuzzi posted nearly break even results so if the positive trends continue, it could be posting a profit soon. As an example of the significant progress and trends at Natuzzi, net results improved from a loss of 13.3 million Euros in the first half of 2015 to a loss of just 1.1 million Euros for the first half of 2016. Furthermore, EBITDA was positive at 6.7 million Euros in the first half of 2016, which compares favorably with a loss of 2.3 million Euros in the same period of last year. Clearly, Natuzzi is doing something right and sooner or later, I believe the market will recognize this by sending Natuzzi shares higher.
With a number of positive macro trends at hand which include far more beneficial exchange rates for Natuzzi, gross margin improvements due to cost cutting, an improving jobs and economic outlook in Europe and the U.S., and the possibility for increased consumer confidence and spending now that the Presidential election is over, I believe it is just a matter of time before Natuzzi returns to profitability. I also believe that this under-the-radar stock will make new 52-week highs soon and that, (along with a return to profitability) could lead to increased interest and exposure from the analyst and investment community. With the significant improvements this company has made in its financial results, and with its strong balance sheet and around half a billion dollars in annual sales, this stock could trade back towards book value of $3.13 per share in the near term and much higher in the long run. There could be significant longer term upside as one (and maybe the only) analyst who covers this stock, has set a price target of $6.26 per share.
With around $500 million in annual revenues, and with just about 55 million shares outstanding, Natuzzi could have earnings power of 50 cents per share if it is able to make net profits of just 5%, (or $25 million) on the $500 million in annual sales. That is not an unreasonable expectation, especially since the exchange rates alone could be enough to improve net profit margins by more than 5% in the coming weeks and months. Based on this assumption, an analyst price target of about $6 per share seems possible as that would imply a below market PE ratio of just 12 times earnings. While a $6 price target might look crazy to many investors now, so did a Trump Presidency just a few days ago. With all the favorable trends in place for Natuzzi, I think a price target of $6 per share is possible in the next year or two, especially if history repeats. Even at $6, this stock would still be below the $9 level it traded at before the 2008 Financial Crisis. With many economic conditions and currency exchange rates getting back to levels seen before the Financial Crisis, it seems increasingly likely that Natuzzi's financial results and share price could also recover back to pre-crisis levels.
What I like most about this buying opportunity in Natuzzi is that there is very significant upside for the stock if this thesis holds true, and minimal potential downside (due to a strong balance sheet and what is essentially break-even results) at current levels of less than $2 per share. Potential downside also seems limited since this stock is trading for nearly half of book value, which in theory means even the liquidation value could be higher than the current share price. For all these reasons and with many positive trends ongoing, I believe Natuzzi offers great value and upside for investors right now. There has been a general increase in the trading volumes on this stock for the past couple of weeks which could be another positive sign and indication of increased investor interest.
Data is sourced from Yahoo Finance. No guarantees or representations
are made. Hawkinvest is not a registered investment advisor and does
not provide specific investment advice. The information is for
informational purposes only. You should always consult a financial
advisor.
Disclosure: I am/we are long NTZ.
I wrote this article myself, and it expresses my own opinions. I am not receiving compensation for it (other than from Seeking Alpha). I have no business relationship with any company whose stock is mentioned in this article.