In my previous article about oil, I showed why the chart and technical indicators suggested an early sell-off. However, I also mentioned that historically in November, prices climb because of the cooling winter weather. I provided three examples of previous November price rises. On the occasions when oil didn't rise in price along with the colder weather, there was either a major oversupply issue, which contributed to a deeper market correction, or a situation like last year, when the weather in Europe was unusually mild.
In more recent news, Siberia is experiencing earlier and more extreme winter cold than usual. The issue is that some scientists use snow patterns in Siberia to predict weather patterns in the U.S., and the increased snow already points to a weaker polar vortex, which carries more inversions of cold weather to Western Europe and North America. We can't ever guarantee where the market is going, but we can make an educated guess as to what is most likely and take an account of potential risk.
The long-term chart for WTIC oil is provided below (from Astrocycle.net), on which I've noted some wave relationships in yellow and blue. You'll see wave 5 to the upside is still outstanding, and that wave 4 holds a similar channel relationship to wave 1. On this level, the recent correction looks like an early, rising advance from an extreme January low.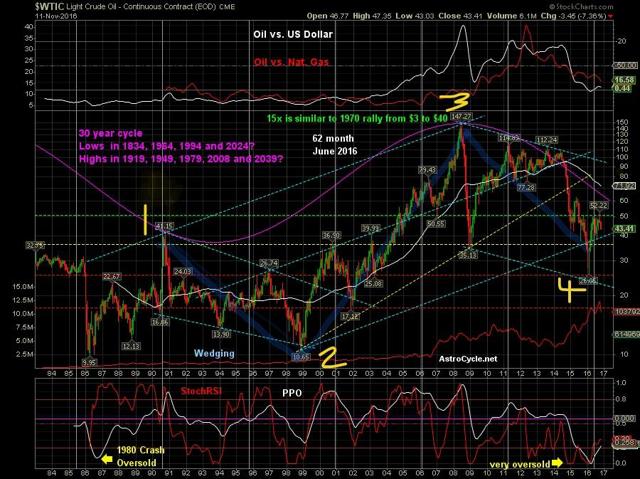 In the short-term chart for WTIC below, the current position in terms of potential support is more obvious. It should hold from this level, given an already extremely oversold position on the daily RSI. There is a risk that it could fall to the green area I highlighted below, and allowance should be made for that (because of speculation as opposed to fundamentals).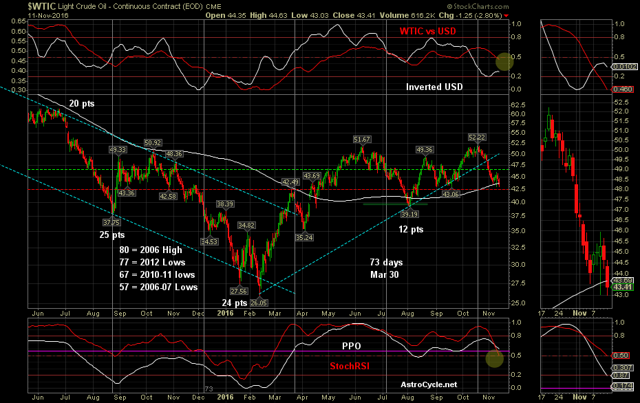 The COT report below, from Barchart, shows large specs/hedge funds and managed money supporting this level.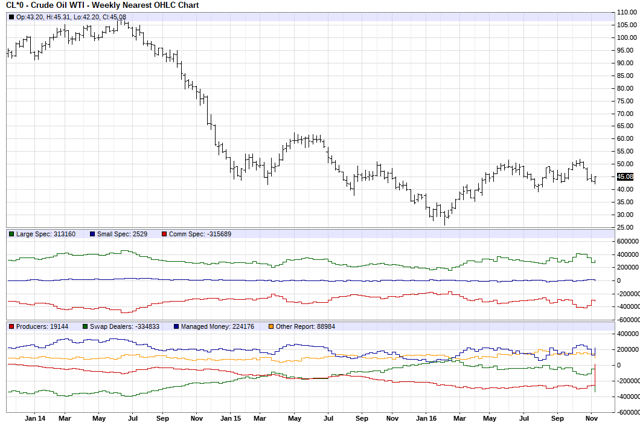 The chart below illustrates the already extreme oversold RSI position. The price of oil falling to the August low contradicts seasonal fundamentals. The recent candlestick (orange) highlights a bullish reaction, and I would expect to see a confirmation follow-through.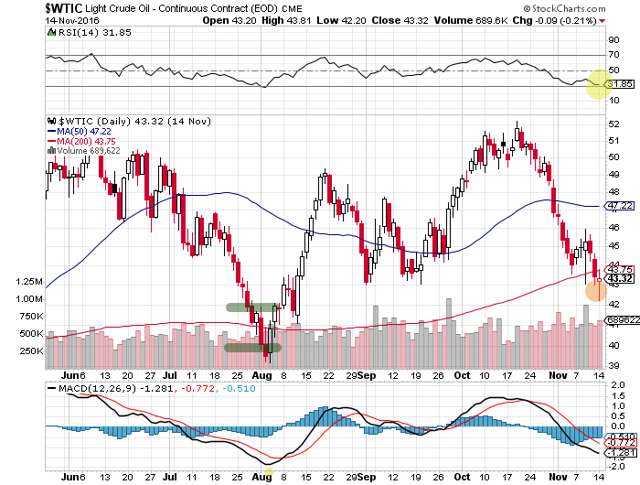 In summary, a confirmation is needed, but it looks as though WTIC is finding a low here for a prolonged seasonal bull leg. Investors should always be wary of risk to the downside and take appropriate action.
Disclosure: I/we have no positions in any stocks mentioned, and no plans to initiate any positions within the next 72 hours.
I wrote this article myself, and it expresses my own opinions. I am not receiving compensation for it (other than from Seeking Alpha). I have no business relationship with any company whose stock is mentioned in this article.