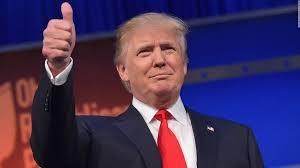 Trump's election has certainly roiled the stock market. Some issues had hefty falls, while others gained by leaps and bounds. Some CEFs I own and follow made some big moves. For example, Tekla Healthcare Investors (NYSE:HQH) and Tekla Life Sciences Investors (NYSE:HQL) moved considerably higher since the election, as shown in the graphs below.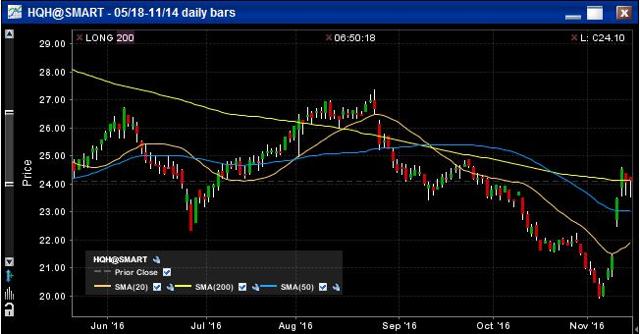 (Source: Interactive Brokers)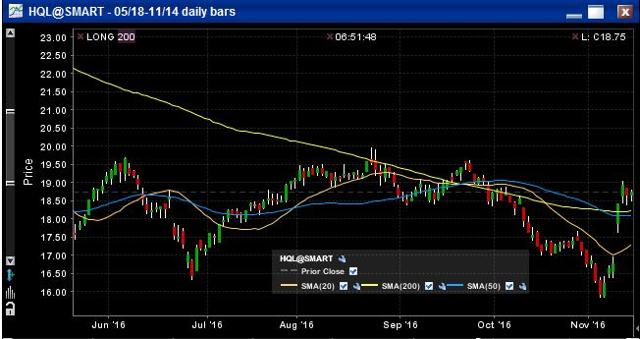 (Source: Interactive Brokers)
The election of Trump and continuing control of Congress by the Republicans led investors to believe that congressional pressure on drug pricing will be lower on the legislative agenda. On the other hand, Trump suggested that Medicare should be able to negotiate drug prices - an initiative the pharmaceutical industry opposes. California voters also rejected a ballot initiative to control prescription drug prices. If successful, it would reduce drug companies' profits by several billion dollars and start a movement that would encourage other states to follow suit. Therefore, on balance, it appears that the election worked out well for the pharmaceutical industry.
On the other hand, my utility CEFs Cohen & Steers Infrastructure Fund (NYSE:UTF) and Reaves Utility Income Fund Comm (NYSEMKT:UTG) fell almost as much as the healthcare CEFs went up. The falling price is depicted in the graphs below.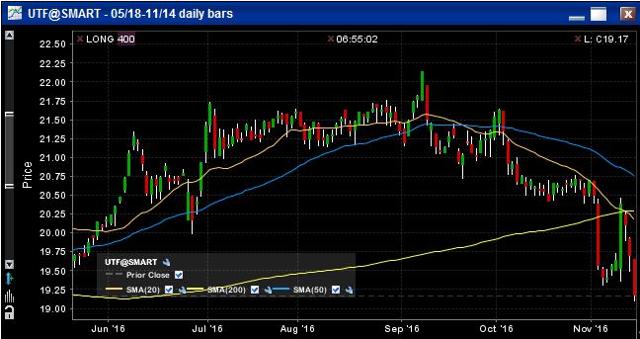 (Source: Interactive Brokers)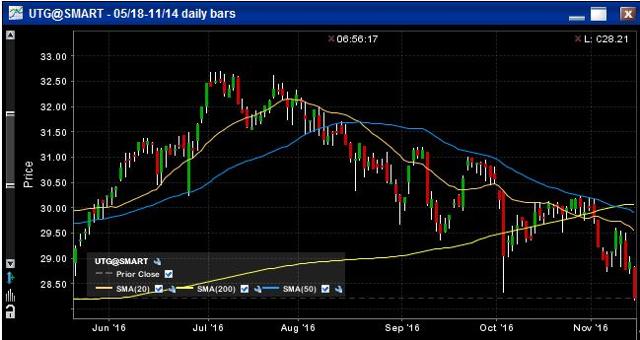 (Source: Interactive Brokers)
Vicky Huang wrote:
"The sharp tank in the utilities sector might have something to do with President elect Donald Trump's energy plan, which is favorable towards the coal industry and likely to reduce the market shares of renewable energy companies in the U.S. power market. Trump's critical stance on companies with manufacturing facilities abroad might have contributed to the fall."
The decline also may be related to the fall in bonds and other fixed-interest instruments.
Patti Domm, writing for CNBC, stated the following:
"President-elect Donald Trump's White House victory was a surprise, and so is the ripping sell-off in global bond markets, which has quickly driven U.S. interest rates to the highest levels in a year. The rout has wiped out an estimated $1 trillion from global bond markets and has Wall Street scrambling to retool its forecasts.

The sell-off comes on the expectation that Trump's promised infrastructure spending and tax cuts will result in higher growth - but also higher inflation and higher amounts of U.S. government debt."
The fear of interest rate and inflation rate increases has investors moving money from one sector to another. This fear has also moved the municipal bond fund I follow, the Nuveen Municipal High Income Opportunity Fund (NYSE:NMZ), causing it to fall near its 52-week low.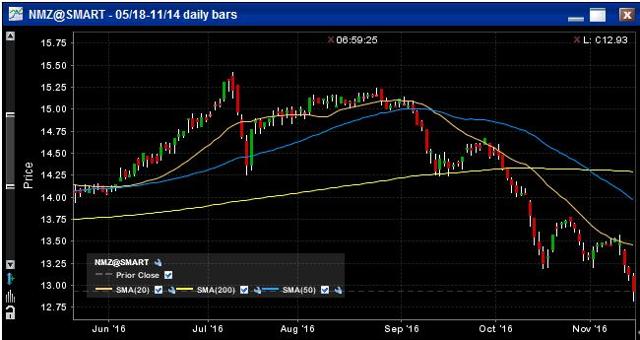 (Source: Interactive Brokers)
The reality is that nothing has changed except for the election of Donald Trump. The Fed has not changed any of its policies, inflation has not changed from what it has been all year, and the prices of oil and other commodities are still at the same levels. I think these interest rate and inflation fears are more psychological than real. We still have two months until the inauguration, and people are responding as if the president and Congress have changed everything.
In Domm's article, her interview with Cabana suggested that the financial markets are likely overestimating the impact of Trump's program on national debt and inflation. Furthermore, Japan's large national debt has not increased the country's interest rates. The Bank of Japan continued negative interest rates in its October meeting, with a 10-year bond yield target of zero percent. While Trump plans to increase spending on infrastructure and defense, the rise in spending may have little to no effect on interest rates over the long term. Sizemore came to a similar conclusion with his analysis on the decline of REIT prices. He suggested that reaction to the election was overdone in relation to interest and inflation rates, and that bond and REIT prices would rebound shortly.
On the basis of this analysis, UTF, UTG and NMZ should be good buys at their present prices. If you disagree with this analysis, you may wish to stay away from these CEFs. You can see my previous research and comments on these CEFs by linking to this article here for the top four and for NMZ here.
(Source for Trump Image: Google Images)
Disclosure: I am/we are long HQH,HQL, UTF, UTG, NMZ.
I wrote this article myself, and it expresses my own opinions. I am not receiving compensation for it (other than from Seeking Alpha). I have no business relationship with any company whose stock is mentioned in this article.