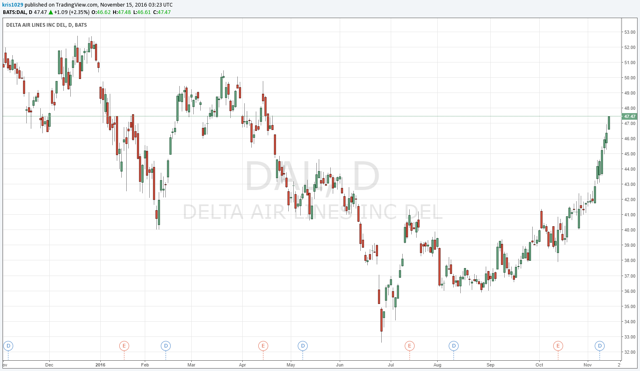 Click to enlarge
By The Valuentum Team
Has the world turned upside down? We're going to need an explanation for this one... The Oracle of Omaha himself has disclosed that Berkshire Hathaway (NYSE:BRK.A) (NYSE:BRK.B) has taken stakes in all four major US airlines, including Delta Airlines (NYSE:DAL). Let's take a look at some of Buffett's past comments on the airline sector:
"The worst sort of business is one that grows rapidly, requires significant capital to engender the growth, then earns little or no money. Think airlines. Here, a durable competitive advantage has proven elusive since the days of the Wright brothers. Indeed, if a farsighted capitalist had been present at Kitty Hawk, he would have done his successors a huge favor by shooting Orville down."
So what's changed?
Well, Buffett was sure to keep his promise not to discuss Berkshire investments in the public, but a few recent data points could be pointing to what his firm is seeing. The IATA recently issued a very positive report on its expectations for air travelers in the next two decades. In fact, the group expects passenger demand to nearly double to 7.2 billion passengers in 2035 from 3.8 billion in 2016, good for a 3.7% CAGR over the 20-year period. The biggest demand driver is expected to be the Asia-Pacific region, which is expected to produce more than half of the new passengers over the next two decades. In the next 10 years or less, it is anticipated that India will overtake the UK for third place on the largest aviation market list, while China will surpass the US for the top spot on the list.
However, such conclusions include assumptions about the global economic and trade environment that are far from certainties. Should global economic growth continue to weaken, such targets could prove to be far too lofty, and the growing ideals of protectionism and nationalism, which we have seen manifested in events like 'Brexit' and in rhetoric heard on US President-elect Donald Trump's campaign trail. A bet on major airlines at this point in time - it's worth noting that Berkshire Hathaway's positions in the major airlines came before September 30 - is a bet against the mass proliferation of such dynamics.
In our opinion, even solid demand expectations does not guarantee success for airlines, however. Air travel has grown substantially in the past - history has shown that demand for air travel grows at a 1.5-2x multiple of GDP growth - and airlines have largely proven to be poor investments in the past. The historical inability for airline operators to effectively match capacity with demand has proven to be the industry's undoing many times over.
We've never been fans of the business models and investment prospects of airlines and likely never will. That doesn't mean we're not enamored by the people and airplanes, as anybody else - it just means airline stocks are mere speculative trading vehicles, not long-term investments, as Mr. Buffett once put it. We're not changing our stance just because Berkshire Hathaway did, but with that said, let's dig into the investment thesis for Delta!
Delta's Investment Considerations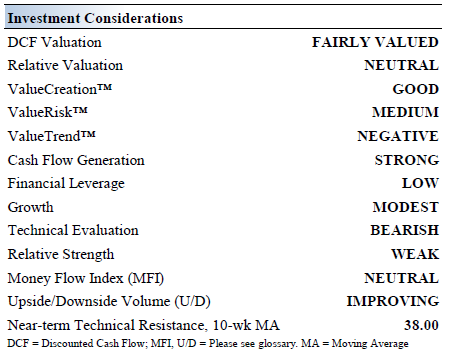 Image source: Valuentum
Investment Highlights
• Delta's route network is centered around a system of hub airports that are located in Amsterdam, Atlanta, Cincinnati, Detroit, Memphis, Minneapolis-St. Paul, New York-LaGuardia, New York-JFK, Paris-Charles de Gaulle, Salt Lake City, Seattle and Tokyo-Narita. It is headquartered in Atlanta, Georgia.
• As with many of its peers, Delta's business model has significant operating leverage. During good times, earnings growth can be impressive. Operating leverage, however, cuts both ways, and during economic troughs, losses can pile up. Investors must be aware of this aspect of its business model.
• Keeping costs low is the name of the game in the commoditized air travel industry. Though unit costs, excluding fuel, can fluctuate wildly at times, Delta's cost structure remains on par with that of the other legacy carriers. Allegiant (NASDAQ:ALGT), Spirit (NASDAQ:SAVE) and Southwest (NYSE:LUV) have much lower unit operating costs. The continued pressure on crude oil prices will continue to boost earnings.
• Delta's performance is significantly impacted by changes in the price of aircraft fuel, which has accounted for more than 30% of operating expenses in each of the past few years. Any hedging strategies will eventually roll off, but we aren't expecting a sustained recovery in crude oil in the near term.
• The firm is targeting 20%+ ROIC in the future and is focused on growing free cash flow, two strategies we are fond of. Additionally, it is committed to returning at least 50% of free cash flow to shareholders through 2017.
Business Quality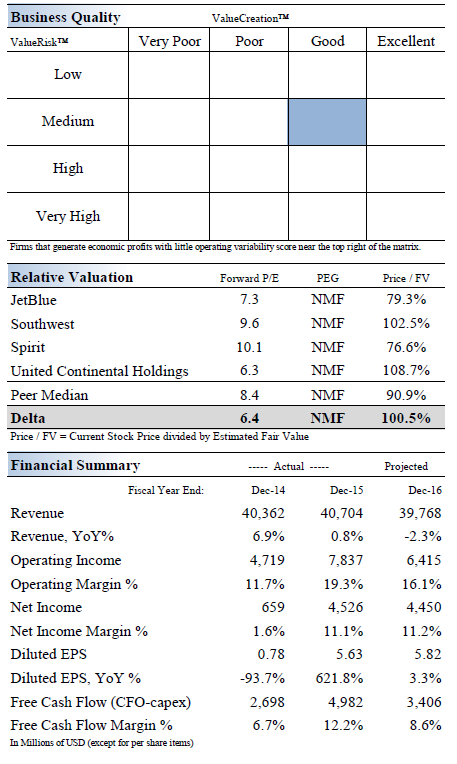 Image source: Valuentum
Economic Profit Analysis
In our opinion, the best measure of a firm's ability to create value for shareholders is expressed by comparing its return on invested capital with its weighted average cost of capital.
The gap or difference between ROIC and WACC is called the firm's economic profit spread. Delta's three-year historical return on invested capital (without goodwill) is 14.1%, which is above the estimate of its cost of capital of 10.2%. As such, we assign the firm a ValueCreation™ rating of GOOD.
In the chart below, we show the probable path of ROIC in the years ahead based on the estimated volatility of key drivers behind the measure. The solid grey line reflects the most likely outcome, in our opinion, and represents the scenario that results in our fair value estimate. The airline's cyclicality is a key reason why it does not garner an attractive Economic Castle rating.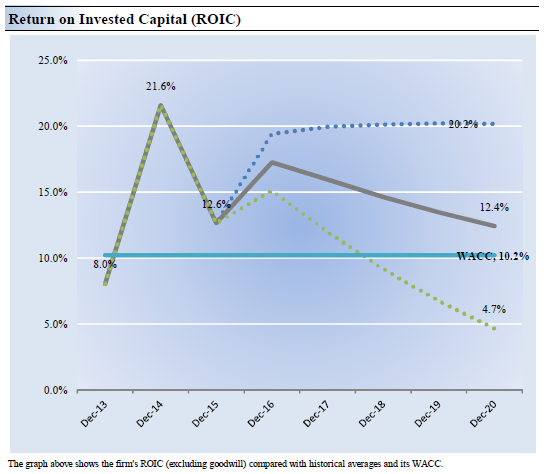 Image source: Valuentum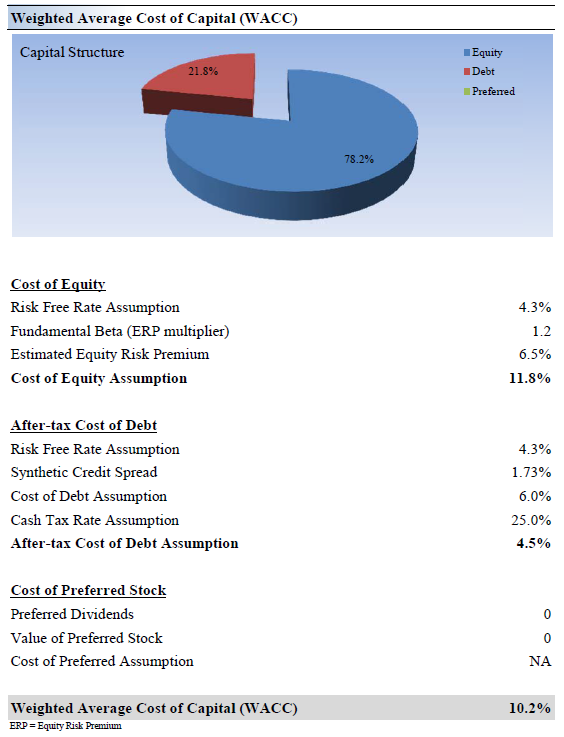 Image source: Valuentum
Cash Flow Analysis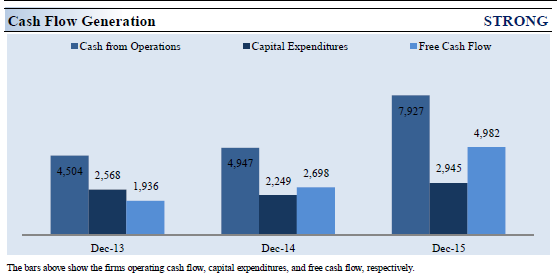 Image source: Valuentum
Firms that generate a free cash flow margin (free cash flow divided by total revenue) above 5% are usually considered cash cows. Delta's free cash flow margin has averaged about 8% during the past three years. As such, we think the firm's cash flow generation is relatively STRONG.
The free cash flow measure shown above is derived by taking cash flow from operations less capital expenditures and differs from enterprise free cash flow (FCFF), which we use in deriving our fair value estimate for the company. At Delta, cash flow from operations increased about 76% from levels registered two years ago, while capital expenditures expanded about 15% over the same time period.
Valuation Analysis
We think Delta is worth $37 per share with a fair value range of $28-46.
The margin of safety around our fair value estimate is derived from an evaluation of the historical volatility of key valuation drivers and a future assessment of them. Our near-term operating forecasts, including revenue and earnings, do not differ much from consensus estimates or management guidance. Our model reflects a compound annual revenue growth rate of 1.4% during the next five years, a pace that is lower than the firm's three-year historical compound annual growth rate of 3.5%.
Our model reflects a five-year projected average operating margin of 13.9%, which is above Delta's trailing three-year average. Beyond year five, we assume free cash flow will grow at an annual rate of 2.5% for the next 15 years and 3% in perpetuity. For Delta, we use a 10.2% weighted average cost of capital to discount future free cash flows.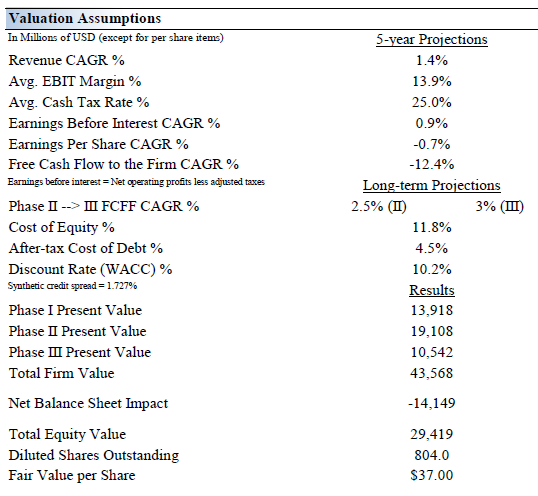 Image source: Valuentum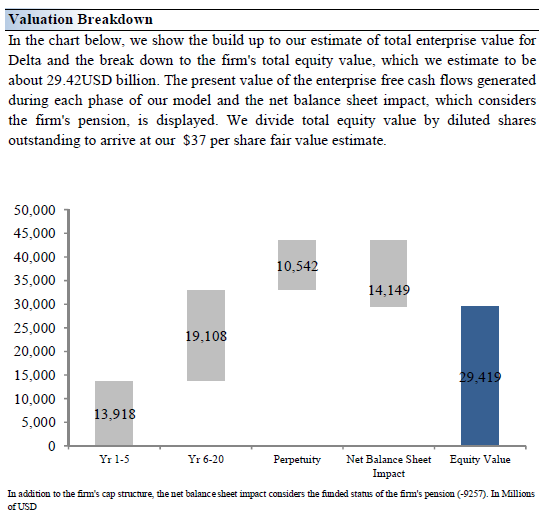 Image source: Valuentum

Click to enlarge
Image source: Valuentum
Margin of Safety Analysis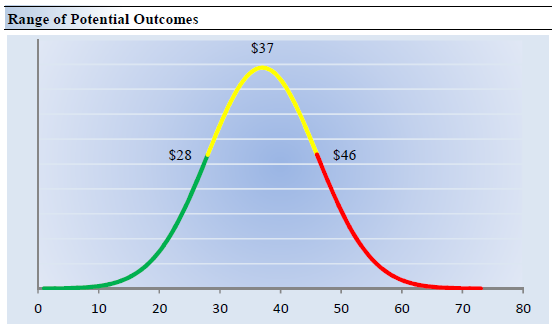 Image source: Valuentum
Our discounted cash flow process values each firm on the basis of the present value of all future free cash flows. Although we estimate the firm's fair value at about $37 per share, every company has a range of probable fair values that's created by the uncertainty of key valuation drivers (like future revenue or earnings, for example). After all, if the future were known with certainty, we wouldn't see much volatility in the markets as stocks would trade precisely at their known fair values.
Our ValueRisk™ rating sets the margin of safety or the fair value range we assign to each stock. In the graph above, we show this probable range of fair values for Delta. We think the firm is attractive below $28 per share (the green line), but quite expensive above $46 per share (the red line). The prices that fall along the yellow line, which includes our fair value estimate, represent a reasonable valuation for the firm, in our opinion.
Future Path of Fair Value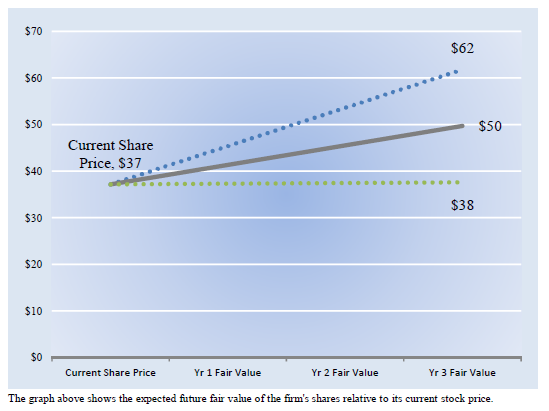 Image source: Valuentum
We estimate Delta's fair value at this point in time to be about $37 per share. As time passes, however, companies generate cash flow and pay out cash to shareholders in the form of dividends. The chart above compares the firm's current share price with the path of Delta's expected equity value per share over the next three years, assuming our long-term projections prove accurate.
The range between the resulting downside fair value and upside fair value in year three represents our best estimate of the value of the firm's shares three years hence. This range of potential outcomes is also subject to change over time, should our views on the firm's future cash flow potential change.
The expected fair value of $50 per share in year three represents our existing fair value per share of $37 increased at an annual rate of the firm's cost of equity less its dividend yield. The upside and downside ranges are derived in the same way, but from the upper and lower bounds of our fair value estimate range.
This article or report and any links within are for information purposes only and should not be considered a solicitation to buy or sell any security. Valuentum is not responsible for any errors or omissions or for results obtained from the use of this article and accepts no liability for how readers may choose to utilize the content. Assumptions, opinions, and estimates are based on our judgment as of the date of the article and are subject to change without notice.
Disclosure: I/we have no positions in any stocks mentioned, and no plans to initiate any positions within the next 72 hours.
I wrote this article myself, and it expresses my own opinions. I am not receiving compensation for it (other than from Seeking Alpha). I have no business relationship with any company whose stock is mentioned in this article.
Additional disclosure: Berkshire Hathaway is included in Valuentum's Best Ideas Newsletter portfolio.