The chart on Zoe's Kitchen (NYSE:ZOES) is incredible to behold considering the 2016 results haven't been far off the original expectations. The Mediterranean-inspired brand has run into some minor revenue struggles that have amazingly hit the stock hard.
Zoe's Kitchen now trades around $23 for a market valuation of only $450 million. At these levels, the stock is down toward the all-time lows supporting a buy low, sell high theory for several reasons.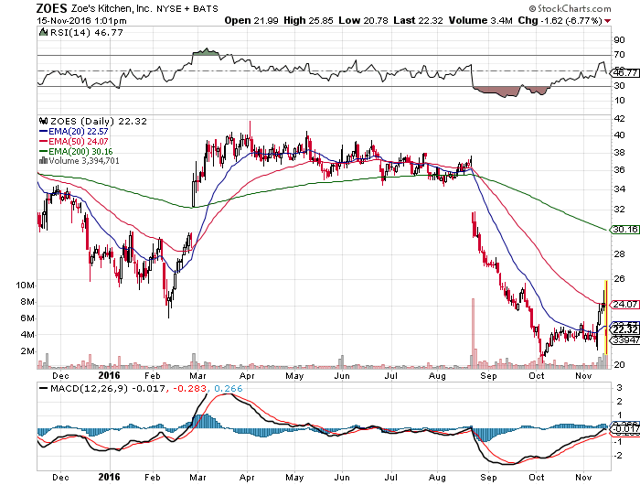 Click to enlarge
Small Revenue Miss Shouldn't Equal Massive Stock Hit
The restaurant concept faces a tough environment as constantly detailed in industry reports. Despite this issue, Zoe's Kitchen was able to generate Q3 comp sales growth of 2.4%. Typically, positive comp sales for 27 consecutive quarters would place a stock closer to the all-time highs and make the concept a favorite of investors.
The stock is down though due to a couple of revenue misses and a guide down for the full-year numbers. One though needs to keep perspective on the forecasts for 2016 during the year.
Q415 report on February 25 - $275.0 to $280.0 million.
Q116 on May 31 - $277.0 to $281.0 million.
Q216 on August 22 - $277.0 to $280.0 million.
Q316 on November 14 - $276.0 to $277.0 million.
The original guidance at the midpoint was $277.5 million and now Zoe's Kitchen is targeting $276.5 million. The stock started the year around $27.50 and reached $41.76 at the highs and is down around new lows because the restaurant concept has taken some hits from a difficult operating environment.
Simple Valuation
As my investment thesis continues to support, a restaurant concept achieving contribution margins above 20% and only now passing 200 units should be bought based on the P/S ratio. Any company doubling the restaurant units in three years makes profit levels generally not worth overly analyzing.
Based on the P/S ratio in comparison to the likes of Chipotle Mexican Grill (NYSE:CMG) and Panera Bread (NASDAQ:PNRA), Zoe's Kitchen has the lower ratio despite the fastest forecasted growth.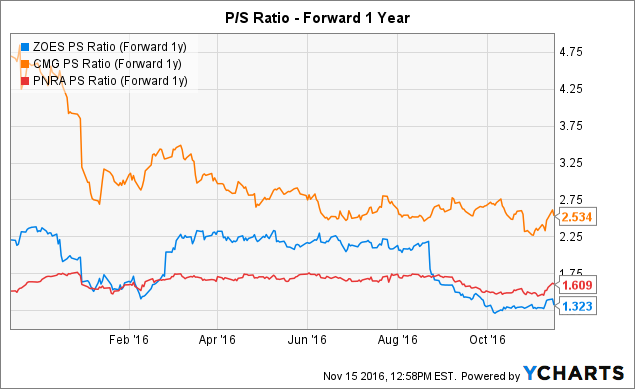 ZOES PS Ratio (Forward 1y) data by YCharts
Analysts only forecast Panera growing 7% next year, yet the market is rewarding the mature restaurant concept with a higher valuation multiple than Zoe's Kitchen that just grew nearly 3x the rate last quarter.
Takeaway
The key takeaway is that investors need to act when opportunity presents itself. Zoe's Kitchen remains a premiere restaurant concept with a long growth runway trading at the lows. The current tough restaurant sector won't last and neither will these low stock prices.
Disclosure: I am/we are long ZOES.
I wrote this article myself, and it expresses my own opinions. I am not receiving compensation for it (other than from Seeking Alpha). I have no business relationship with any company whose stock is mentioned in this article.
Additional disclosure: The information contained herein is for informational purposes only. Nothing in this article should be taken as a solicitation to purchase or sell securities. Before buying or selling any stock you should do your own research and reach your own conclusion or consult a financial advisor. Investing includes risks, including loss of principal.