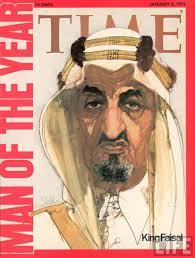 On October 20, 1973, Saudi King Faisal decided to join in an oil embargo against the United States and Europe in favor of the Arab position in the Yom Kippur War. In an interview with international media, King Faisal said, "America's complete Israeli support against the Arabs makes it extremely difficult for us to continue to supply the United States with oil, or even remain friends with the United States."
The price of oil quadrupled, underscoring America's dependence on foreign oil. President Richard Nixon declared that American science, technology and industry could free America from its dependence on imported oil and establish its energy independence.
Nixon named an "energy czar" at the Federal Energy Agency (FEA) to map out a plan. The next year, the FEA published the Project Independence report which set out how the U.S. could become energy independent by 1980.
At this same time, Professor Robert Stobaugh was head of the Energy Project at Harvard Business School (HBS). His task was to study energy problems of the United States, defining policy options, and making recommendations for the future.
The Project Independence report was based on an innovative model, the 1974 Project Independence System (PIES-74), a framework for analyzing the complex and interdependent sectors of the U.S. energy system, specifying various economic relationships, such as energy price elasticities. Professor Stobaugh handed me the two-inch thick report to start critiquing the methodologies. I was an undergraduate econ major, writing a case study for HBS (Industrialized World and Oil) and working on my senior thesis (OPEC Pricing Strategy).
Stobaugh eventually brought Daniel Yergin into the project, and they published their book, Energy Future: A Report of the Energy Project at the Harvard Business School in 1979, which became a New York Times best-seller. However, the U.S. had gone through a recession following the embargo, but oil imports rebounded in a few years. After that, the Iranian revolution, followed by the Iran-Iraq war, disrupted oil supplies once again and oil prices skyrocketed.
Even so, Project Independence died on the vine. Nixon had resigned and no president since made energy independence a priority.
America's oil import dependency increased and peaked in September 2006 at 10.7 million barrels per day (mmbd). U.S. crude production had peaked in November 1970 at 10 mmbd, and by September 2008, domestic output had fallen to just 3.8 mmbd.
But soon, the shale oil revolution reversed the course of domestic production. Crude output rose to 9.7 mmbd in April 2015, but has since dropped over 900,000 b/d (August production 8.7 mmbd)
An America First Energy Plan
In May 2016, President-elect Donald Trump delivered an energy speech in North Dakota in which he revived the goal of energy independence. In the speech, he stated:
Under my presidency, we will accomplish complete American energy independence. Imagine a world in which our foes, and the oil cartels, can no longer use energy as a weapon.

These actions have denied millions of Americans access to the energy wealth sitting under our feet. This is your treasure, and you - the American People - are entitled to share in the riches.

President Obama's anti-energy orders have also weakened our security by keeping us reliant on foreign sources of energy. Every dollar of energy we don't explore here is a dollar of energy that makes someone else rich over there.

American energy dominance will be declared a strategic economic and foreign policy goal of the United States. We will become, and stay, totally independent of any need to import energy from the OPEC cartel or any nations hostile to our interests.
Other than lifting moratoriums on energy production in federal areas, Mr. Trump has not yet disclosed what measures he will take. He has promised that he will put coal miners back to work numerous times, and so there may be some "clean coal" initiatives.
Restricting imports from certain countries would not be effective. The oil industry would simply re-route trade flows as they did during the 1973-74 embargo.
Conclusions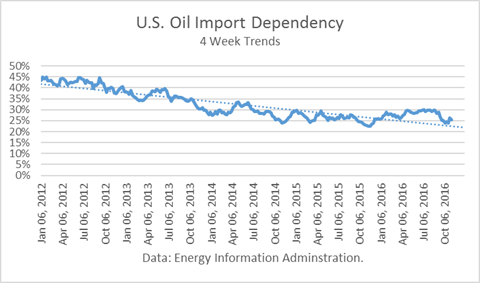 The oil industry may be targeted for incentives to get pumping again. With net oil imports around 5 mmbd, it is conceivable to close the U.S. oil supply-demand gap in 4-5 years. The benefits would be huge and consistent with the goals of the Federal Reserve Act to "promote maximum employment, production and price stability."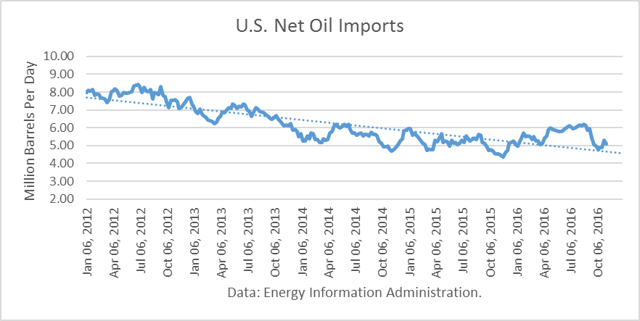 If becoming oil independent requires somewhat higher oil prices, I do not think that would present much of an economic problem for the U.S. Prices have been low and higher employment would more than offset higher energy costs, in my opinion.
The upcoming OPEC meeting about deciding on a production cut may become trivial in comparison to OPEC's future problems. They may end up having to figure out how they are going to live without the United States as a customer in a few years.
Disclosure: I/we have no positions in any stocks mentioned, and no plans to initiate any positions within the next 72 hours.
I wrote this article myself, and it expresses my own opinions. I am not receiving compensation for it (other than from Seeking Alpha). I have no business relationship with any company whose stock is mentioned in this article.