Last month, I wrote an article titled "Here's Why Ocean Rig Rallied On October 25" where I explained that purely technical factors were behind the rapid move. I also shared my views on why the company really needed restructuring despite the absence of liquidity problems in the near term.
Shortly after the article was published, Ocean Rig (NASDAQ: ORIG) shares returned to their previous levels. However, the stock began to gain ground and now trades near previous highs. So, was the technical explanation just wrong?
In this article, I will not repeat my thesis of why Ocean Rig needs restructuring. In case you missed it, you can go to the previous article and make your opinion.
Instead, I will focus on recent developments on the fundamental side for Ocean Rig. The key question is - do any facts suggest that the market situation improved for Ocean Rig?
In case of Ocean Rig, several important factors matter. The first one is the current state of the deepwater market. The second one is the geographical factor, as it is obvious that demand differs in various parts of the world. The third factor is the outlook and timing of the deepwater market rebound.
Let's start with the first one. In my view, the current state of the deepwater market is extremely depressed and it is almost bottomless.
Recent news on this front include the early termination of Transocean's (NYSE: RIG) Discoverer India, the termination of Rowan's (NYSE: RDC) Rowan Renaissance and the termination of Diamond Offshore's (NYSE: DO) Ocean Valor.
What's more, there is a lack of new contracts on this front. We've seen the fleet status reports of most drillers this earnings season (only Seadrill (NYSE: SDRL) and Ocean Rig have not presented their results yet) and the contract activity is focused in the shallow water space.
In my view, nothing in the earnings reports, fleet status reports and conference calls of all offshore drilling companies suggested that the deepwater segment was getting any better. On the contrary, my conclusion is that it is getting worse although some observers believed that it just can't get worse.
Let's go to the geographical factor. Main regions for Ocean Rig are West Africa and Brazil. The semi-sub Leiv Eiriksson currently works in Norway and, in my view, is better positioned for additional work. The North Sea showed signs of life during this reporting season. Another active region was the Middle East. In my view, West Africa is probably the worst place to be right now.
Certain hopes are associated with Brazil, especially given the fact that Petrobras (NYSE: PBR) is selling assets to finance its massive debt. I am cautiously optimistic on Brazil, but I believe that real work will emerge no earlier than in 2018. There are no signs that we should expect immediate jobs in the region.
Let's turn to the outlook and the timing of the deepwater market rebound. I recently did an analysis of oil majors' plans for 2017 (part 1, part 2) and came to the conclusion that outlook for deepwater in 2017 is horrible.
In my view, this is not an exaggeration. Focus on dividends and short-cycle opportunities lives little room for deepwater endeavors. Also, it does not look that oil companies feel pressed to replenish their reserves as soon as possible. Once again, some progress may show up in 2018, but this is not certain, especially given oil price dynamics.
Oil prices have so far failed to stabilize above $50 per barrel. Hopefully for the industry, they will be able to do so after the OPEC meeting, although many observers including yours truly have serious doubts on the cartel's ability to reach a deal and then produce according to the negotiated quotas.
Perhaps, oil prices will be able to shift to the $50 - $60 in 2017, paving the way for the beginning of the offshore drilling rebound in 2018.
As you can see, nothing on the fundamental front suggested the improvement of Ocean Rig's position. So what happened? My bet is that it is a sympathy play. Look at another George Economou company, DryShips (NASDAQ: DRYS):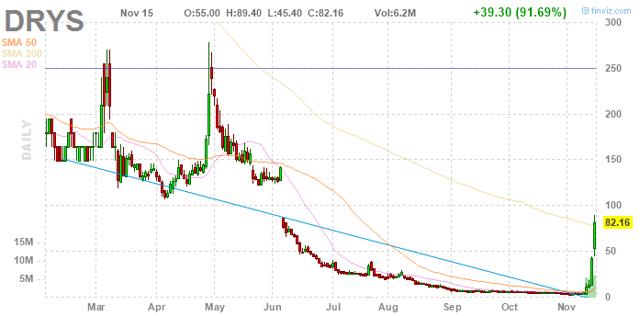 Click to enlarge
DryShips is rallying like crazy. Momentum players were somehow able to move the stock from its sleepy tight range and the resulting rally was ultra-strong due to the tiny float of DryShips. However, those who invested in DryShips (instead of daytrading) are certainly not so happy. The monthly chart of DryShips reveals the real reason for the magnitude of the rally: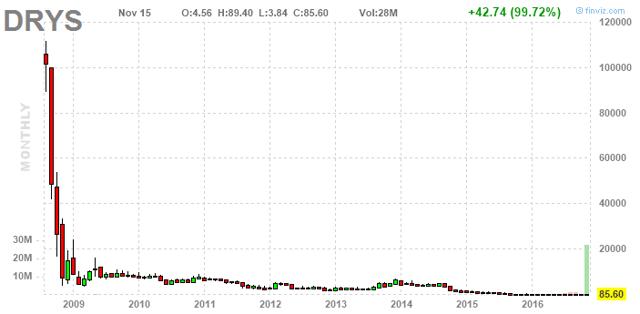 Click to enlarge
The numbers are right. DryShips shares reached their current cost after a series of splits. So, while the move is certainly exciting for brave daytraders, it is much less so for many investors in the company. In such situations, those who prefer a calmer play often turn to the stocks which should move in sympathy with the rallying stock. In our case, this stock is Ocean Rig.
In my view, nothing improved fundamentally for Ocean Rig. In fact, the changes might have been negative as the deepwater segment still searches for its bottom.
Ocean Rig's trading action of the last several days is most likely a sympathy reaction to the rally in DryShips. Those trading Ocean Rig will be better off trading it solely on chart rather than relying on fundamentals, which, in my opinion, point to the upcoming restructuring.
Disclosure: I/we have no positions in any stocks mentioned, and no plans to initiate any positions within the next 72 hours.
I wrote this article myself, and it expresses my own opinions. I am not receiving compensation for it (other than from Seeking Alpha). I have no business relationship with any company whose stock is mentioned in this article.
Additional disclosure: I may trade any of the abovementioned stocks.