Two all-beef patties, special sauce, lettuce, cheese, pickles, and onions on a sesame seed bun - that's summed up McDonald's (NYSE:MCD) Big Mac sandwich since the sandwich was first introduced in 1967. It's been nearly 50 years since Americans fell in love with the Big Mac and it hasn't changed since; But, after the success of McDonald's all-day breakfast menu, the chain has decided to introduce the Big Mac's big brother, the Grand Mac, as well as a little sister, the Mac Jr.. The recipe has remained the same and the original Big Mac is still on the menu, so there's no reason to panic. There is, however, reason to keep an eye on MCD. The global fast-food giant has just begun introducing a Sriracha hot sauce version of the Big Mac in Columbus, Ohio. Central Ohio Co-op president Scott Nickell, has commented on the chain's first-ever attempt to swap an ingredient on the Big Mac:"Offering the addition of Sriracha to our Big Mac Special Sauce was a fun way for our culinary innovations team to think outside the box and continue to answer the call of our customers who are always looking for the next great innovation in food experience and taste". The new hot sauce will also be added as a dipping sauce for McNuggets and French fries.
All Day Breakfast Success Is Fueling Creative Menu Change
The Big Mac is synonymous with fast food and McDonald's is taking a chance on reinventing it. A couple of years ago, nobody would have thought McDonald's would consider it but, because McDonald's last quarter earnings were boosted because of the all-day breakfast menu, the chain seems to be more open to taking risks with what has historically been their highly traditional approach to fast food. In September, the chain introduced an expanded version of its all-day breakfast menu. During its last earnings conference call, the company has stated that U.S. sales figures, which outgrew projected U.S. sales growth by .1% (1.3% vs 1.2% expected) and international sales growth by 1.5% (3.3% vs 1.8%), were"supported by All Day Breakfast, everyday value under the McPick 2 platform and the introduction of Chicken McNuggets with no artificial preservatives." The company also added that changes to the brand's menu is fueled by a consumer-centric attitude. "We are putting the customer at the center of everything we do and are directing our resources towards those innovations and investments that will strengthen our ability to deliver a better McDonald's experience over time".

Click to enlarge
Changes to McDonald's Flagship Brand Can Go Either Way
While the growth in breakfast sales has boosted the company's bottom line, Chief Executive Steve Easterbrook has remained focused on simplifying the brand's menu and offering transparency about food production and preparation - an issue that has, in part, harmed consumer sentiments regarding McDonald's and fueled growth of healthier fast food alternatives such as Chipotle (NYSE:CMG). Of course, the company will wait for results of the test run before deciding whether or not to pull the new sandwich or introduce it into new market; However, investors do have some reasons to remain skeptical. Diluting a key brand figure such as the Big Mac is risky. Because the Big Mac hasn't changed in almost 50 years, the new line has garnered attention, not all of which has been positive. In many ways, the company is pissing in the wind attempting to regain some traction after year-over-year sales by company-owned restaurants fell 7% despite a 5% increase in revenues from franchised restaurants. Operating income rose 5% year over year while income before provision for income taxes rose a much more modest 1% with income tax provisions increasing 11% in the same time period.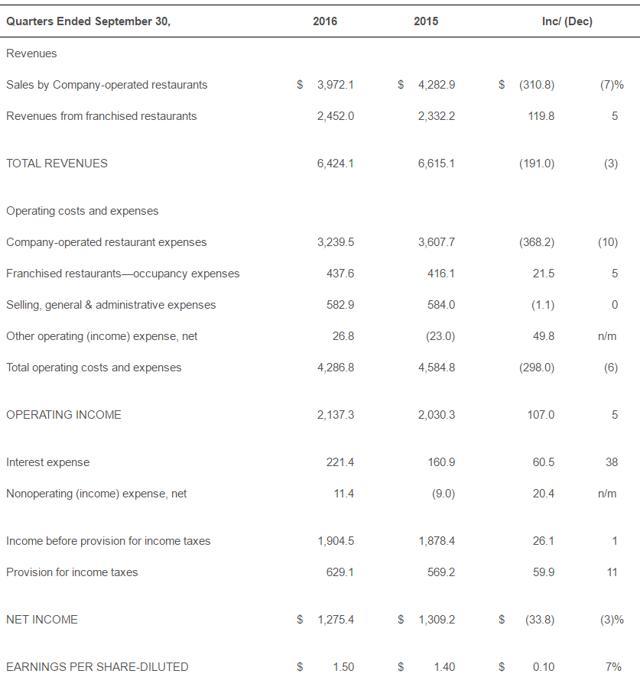 Click to enlarge
A Trump Administration Will Help Boost Revenues and Net Income
MCD has been on a roller coaster ride in 2016. After initial success of the all-day breakfast menu around Q3 2015, shares rose from roughly $95 to $127 by July of 2016 but have since tapered. Year-to-date the stock has returned 2.53% from its starting price of $114.95 which is more or less where it sits at the time this article is being written. Despite that, good news is on the horizon. While it remains to be seen what tax and regulatory proposals would look like under a President-Elect Trump, it's safe to say the administration will seek to drastically cut corporate taxes, income taxes and regulations and would likely oppose sharp increases to the federal minimum wage which is currently $7.25 per hour. All of that is good news for McDonald's. The corporation itself will likely see a reduced tax burden along with its employees who stand to benefit from Trump's proposed 13% federal income tax cut to those making below $75,000 a year. The company's U.S.-based processing and distribution plants will likely see reductions to their regulatory costs as well and the uncertainty regarding possible sharp increases in labor costs are going to be largely mitigated. Investors have been so focused on Trump's impact on the financial, health care, industrial and tech industries that MCD has only this week begun to benefit from the "Trump effect" - multiple days of post record highs - that we've seen in U.S. equities markets.
The Bottom Line
McDonald's is a strong brand. Shares of MCD have recently had their valuations decline and there is uncertainty regarding the risks the brand is making to its flagship sandwich, the Big Mac. Those concerns are warranted. Company-owned store sales are down and the menu has seen constant changes over the last couple of years as the company tries to fend off a possible decline due to an increase in healthier options. Despite all that, it appears there will be solid upside for McDonald's in 2017 and 2018 resulting from legislation. Both the corporation and the vast majority of its employees will likely see their income taxes cut. Production, ecological and food prep regulations may ease on the fast food giant, and wages will likely not increase dramatically across the board nationwide, although many States and municipalities are set to increase minimum wage. MCD is a coin toss at this point. A lot is riding on the success of the new line of Big Macs. What we know for sure is the company is no longer as resistant to dramatic changes in their menu as they were yesteryear and tax and regulatory burdens will likely decrease over the next 4 years for the company. Whether or not that warrants a buy is up to debate, but if you already own MCD, there are reasons to believe the opportunity to grow the bottom line will be there in 2017-2018, one way or another.
Disclosure: I/we have no positions in any stocks mentioned, and no plans to initiate any positions within the next 72 hours.
I wrote this article myself, and it expresses my own opinions. I am not receiving compensation for it (other than from Seeking Alpha). I have no business relationship with any company whose stock is mentioned in this article.