By Matthew Carr
I went to a local GameStop (NYSE:GME) last Friday morning. It turned into one of those classic holiday shopping moments.
There was a frantic crowd in the store. And they were all there to buy the same thing... Nintendo's (OTCPK:NTDOY) Mini NES.
The microconsole looks like it's going to be the must-have item this holiday season. It retails for $60 and plays 30 classic games.
GameStop opens at 10:00 a.m. I arrived on the scene at around 10:30. The guys behind the counter were telling everyone that they were sorry, but they had completely sold out of the Mini NES within minutes.
I couldn't help chuckling as they delivered this same message to every person in line - as well as people calling in (the phone was ringing constantly). According to the clerks, every GameStop location in the area was sold out of the Mini NES. There were none available online, either.
To make matters worse, they had no idea when they'd get more in stock. Mothers complained... "You don't know how sad you just made my little boy's Christmas!"
As an investor, the whole scene really summed up what this season is about. In truth, it's my favorite time of the year...
It has nothing to do with the cool weather and little to do with the holidays themselves. I love this time of year because it's when a beaten-down - and often underappreciated - sector takes off.
We're less than 10 days away from Thanksgiving, which will officially trigger the annual holiday-spending blitz.
A Record Year for Consumerism
Expectations are for consumers to spend $655.87 billion on holiday gifts this year. That's up 3.6% over 2015.
And it's above the seven- and 10-year average increases we've seen.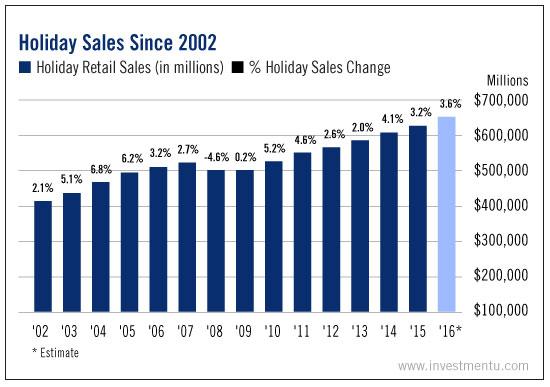 Since the recovery began in 2009, holiday sales have increased an average of 3.4% annually. So this year's projection is a little above average.
And that's just the amount spent on gifts. If we look at total spending - which includes decorations, greeting cards, flowers, food, etc. - the amount expected to be plunked down over the holidays is a whopping $935.58 billion.
Roughly 63% of consumers either began their holiday shopping in October or will begin in November. Another 15% will start in the first two weeks of December.
November is always a good kicking-off period because Halloween and back-to-school shopping are in the books. Plus, all of the big sales begin on Thanksgiving Day, continue through Black Friday and Cyber Monday, and lead all the way up to Super Saturday.
This is why, right now, investors should be focused on retail.
For more than a decade, my Prime System Retail (PSR) Index - which figures prominently in my Prime System Trader research service - has shown a divergent trend in the shares of retailers. The index is made up of more than two dozen retailers across a variety of sectors.
Members of my PSR Index see their share prices peak largely in April or early May. Over the next six months, they tumble lower.
Here's how my PSR performs every year during the sector's worst months (its Non-Prime Period) from May to October...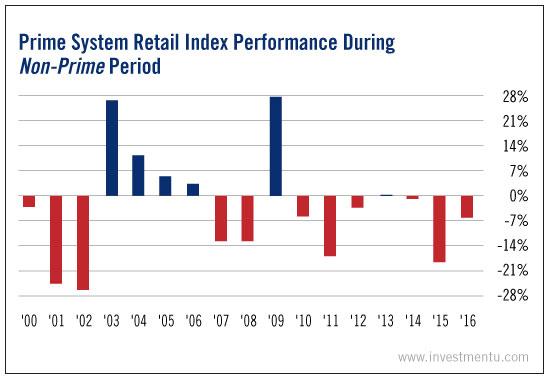 It's not that these are "bad" retail companies. It's just that, for consumers, there's no real reason to go shopping during the summer months. So revenues slump and investors move on to other opportunities.
But it's a different story for the final months of the year. There's back-to-school shopping, not to mention the underappreciated Halloween. And just as soon as Thanksgiving ends, we'll have the final holiday shopping rush that stretches all the way into late December.
For this period, it's quite a different story for members of my PSR Index...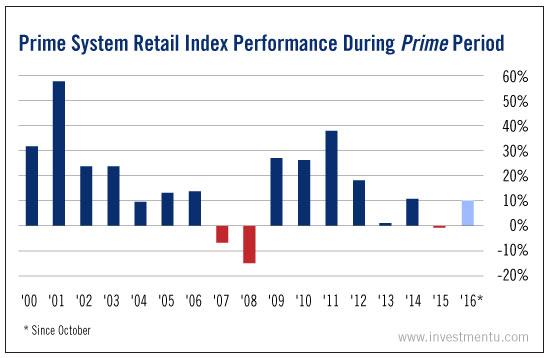 Measuring from October to May, there have been only three down periods for the PSR Index. This year, it's already up more than 10% since the start of October.
During that same span, the Dow Jones Industrials are up 3.84%. The S&P 500 is up just 1.5% and the Nasdaq is up a little more than 0.30%.
So the PSR Index is outperforming the broad markets by a large margin.
A Real Gift for Investors
Right now, only one member of the PSR Index is down significantly: Amazon.com (NASDAQ:AMZN). In fact, it's weighing on the S&P and the Nasdaq as a whole due to some fallout from the election. (This tweet sums up the president-elect's feelings about Amazon's founder Jeff Bezos.)
But none of that changes the fact that Amazon could be in for a very profitable holiday season. The number of consumers expected to shop at least partially online is at its highest ever. More than 56% of shoppers say they will buy gifts online this year. That's up 6.8% from 2015.
Investors have to remember: Retailers make 20% of their annual revenues during the winter holiday season.
We know these companies are going to post their largest sales numbers around the same time each year. It's like a reliable annual gift... a perfect profitable trend.
Once you recognize this pattern, you'll have a new reason to appreciate the holiday season.
Disclosure: We expressly forbid our writers from having a financial interest in their own securities recommendations to readers. All of our employees and agents must wait 24 hours after online publication or 72 hours after the mailing of printed-only publication prior to following an initial recommendation. Any investments recommended by Investment U should be made only after consulting with your investment advisor and only after reviewing the prospectus or financial statements of the company.