This article was released to members of the Cambridge Income Laboratory 20 days ago.
The Invesco Value Municipal Income Trust (IIM) is significantly undervalued relative to its recent history, whereas the PIMCO Municipal Income Fund (NYSE:PMF) is slightly overvalued relative to its recent history, opening up the possibility of pairs trade in the muni space.
Invesco Value Municipal Income Trust [IIM]: 4.8% yield, -8.5% discount, -2.80 z-score, 33.8% leverage, 1.37% expense ratio.
PIMCO Municipal Income Fund [PMF]: 6.0% yield, +21.0% premium, +0.60 z-score, 36.1% leverage, 0.83% expense ratio.
Alpha Gen Capital has written an excellent article with fundamental analysis of IIM's holdings as well as the muni environment in general. Arbitrage Trader recently suggested a pairs trade that is long IIM and short the iShares National AMT-Free Muni Bond ETF (MUB).
In this article, I want to focus on the divergence between IIM and PMF to explain why I think that mean reversion in the premium/discount of the two CEFs could take place, allowing for an investor to profit from this pairs trade.
Similar NAV performances but deviating price returns
Since Aug. 1, 2016, IIM and NAV have had virtually identical NAV performances (-3.00% and -3.39% at the time of writing, respectively).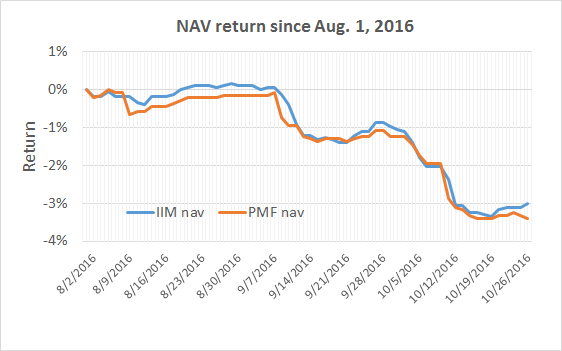 (Source: Stanford Chemist with data from CEFConnect)
According to price, however, IIM has performed over twice as worse as PMF over the same time frame.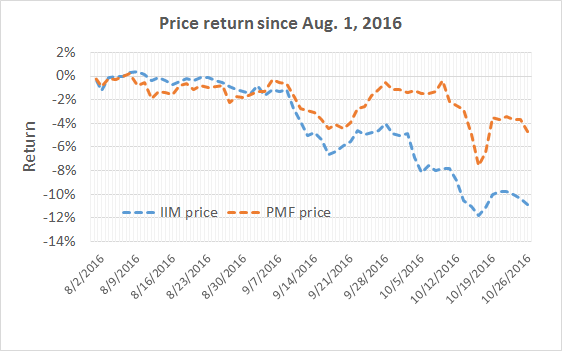 (Source: Stanford Chemist with data from CEFConnect)
This meant that while PMF's premium had continued to hover in the low 20's, IIM's discount widened significantly this month.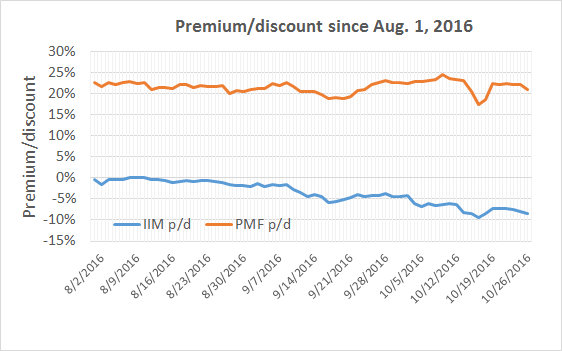 (Source: Stanford Chemist with data from CEFConnect)
The reason for the discrepancy could be possibly due to IIM's 11.4% distribution cut that was announced on Sep. 1, 2016. However, as explained in Alpha Gen Capital's article, the distribution cut allows the fund to better earn its distribution rate, which paves the way for better stability going forward. Regarding IIM's recent performance, he writes:
This is panic selling, plain and simple. For investors with high income and who reside in the highest tax-bracket, this is a solid investment choice. There is also some market balancing going on with sellers pressuring the price. Given the distribution cut, investors are equivocating the distribution yield of IIM with many other popular muni CEFs. The problem is, many of those funds have yet to cut their distributions and are highly susceptible to do so in the next three months.
Mean reversion strategy
Over the long term of 10 years, PMF has outperformed IIM by about 0.50% annually on a NAV basis once adjusted for leverage according to Morningstar data. So the "PIMCO premium" could be in effect here. However, does a 50 bps disparity in annual performance justify a nearly 30% difference in premium/discount values between the two funds?
To be fair, despite its 21% premium PMF is not severely overvalued relative to its recent history because its 1-year z-score is "only" 0.60. On the other hand, IIM's discount of -8.51% and 1-year z-score of -2.80 places it firmly into the undervalued camp.
Thus, investors may consider pairing a long IIM position with a short MUB (the muni ETF) position, instead of short PMF. As of writing, the short fee for PMF from International Brokers is 12.38%, while no shares of MUB are available for shorting.
[Nov. 15th update] Since publication on Oct. 27th, IIM has returned -5.85% and PMF -12.3%, good for a 6.45% differential in less than 3 weeks. Most of this has been due to premium contraction for PMF, with its premium falling about 10 percentage points to 10.17% (1-year z-score -2.20) while IIM's discount also expanded slightly to -10.90% (1-year z-score -2.80). This arbitrage trade might still have room to run based on the difference in absolute premium/discount value.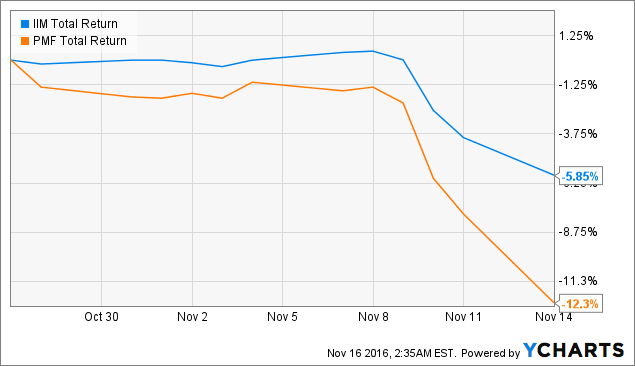 IIM Total Return Price data by YCharts
If you have enjoyed my article, please consider clicking the "Follow" button next to my name to be alerted to new content! Also, subscribers to the Cambridge Income Laboratory receive my best trade ideas in advance, have access to my personal ETF/CEF income portfolio, and can request specific ETF/CEF analysis.
Disclosure: I/we have no positions in any stocks mentioned, and no plans to initiate any positions within the next 72 hours.
I wrote this article myself, and it expresses my own opinions. I am not receiving compensation for it (other than from Seeking Alpha). I have no business relationship with any company whose stock is mentioned in this article.