One of the best and worst feelings in the investing world is watching one of your precious portfolio holdings tank after reporting a strong quarter, so I can empathize with Dick's Sporting Goods (NYSE:DKS) shareholders who took it on the chin after the company posted a great quarter. Shares fell 7% in spite of revenue and earnings above expectations.
After updating my model and spending some time digging into the quarter and digging into my key assumptions, I am increasing my target price to $52-55 from a previous value of $48. Though the company faces some long-term labor headwinds, the growth provided by competitive closing in robust athletic markets like California and Florida will improve the company's long-term growth outlook. Let's take a look at the quarter and why I've changed my expectations for long-term growth.
Q3 by the numbers
Dick's third quarter demonstrated a strong acceleration q/q, driven by a 5.2% same-store sales gain. Net sales were up sharply, growing 10.2% y/y with incredible e-commerce sales growth of 32% y/y. In addition to a less competitive environment due to The Sports Authority and Sports Chalet closing, Dick's noted a strong contribution in apparel driven by a strong slate of playoff teams in Major League Baseball. Chicago Cubs and Cleveland Indians fans rabidly purchased merchandise, and I suspect the Cubs specifically drove a strong amount of growth. This will lead to a tough comparison in 2017, but I think some of the performance carries over into the holiday season. Dick's has a large presence in the Midwest, and I think Cubs World Series merchandise will outweigh any negative impact of weather.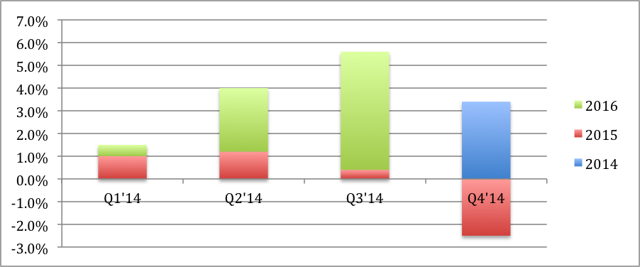 Click to enlarge
Source: DKS SEC filings
As we can see in the above chart, the two-year stack is accelerating. While Q4'15 was down 2.5%, we should see the stacked comp trend decline slightly in Q4, but remain positive overall. From a revenue perspective, Q3 was Dick's best quarter since Q4'14.
I am not concerned about any of the fears of Under Armour (NYSE:UA) or Nike (NYSE:NKE) growth slowing. Dick's has solid brand diversity, and it is more dependent on store openings than comps at this stage of its lifecycle.
Gross margins have remained remarkably stable at the firm, though margins jumped 80 basis points y/y in Q3. A strong full-priced apparel mix, which includes a lot of the aforementioned team gear, as well as occupancy leverage with the same-store sales growth and a higher mix of online sales drove the margin expansion. Because of the competitive landscape in the space, I do not see gross margins moving materially higher; however, I think we may see a little more stability in the 29.7-31% range, assuming no material miss. I've adjusted my model accordingly.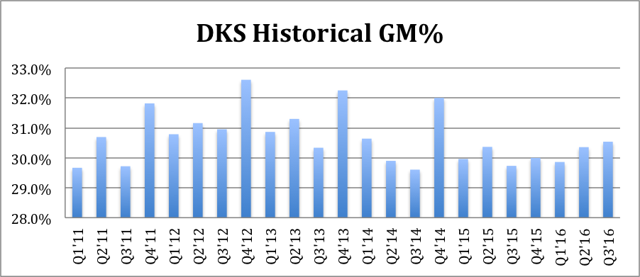 Click to enlarge
Source: DKS SEC filings
On the operating margin side, SG&A jumped 135 basis points y/y to 25.4% of sales. Dick's noted a few items driving this: investment in e-commerce, Olympic sponsorship spend (one-time), and full-time footwear headcount. Needless to say, higher labor costs can also be factored into this higher SG&A spend. I am slightly concerned about the higher footwear headcount spend. I am skeptical of Dick's ability to win against Foot Locker (NYSE:FL) and Finish Line (NASDAQ:FINL) in this more specialized segment, especially given the years of loyalty and goodwill the two footwear giants have established.
Nevertheless, I am optimistic that the company will make adjustments on this spend if necessary. As a result, I am keeping my long-term operating margins assumptions unchanged.
Store growth runway: longer than anticipated
The key assumption change I've made in evaluating Dick's Sporting Goods is my long-term outlook for sales growth. Not many companies have as attractive internal investment options as Dick's Sporting Goods has available. During the quarter, the company purchased several Sports Authority assets, including the name, customer list, and attractive leases in California and Florida. I think this will be a great beachhead into new market expansion, and although these markets are attractive from a consumer standpoint, levels of competition are well below where they should be. Dick's now has a strong first mover advantage that will stimulate store development and online sales growth.
Additionally, Q3 marked Dick's entry into the highly attractive Houston market. Though there are already established entrants like Academy, I think Dick's will be able to leverage its brand to connect with the high concentration of transplants.
Capital allocation made easy
My favorite feature of an investment in Dick's Sporting Goods is the ease of capital allocation decisions at this period in time. The company can continue to spend $250-300m per annum opening new stores, invest in its e-commerce platform, and return the rest to shareholders via dividends and buybacks. The Dick's team makes it look easy.
The company forecasted comps of 3-6% in Q4 and EPS of $1.15-1.27. I think the market was a little worried about the uncertainty, but I think Dick's management team is simply acknowledging that Q4 can be fairly unpredictable. I anticipate Dick's to easily top $1.15 per share.
Shares are currently trading near the high end of my value range. However, I am impressed with the long-term runway for growth as well as management's capital allocation abilities. I am waiting for a pullback to initiate a position, but I would not hesitate if shares fall to the mid-$40's.
Disclosure: I/we have no positions in any stocks mentioned, and no plans to initiate any positions within the next 72 hours.
I wrote this article myself, and it expresses my own opinions. I am not receiving compensation for it (other than from Seeking Alpha). I have no business relationship with any company whose stock is mentioned in this article.