As previously mentioned, Bank of Cyprus (OTC:BACPY) has two major challenges on its road to recovery: (1) Stop its dependence on ELA funding and (2) clean its books of non-performing loans.
This quarter the bank made great progress on its ELA reliance by reducing it to 0.8 billion, which is about 3.6% of total assets. Cypriots regained their trust in the banks, and start to deposit their savings again. Management expects to fully repay ELA in the beginning of 2017, which I deem very likely. In my last article I expected another 0.6 billion could be attracted before year-end. Customer deposits in Cyprus went up from 13.3 B in June to 14.2 B in September, so 0.9 B has been attracted already.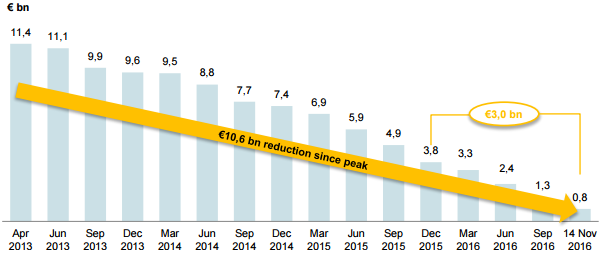 Bank of Cyprus also made progress to clean its books from Non-Performing Loans (NPLs), by reducing it to 42.6%. That's still a stunning amount and a lot of work has to be done to get this towards a more acceptable 10% level. To be honest, I have no idea how this will play out. The NPL ratio can be further reduced by (1) further recovering/restructuring problem loans, (2) by originating new healthy loans or (3) a combination of the two. Besides that, the NPL ratio could trend downwards rather linear as we have seen now from quarter to quarter. But I also see a chance of a sudden one-time drop in NPLs. Problem loans have to be performing again for a certain amount of time (say 1 year) before they can be classified as performing. I can imagine that a lot of problem loans got served again in Q4 2015/Q1 2016 after the new foreclosure laws were passed. If that's true, a big chunk of NPLs should disappear soon. The inverse could also be true; the reduction in NPLs will go slower as the easiest problem loans have been restructured/recovered already and they are stuck with the complex ones. For now I can only speculate.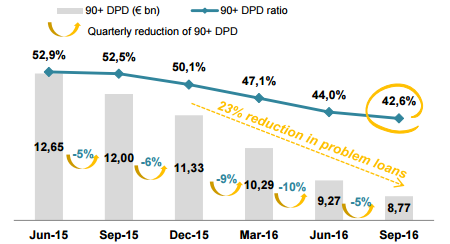 But some other things are known. First of all, 54% of the problem loans are already covered by provisions: cash put aside over the years to cover losses. I like it BOC is increasing the cash coverage almost every quarter.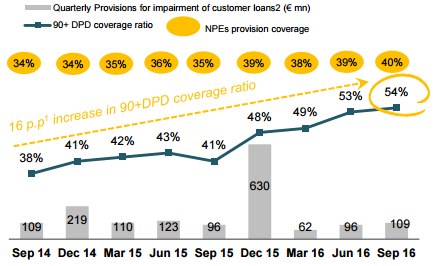 Secondly, 64% of the problem loans are covered by tangible assets. That means the total coverage (cash + collateral) for the NPLs is at a comfortable 116%. The only thing that keeps me worried is that property prices can fall, and thus collateral will be worth less. For now, property prices are stabilizing and the economy is growing, but I would like BOC to keep increasing cash coverage to mitigate this potential risk.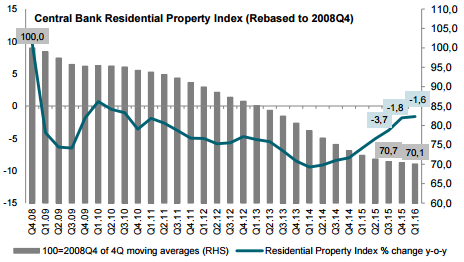 Also some details about the potential catalyst, being listed on the LSE listing, are mentioned in the Q3 report. BOC will apply for a standard listing on LSE and thereafter work towards a premium listing. The full details and the Scheme of the listing will be shared in the coming days. I will wait for those reports and inform you in detail in a separate article.
I think BOC made great progress this quarter and the recovery is very likely to continue. In the meantime, the stock has been going down a little (the market is efficient, right?). Eventually, the market will recognize this bank is recovering fast, is well reserved and is a strong franchise in Cyprus. I have no idea when this will happen, but the listing on the LSE might tell the market BOC does not equal Greece and thus be valued differently.
Disclosure: I am/we are long BACPY.
I wrote this article myself, and it expresses my own opinions. I am not receiving compensation for it (other than from Seeking Alpha). I have no business relationship with any company whose stock is mentioned in this article.
Editor's Note: This article discusses one or more securities that do not trade on a major U.S. exchange. Please be aware of the risks associated with these stocks.