This is the third article in a five-part series were I will be covering five stocks that I believe will outperform the S&P 500 (NYSEARCA:SPY) over the next four years of a Donald Trump presidency. I will be constructing the portfolio based on the acronym T.R.U.M.P, which is made up of five stocks have tailwinds behind them during a Donald Trump presidency, are undervalued and have an appealing technical outlook. The company that I will be covering in this article is United Rentals (NYSE:URI).
United Rentals: The "U" in "TRUMP"
Since Donald Trump has been elected, the prospect of large infrastructure package has become an important prospect for companies and industries that can provide equipment for those projects. United Rentals is the market share leader in the United States rental equipment market and because of that, they are well positioned to benefit from Donald Trump's infrastructure plan.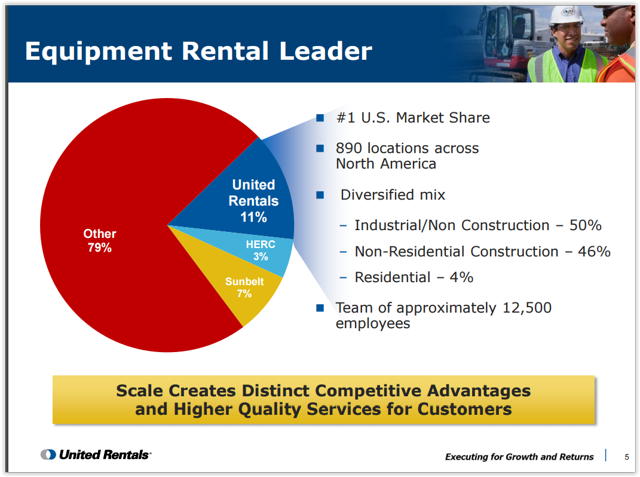 Click to enlarge
[United Rentals Industry Overview]
Business
Looking at the underlying business of United Rentals it is easy to see how a Donald Trump presidency could have a positive impact on the company. The following chart shows that pretty much all the types of equipment that United Rentals has will be highly used during used during a period where there are numerous infrastructure projects. As I noted above, United Rentals is the largest player in the market and thus in my opinion they will be the one who construction companies turn to when they need to rent one or many of the products that United Rentals offers.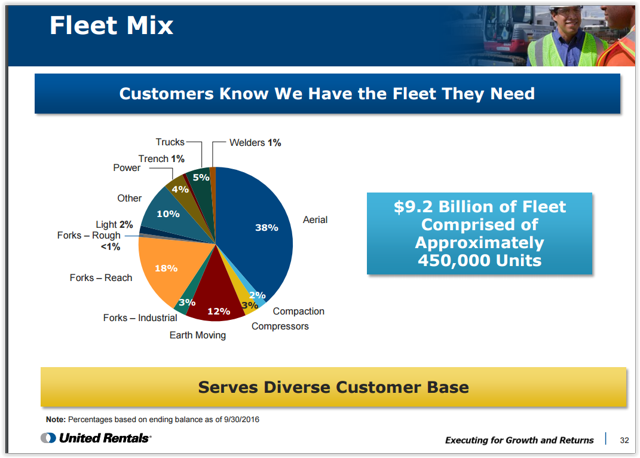 Click to enlarge
[United Rentals Industry Overview]
I found an interesting chart from the United Rentals 3rd quarter review, which shows Real Total U.S. Construction Per Capita Spending is trending higher, but it is still at depressed levels compared to historical standards. To me, this is a big reason why the U.S. economy has improved but still seems to be lagging because spending is below historical levels. As spending continues to increase United Rentals will continue to benefit as their exposure to the oil & gas industry has stabilized along with the price of oil.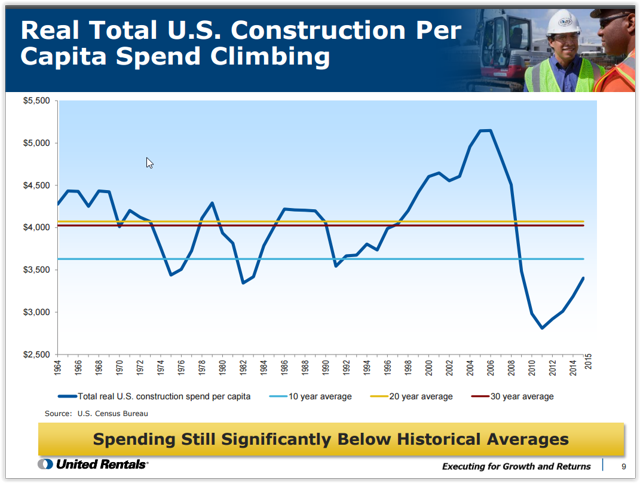 Click to enlarge
[United Rental 3rd Quarter Financial Review]
Valuation
To determine the upside opportunity for United Rentals, I conducted a discounted cash flow calculation (table below) and found that shares of United Rentals have a fair value of $149.22, which is 58.51% above the current price. For my calculations, I used data from United Rentals financials on Gurufocus, growth data from Zacks and to determine the discount rate and terminal growth rate, I used the following calculators.
CFFO/Share:$2068/86.4 shares = $23.94 CFFO/share
LT Debt/Share: $7393/86.4= $85.57 LT Debt/share
Proj. Long-term growth rate: 15.10%
Terminal growth rate: -14.95%
Discount rate: 10.23%
Assumptions
Cash flow grows for next five years.
After that, growth levels off to the terminal rate for 15 years.
URI

DCF Calculations

CF/Share

PV

Year 1

1

27.55

$24.99

Year 2

2

31.71

$26.10

Year 3

3

36.50

$27.25

Year 4

4

42.01

$28.45

Year 5

5

48.35

$29.71

Year 6

6

41.13

$22.92

Year 7

7

34.98

$17.69

Year 8

8

29.75

$13.65

Year 9

9

25.31

$10.53

Year 10

10

21.52

$8.12

Year 11

11

18.31

$6.27

Year 12

12

15.57

$4.84

Year 13

13

13.24

$3.73

Year 14

14

11.26

$2.88

Year 15

15

9.58

$2.22

Year 16

16

8.15

$1.71

Year 17

17

6.93

$1.32

Year 18

18

5.90

$1.02

Year 19

19

5.01

$0.79

Year 20

20

4.26

$0.61

Year 1-5 Growth Value

$136.49

Terminal Growth Value

$98.29

LT Debt/share

$85.57

Value

$149.22

Current Price

$94.14

Upside/Downside

58.51%
Technical Outlook
The technical outlook for United Rentals is appealing because the stock broke through the $83 level, which has been a key level for both support and resistance over the last three years. Shares of United Rentals first broke above $83 in early 2014 and stayed above that level until early 2015, when this level acted as support for the stock. However, in mid 2015, the stock broke down and crossed this key level and moved nearly 50% lower over the rest of 2015 and early 2016. Then when the oil market bottomed in February shares of URI started a strong upward trend only to run into the $83 wall in late August and September and fail to close meaningfully above that level. This changed the day after the election when the stock shot higher and blew through the $83 level to close at $88.86. In addition, since mid July shares of United Rentals had started a short-term to intermediate term downtrend [Blue channel], which was also broken when the stock shot higher the day after the election.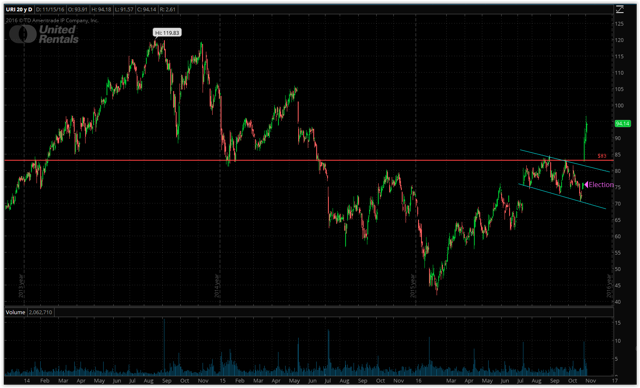 Click to enlarge
[Chart from ThinkOrSwim]
Closing Thoughts
In closing, I believe United is set up to succeed and outperform the S&P 500 over the next four years because of the potential infrastructure tailwinds behind them, the stock is currently undervalued and the stock has an appealing technical outlook. Stay tuned for part 4 to find out what stock is the "M" in T.R.U.M.P
Disclaimer: See here.
Disclosure: I/we have no positions in any stocks mentioned, and no plans to initiate any positions within the next 72 hours.
I wrote this article myself, and it expresses my own opinions. I am not receiving compensation for it (other than from Seeking Alpha). I have no business relationship with any company whose stock is mentioned in this article.