Last week, the Federal Reserve released its Senior Loan Officer Opinion Survey on Bank Lending Practices ("SLOOS"), published quarterly. In the survey, 69 domestic banks participated, in addition to 21 US branches and agencies of foreign banks. The 69 institutions collectively own approximately $10 trillion in assets, or about 70% of the overall market for domestically chartered, federally insured commercial banks.
The expansion of credit lines to commercial and industrial (C&I) borrowers represented the most conspicuous and surprising trend in the quarter. The total outstanding issuance of C&I loans is currently at the highest level seen, as a percentage of GDP, since Q3 1989, when it also stood at 11.1%. Expansion in C&I loan growth above 10%-12% of GDP has historically been an indication that the lending market is close to maxing out its potential and presents higher levels of credit risk. The past two recessions have been prefaced by a strong expansionary run in C&I loan growth above 10% of GDP, followed by a period where many borrowers default and credit conditions tighten as a whole.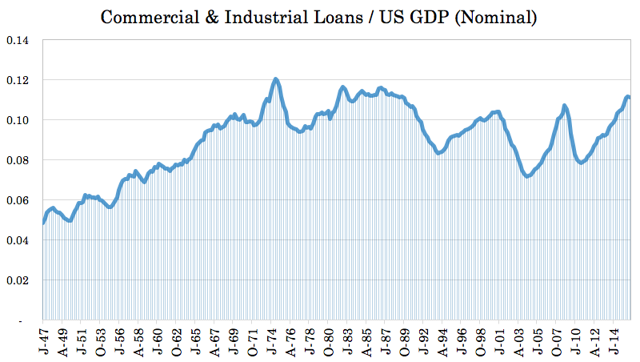 Click to enlarge
(Source: Board of Governors of the Federal Reserve System; modeled by author)
The SLOOS also touches on other types of loans, including commercial real estate ("CRE"), but C&I remains one of the more intriguing loan types for the unique trends that can be observed. Given the lending market in that sector was more or less fully developed around 50 years ago, there is some indication of the notion of an established "ceiling," or a point at which credit risk might outweigh the benefits of further expansion.
The lending market in CRE largely didn't take off until about 30 years ago, when it passed C&I as a larger overall lending market. The CRE lending market is also less representative of the overall business cycle relative to C&I. While CRE loans experienced a run-up and consequent downtrend around the 2008 financial crisis - when real estate (residential particularly) was largely implicated in the fall of the overall market - we largely don't see indications of business cycle fluctuations otherwise outside of 1990-91 and 1974 to a lesser extent.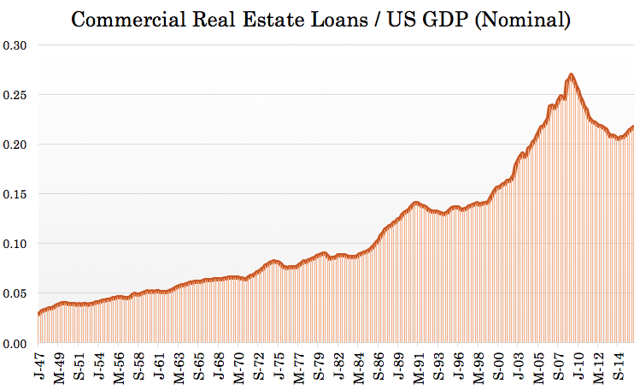 Click to enlarge
(Source: Board of Governors of the Federal Reserve System; modeled by author)
Historically, given C&I lending encompasses a larger swath of the overall economy, it serves as a better leading indicator of business cycle trends, whereas the CRE loan market operates more independently.
The Fed summarizes the results of the two by noting that, based on the survey results, banks left their standards on C&I loans essentially untouched while tightening standards on CRE loans over the past quarter. Even so, 17.6% of survey participants (from large and middle-market firms) indicated a willingness to extend maximum credit lines and 20.5% of respondents from large firms. There were no banks that indicated a tightening of underwriting standards among C&I loans.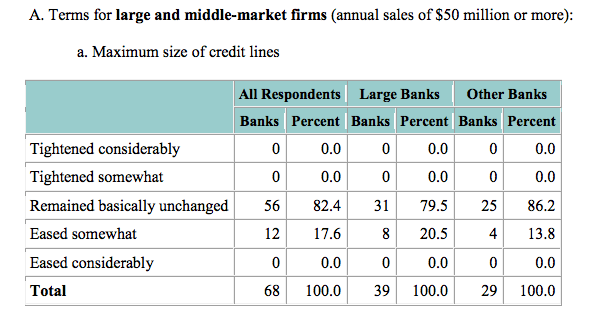 (Source: page 13 of the Q3 2016 SLOOS full report)
In the Q2 2016 survey, there was an even number of respondents indicating they had either tightened or loosen standards regarding the maximum size of credit lines. Overall, the tendency to be less likely to ease has been the prevailing trend at large and middle-market firms since Q2 2014, before the stark reversal we saw last quarter. Whether this is indicative of a new trend or merely an outlier remains to be seen.
Given the SLOOS records responses anonymously, we cannot determine where each bank stands individually. In addition, the results are categorical, somewhat judgment based, and not strictly quantitative; therefore, we can't determine definitive conclusions from what's reported. However, a willingness to expand their largest loans at a time when the US may be approaching the peak of its business cycle - e.g., jobs lost during the recession are no longer needing to be filled (top chart below) - and at a time of highly elevated non-financial corporate debt levels (bottom chart below), runs contrary to what current circumstances might dictate.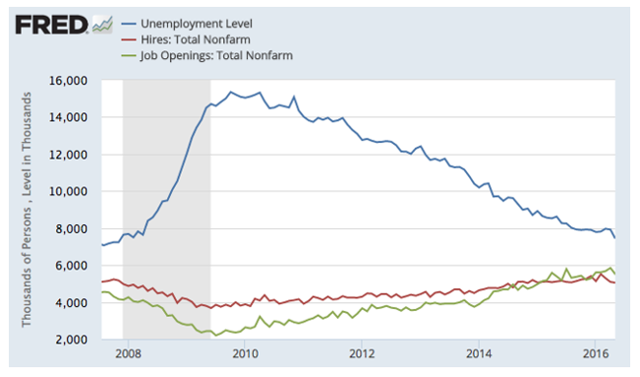 Click to enlarge

Click to enlarge
(Source: Board of Governors of the Federal Reserve System; modeled by fred.stlouisfed.org)
An environment characterized by low GDP growth (up 1.5% year-over-year), a potential business cycle peak, burgeoning corporate debt, and an already near-saturated C&I lending market (based on the historical picture) should generally represent a period where banks tighten their lending standards in countercyclical fashion. Moreover, given that most C&I lending is comprised of adjustable rate loans (e.g., six-month LIBOR plus a spread contingent on credit risk), especially as loan size increases, a rise in rates would compound the issue governing the already larger-than-normal degree of credit risk.
Overall, this is one element that should be somewhat of a concern to investors with long exposure to US commercial banks (NYSEARCA:XLF).
Disclosure: I/we have no positions in any stocks mentioned, and no plans to initiate any positions within the next 72 hours.
I wrote this article myself, and it expresses my own opinions. I am not receiving compensation for it (other than from Seeking Alpha). I have no business relationship with any company whose stock is mentioned in this article.