Last year, when Apple (NASDAQ:AAPL) was trading at $122, I posted an article describing the stock's habit of falling at the end of the year. The article was selected as an editor's pick but nevertheless received much backlash from the "Apple-can-do-no-wrong group."
The statistical evidence in my article was either ignored or employed. Those who did not employ it saw AAPL stock drop from $122 to $95 two months later. Those who did heed the data profited: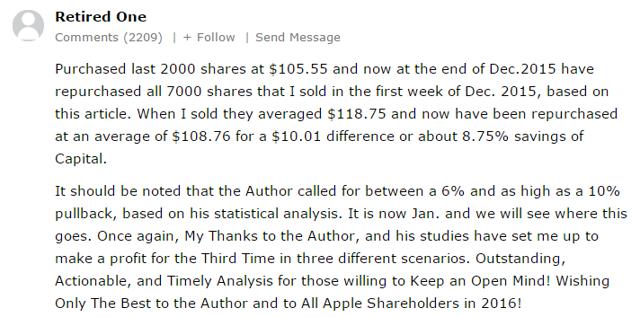 AAPL typically hits a peak before December and falls into the new year. Understanding this pattern can help even investors who don't "time the market"; investors such as Retired One above. Here's where we currently stand:

Looking at the above chart, I regret not writing this article exactly one year after my first article. The previous was written on Nov 5; this year, Nov 5 was the time at which AAPL broke below $110.
So I admit the article has come a bit late, but I am rushing this out there to re-emphasize this important seasonal pattern in Apple. Below, I update the data from last year. The trend still holds, as you will see:
The Numbers
| | | |
| --- | --- | --- |
| Year | Last Day Nov | Last Day Dec |
| 2015 | 118.30 | 105.26 |
| 2014 | 118.93 | 110.38 |
| 2013 | 79.44 | 80.15 |
| 2012 | 83.61 | 76.02 |
| 2011 | 54.6 | 57.86 |
| 2010 | 44.45 | 46.08 |
| 2009 | 28.56 | 30.1 |
| 2008 | 13.24 | 12.19 |
| 2007 | 26.03 | 28.3 |
| 2006 | 13.09 | 12.12 |
| 2005 | 9.69 | 10.27 |
AAPL's growth each December:
| | |
| --- | --- |
| Year | Percent increase |
| 2015 | - 0.1102282 |
| 2014 | -0.082957695 |
| 2013 | -0.002129104 |
| 2012 | -0.101845282 |
| 2011 | 0.048640293 |
| 2010 | 0.025603750 |
| 2009 | 0.042854902 |
| 2008 | -0.090371803 |
| 2007 | 0.076140402 |
| 2006 | -0.085169035 |
| 2005 | 0.048788854 |
On average, AAPL fell by 7.5% over the past four Decembers. And this is not a recent phenomenon. Over the past 20 years, AAPL has underperformed in December - even during its strong growth period: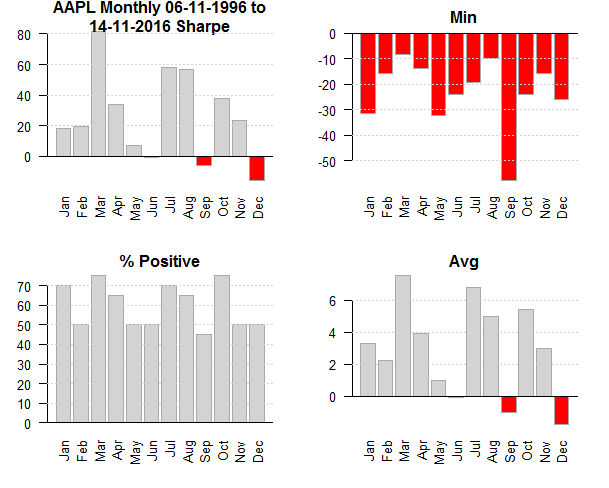 December is the only month in which AAPL has a statistically significant negative Sharpe ratio, implying a negative risk/reward profile. I would argue that the recent years have gotten worse, as AAPL has seen its growth phase near completion.
This year might be the worst of all. While fundamental investors fool themselves with bullish outlooks on new AAPL products, the truth is that product releases mean little for AAPL stock. Still, many Apple bulls perform mental gymnastics to convince themselves that the stock is a hold. I am reminded of grading high school essays that are mere lists of every possible bullish outlook, no matter how insignificant:
Face it: Apple has peaked. The current stock will begin to trade more like a value stock or a dividend stock in its beginning phases. The growth phase is over and the stock is still inflated by Apple fan hype and a fervent group of Apple bulls.
Peak Apple has arrived. Falling sales: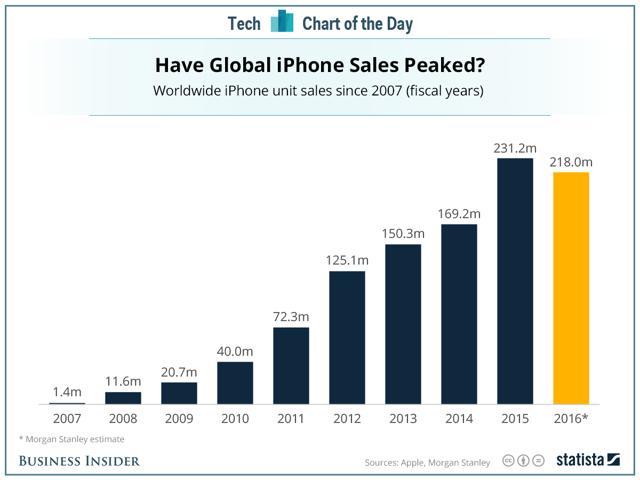 Rising debt contrasting with stagnant net worth: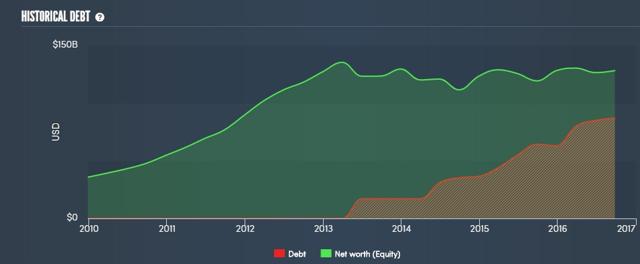 Falling profit margins: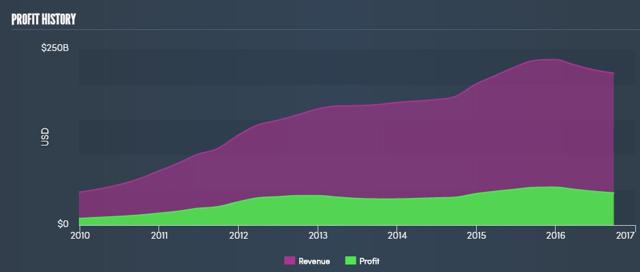 My Prediction for November to December 2016
Apple will continue falling into December. A new level of support will form there. This implies that the buying point for AAPL will be there, not here, even if you think AAPL is looking mighty cheap at the moment.
Remember that funds must rebalance their portfolios at the end of the year. With AAPL being one of the world's biggest holdings for institutional investors, this means much AAPL selling for the sake of not being overexposed in any one stock or industry. More downward pressure for Apple for this reason.
The selloff might have already begun. With a predicted average fall of 7.5% in December, $105 looks like a likely bottom. However, if you consider the downward trend we are currently seeing as unrelated to the seasonal pullback, we might expect $100 or even sub-$100 by the end of December.
I can feel many Apple bulls reading this, fuming, calling me names in their heads. Allow me to reiterate: I am not an Apple bear; I am not in an AAPL position at all; this is not a hit job.
This is advice. This is statistical facts, numbers put into words and charts for your benefit, so that you can increase your profits and minimize your losses. I'm trying to help you; you merely look at the bright side:
This implies an upcoming bargain buy for you. This implies an excuse to leave the AAPL market for a month so that you can focus on your family over the holidays and not have to go through the stress of seeing your favorite stock fall day after day.
This implies an opportunity to experiment with protective put options or other fun derivatives. Don't kill the messenger.
Notes:
Note: Get my articles as soon as they are published by clicking the big orange "follow" button at the top of this page. Make sure you choose "real-time alerts."
Note: All unlabeled figures were created by me from data pulled from Yahoo and ADVN through R. Charts with blue backgrounds are from Etrade Pro. Fundamental charts from a paid subscription at simplywall.st.
Learn More about Earnings
Exposing Earnings - my earnings prediction newsletter - is now live, here on Seeking Alpha. In this newsletter, we employ both fundamental and pattern analyses to predict price movements of specific companies after specific earnings. I offer specific strategies for playing those earnings reports. To-date, we are 94% accurate on earnings report predictions.
Disclosure: I/we have no positions in any stocks mentioned, and no plans to initiate any positions within the next 72 hours.
I wrote this article myself, and it expresses my own opinions. I am not receiving compensation for it (other than from Seeking Alpha). I have no business relationship with any company whose stock is mentioned in this article.