This revisit updates my initial look at Resource Capital (RSO) from my August 15, 2016, article,"Resource Capital: A View From The Perspective Of A Preferred Investor".
Although it is my hope that you will read the entire article, for which I have provided the link above, my bottom-line assessment and buy recommendation at the time were as follows:
From as best as I could tell, it appears that RSO is reducing its debt, increasing its liquidity and consolidating its business model while it's losing money. Which bolsters my conclusion that this company faces no existential threat and will continue to limp along as do most such companies that might not prosper short term, but continue to survive as it did when I made my first investment in its preferreds in 2009. What I stated about it surviving months ago remains accurate, and I continue to believe will remain the same safe bet as I predicted three months ago.

Consequently, those investors with a high tolerance for risk might want to look at RSO's preferreds for a healthy yielding investment; however, I'd be skeptical of an investment in this company's commons. And for my fearless compatriots, let's see which preferred would be the current best bet.

Click to enlarge

This one is a no-brainer. The C Series is by far the best current buy, by yield and price appreciation to call, even though if called, it will be called last behind both the B and A Series.
Let's see how the commons have performed over the past three months since I wrote the initial article concerning Resource Capital. Because of the greater volume of common shares traded as opposed to the limited liquidity of most preferreds, I find the commons to be a better indicator of a company's performance.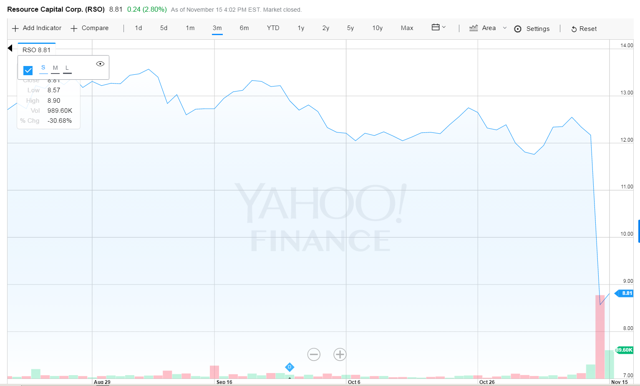 Click to enlarge
It appears that over the past three months, RSO's price movement has been trending down; until its last financial report that appears to have sent it off a cliff. On August 15, its commons traded at $12.71 and is currently trading at $8.81. That's a spectacular, $3.90 drop in price over the past three months, troubling to say the least.
As for RSO's preferreds, according to MarketWatch: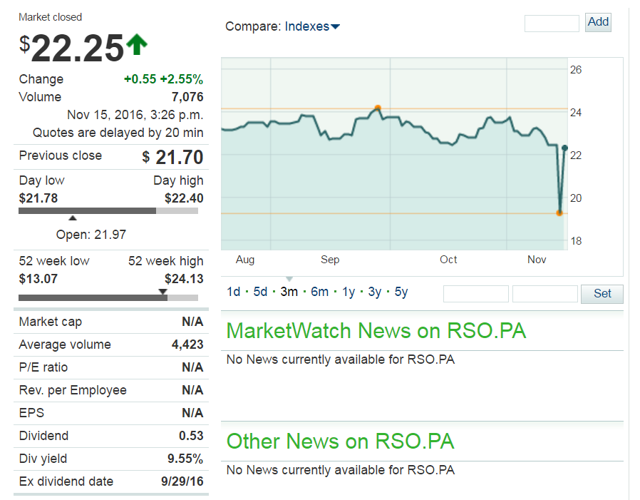 Click to enlarge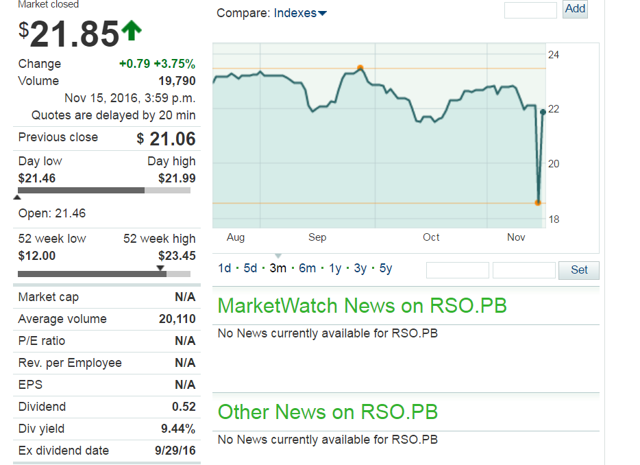 Click to enlarge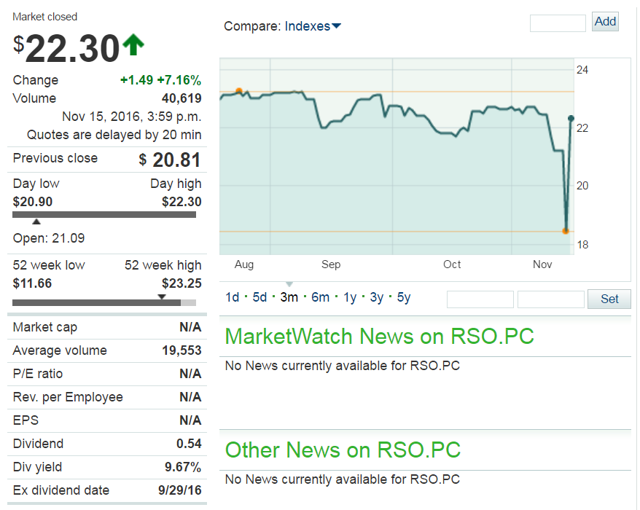 Click to enlarge
Over the past three months, all three preferreds have performed in tandem with its common shares; however yesterday, all three, after following the commons over the cliff, bounced back as if they had landed on a trampoline, gaining from approximately $2.50 to $4.00 in a single day. However, don't mistakenly credit RSO for the incredible bounce, because at the same time a preponderance of the preferred market reacted in a similar fashion, so much so that my preferred portfolio more than recovered all that it had lost over the past two weeks.
Now for a little forward guidance:

Click to enlarge
According the Finviz summary of RSO's financial highlights, this company is now valued at $279.19 when three months ago it had a market cap of $396.83 million. However, it earned $15.90 million on sales of $165.90 million, as opposed to its last quarter when it had lost $13.60 million on 167.80 million in sales. However, YTD it is down a whopping -30.96%. RSO's current and long-term D/E remains the same at 2.03.
However, it's time to put the above numbers in perspective because the game has changed. RSO is no longer the same company under the same management. It appears that for the past eight weeks it is now under the management of C-III Capital Partners, as stated by its CEO Andrew Farkas during its November 14, conference call:
As many of you know on September 8, 2016 C-III Capital Partners of which I am the Chief Executive Officer acquired Resource America the parent company of RSO's external manager. To give you a little bit background on C-III. We are fully integrated real estate services and investment management company that I founded in 2010.

C-III is a commercial real estate platform which has grown significantly since inception is extremely complementary to RSO's primary investment strategies. C-III is an active commercial real estate lender having originated over $5 billion of loans in the last six years alone and an active CMBS investor having acquired bonds in CMBS trust with over $350 billion of underlying commercial real estate loans.

C-IIIs platform also includes the following real estate businesses, which create important synergies throughout the family of C-III companies. First the top performing institutional investment management business with $4 billion of assets under management. Also one of the largest CMBS special services in the United States responsible for $70 billion of commercial mortgages.
He went on to explain:
We understand RSO's historical performance has been disappointing and frustrating for investors. Our team has experienced successfully repositioning companies or replacing management teams, stabilizing operations and creating investment strategies that grow bottom line earnings and shareholder value. We are confident in our ability to execute that plan which are about to walk through in detail and which will put RSO on a path for sustainable results and growth well into the future.
Then he turned the meeting over to Robert Lieber, RSO's new CEO. Who after regaling us with all that had gone wrong at RSO, told us of what direction the new company would go:
To summarize, our strategy is to prudently divest non-core and underperforming assets which account for nearly $0.5 billion or 22% of our book asset value. And as we realize the proceeds from the maturity and sales, we will deploy incremental capital into our CRE lending and CMBS acquisition business. We believe this is the right path as the current RSO CRE debt team is very capable of deploying capital and now will be able to leverage C-IIIs expertise in that platform of additional real estate resources.

Keep in mind that this process will not happen overnight. We are very committed to a long-term strategy in a space we know extremely well. But we expect that the past ahead maybe a bit bumpy particularly in 2017 as we execute our plan, we're optimistic that the fruits of our labor will begin to materialize in 2018. As a result of the revised strategy and the new management team we are formally withdrawing 2016 AFFO guidance and we will be updating dividend guidance as well.

We want to position RSO for long-term success. The recipe for this success includes stabilizing earnings and growing book value. Up until now RSO has paid dividends which were a significant return of capital. In fact, over the past three years only 22% of the dividends paid have been a return on capital as opposed to return of capital. We believe the dividend should be a return on capital and not just a return of investment dollars.

Therefore, for the fourth quarter we intend to pay a dividend of $0.05 per share. We expect the dividend will remain at $0.05 per share for 2017 which we believe will be a transition year. Once we are able to generate consistent earnings, we expect to establish a dividend policy based on a sustainable earnings model for the Company.
That's right boys and girls, RSO's common dividend going forward will be slashed dramatically throughout 2017 from its 2016 $1.68/share per year to $0.20, terrible for the common shareholder, not so terrible for us preferred shareholders, in fact, downright promising. In this case, what's good for the goose, that's us, is certainly not good for the gander, that's the common shareholder, although the positive in their case is that the company has a far better chance of remaining viable.
With that in mind, for those intrepid preferred investors considering an investment in RSO preferreds, let's see which is the current best buy.
| | | | | | |
| --- | --- | --- | --- | --- | --- |
| Symbol | Yearly Dividend | Price | Dividend/Price | Yield | Best |
| RSO-A | 2.125 | 22.25 | 2.125/22.25 | 9.55% | Best |
| RSO-B | 2.0625 | 21.85 | 2.0625/21.85 | 9.44% | |
| RSO-C | 2.15625 | 22.30 | 2.15625/22.30 | 9.67% | Best |
This is an interesting decision because of the callable dates of each. The A is callable 6/14/17, the B 10/2/17, but the C is callable far into the future 7/30/24. If called, the A will certainly be called first because it is first callable, but also because it costs RSO the most/share in interest. It also offers a nice price appreciation of 2.75/share if called, significantly increasing its YTM. Consequently, if you think it will be called within the next few years, it's probably your best buy. However, if not, and you like the idea of your dividends to keep rolling in for years to come, you might favor the C. It's your money and your choice.
Disclosure: I am/we are long RSO-B, RSO-C.
I wrote this article myself, and it expresses my own opinions. I am not receiving compensation for it (other than from Seeking Alpha). I have no business relationship with any company whose stock is mentioned in this article.