Fellow SA author Faloh Investment and I talked about the drugstores recently. We decided to take a closer look at the competition between CVS Health (NYSE:CVS) and Walgreens Boot Alliance (NASDAQ:WBA). Given that both stocks are popular with dividend investors, and that they share a similar role in most people's portfolio, most people only need to own one of the two firms within a well-diversified portfolio.
So which one is the better fit. Faloh looked into CVS and found that company to be lacking. As for me, I personally own Walgreens and I don't own CVS with the following justification.
The primary reason is that CVS is a pharmacy benefit manager (NYSEMKT:PBM), while Walgreens is not. Previously, CVS's PBM business seemed to be a good idea. These specialty companies had made a great deal of money over the past few years, and CVS seemed well-positioned by owning a large PBM of their own.
However the PBMs have run into a world of hurt over the past few quarters. McKesson (NYSE:MCK) is a leading example of this. Shares are down nearly 30% off 52-week highs. Recent earnings were disastrous; net income fell by half and forward guidance was sharply cut: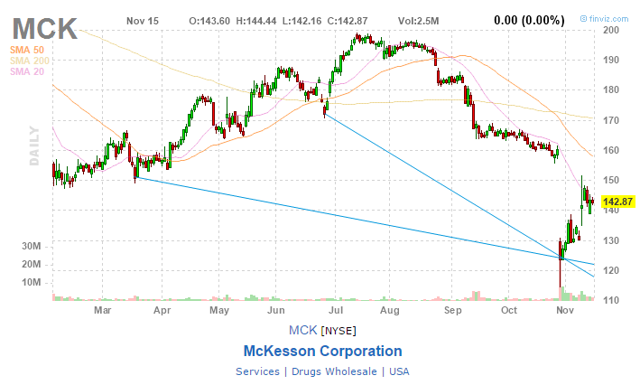 Click to enlarge
At fault, McKesson has been hit by a price war. On top of that, it relied on numerous fixed price contracts. These were structured so that the PBM paid a set amount for drugs from the pharmaceutical company. It stood to make large profits if drug prices kept rising, while seeing a large squeeze if drug prices flattened out or started to fall.
Since the Shkreli pricing scandal and subsequent Hillary Clinton attacks on pharma and biotech companies, drug prices have come under scrutiny. That's no new story by this point, and Trump's win may help alleviate these pressures somewhat. However, the pain is real for the PBM operators, and CVS, by owning an in-house competitor that is fully exposed to this trend.
CVS, like McKesson, is almost 30% off its 52-week high, and has experienced great volatility over the past year. Walgreens, by contrast, is less than 5% off its 52-week and has experienced modest volatility this year:

Click to enlarge
Walgreens, by contrast, sold its PBM in 2011. It owns a minority stake in a publicly-traded PBM today, but doesn't run one internally. This keeps it largely out of the volatile space, and allows it to focus its attention on its M&A activities.
Recently, Walgreens took over Boots Alliance. Views on the merger were decidedly mixed. I, for one, am generally skeptical of mega-mergers. But I give credit where it is due, Walgreens has been integrating the businesses well, cost savings are on target, and have helped power strong earnings for the combined firm in 2016.
In addition to that, Walgreens is now attempting to buy out Rite Aid (NYSE:RAD). Rite Aid's shares have fluctuated greatly over the past year as investors weigh whether or not the deal will close. Though with Trump winning, we should now assume that it probably will.
The Rite Aid acquisition was well-timed; the company's shares traded above $9 (the takeout price) until just before Walgreens bid. Rite Aid loaded itself with too much debt, making its independent success a difficult venture. But as part of Walgreens, the 4,000 stores that will come to Walgreens after divestitures give it a big leg up.
For one, Walgreens will again surpass CVS in size. Economies of scale still matter. Going back to the PBM business for a second, Walgreens had a bitter dispute with CVS's Caremark PBM that caused the company no small annoyance. As Walgreens grows, its bargaining position increases.
On top of that, Rite Aid addresses a fundamental problem. Walgreens has shown little organic growth. Drug prices have risen, helping to boost pharmaceutical sales. But everything else - the food, cards, toiletries, and other assorted products are basically flat. With drug pricing inflation slowing down, there's been little to drive the top line.
With Rite Aid, Walgreens now will have a much larger base revenue pot. It can continue the same cost-cutting measures it has used with Boots Alliance to show further EPS growth over the next several years, even if it isn't able to boost same-store sales meaningfully.
While the drugstore industry isn't a booming one at the moment, Walgreens is making the better moves. CVS may yield a bit more, but that higher yield comes with a lot more volatility and business risk.
Disclosure: I am/we are long WBA.
I wrote this article myself, and it expresses my own opinions. I am not receiving compensation for it (other than from Seeking Alpha). I have no business relationship with any company whose stock is mentioned in this article.