I loved fellow contributor Geoffrey Cavenay's International Tower Hill Mines article. (NYSEMKT:THM). It is short, personal, it is clear and actionable. Cavenay didn't like the latest 10-Q primarily because a $14 million derivative needs to get settled early 2017 and the company did not make any progress on that front. Given the company has no revenue, no liquidity and burns something like $5-$6 million per quarter it's not surprising there's a going concern warning in their filing.
Caution is very much warranted.
At the same time I want to clarify a few things that put the company's penible position in the right perspective.
The $14 million liability isn't a straightforward case of pay the debt or you default.
If the company can't meet the payment on the due date it will have 30 days to remedy that (not much of a consolation) but if it doesn't (as per the 10-Q):
The Company may be required to deliver the underlying claims, which are not part of the Project's gold resource but are part of the 75 square mile Livengood land package, into a trust in order for them to be sold. Should the proceeds from the sale not be sufficient to satisfy the outstanding amount of the Additional Payment, the beneficiaries will have recourse against the Company for any shortfall. The Company considers it likely that the proceeds from any such sale, should it prove necessary, would be sufficient to satisfy the amount of the Additional Payment.
If it doesn't the company needs to put some land in a trust that isn't part of its gold resources and the trust will try to sell it. A major beneficiary of a successful sale would be the company's COO Mr. Hanneman. 70% of the amount owned under the derivative liability is owed to AN Gold Mines (of which Hanneman owns 11.9%).
I don't like the liability either but something like a bond maturity would worry me more.
Another point I'd like to make is that the $14 million just isn't that worrisome in a grander perspective.
The company owns land with gold underneath it like the Livenwood Gold project with a measured and indicated 11.4 million ounces underneath. A deposit like that represents $13 billion worth of gold at today's gold spot price.
The problem with all that gold being International Tower Hill Mines can't get it out of the ground below an all-in sustained cost of $1,263 per ounce which is above the current spot price.
Meaning, the company needs higher gold prices to even consider starting to mine.
Worse $1.8 billion of capital investments are required upfront before any gold comes through the mill and aren't included in the $1,263 figure. It's not news capital investments required to start a mine are huge and the number actually came down.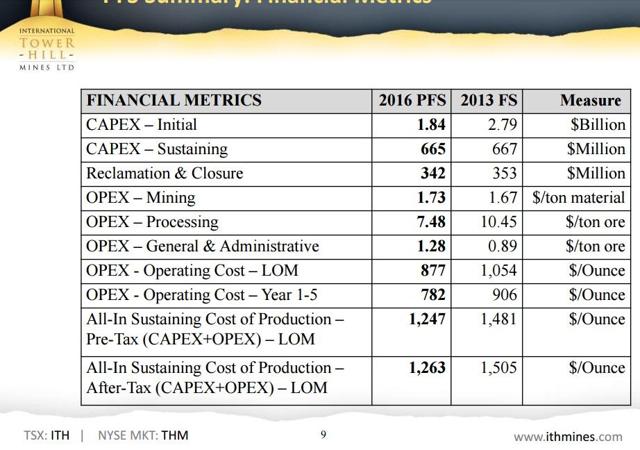 Click to enlarge
If we review the balance sheet it's clear the company doesn't have anywhere near that level of cash: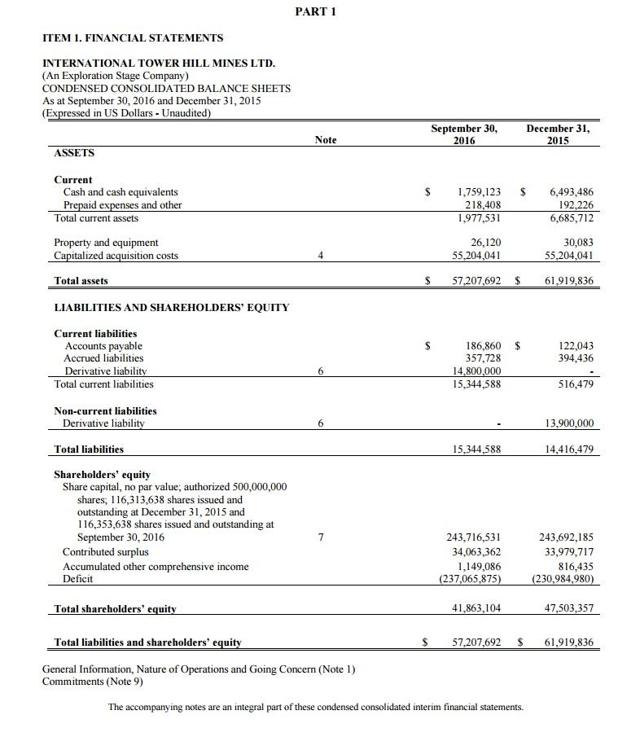 Click to enlarge
Source: company 10-Q
Does it really matter that much whether there's $6.4 million or $1.7 million on the balance sheet? Is a $15 million liability the company's biggest problem?
I don't think so. It clearly needed over a billion of financing when the liabilities were far out as well.
What it needs are substantially higher gold price futures. Meanwhile, it is almost certainly unavoidable for the company to raise money. If gold prices were at a level where it could produce profitably it could probably get part of its operations financed with royalties but now I can only see it getting done through equity raises. To deal with the derivative and burn rate it could sell some assets as well. One potential alternative could be a sale to a company which could manage to get production costs down further.
For me International Tower Hill Mines is a small position that I intend to hold for the very long term. It's likely to continue to lose money and go through equity raises for quite some time. But when and if gold prices spike up, that return will dwarf the maximum loss I can take.
Disclosure: I am/we are long THM.
I wrote this article myself, and it expresses my own opinions. I am not receiving compensation for it (other than from Seeking Alpha). I have no business relationship with any company whose stock is mentioned in this article.
Editor's Note: This article covers one or more stocks trading at less than $1 per share and/or with less than a $100 million market cap. Please be aware of the risks associated with these stocks.