Introduction
No matter how you feel about Trump as president, or the outlook of the overall market, we are reiterating our long-term bullish stance on the marijuana industry. With seven cannabis companies having reported financial results this week and even more with notable updates, it is clear that the favorable voting for cannabis legalization in the elections was only the start to this green gold rush.
There have been some recent developments in a handful of cannabis related companies over the last week, and we thought it might be helpful to analyze the financial results and also mention a few lesser covered marijuana stocks that are making moves.
Buying Opportunity?
Marijuana stock share prices skyrocketed leading into the election as marijuana legalization optimists flooded the markets with speculative trades. Not to worry though, the buying opportunities have not gone away. As you will see in the charts below, many of the cannabis companies are down over the last 5 days despite positive news and fundamental industry growth to come.
Much of the bubble-like growth baked into share prices going into the election has subsided due to the take-profit selling following the election. Now that many of the speculative swing-traders have sold their positions, this provides nice entry opportunities for those with longer-term views to take a position.
Cannabis Science, Inc. (CBIS) Financial Results
The one cannabis company that reported results this week that showed no signs of growth was CBIS. Cannabis Science filed its 10-Q with the SEC this week for Q3'16 showing 2x the operating loss of the same quarter last year, in addition to an increase in liabilities, and a decrease in assets. Meanwhile, the number of common shares outstanding for CBIS has gone almost doubled, leaving shareholders further diluted.
With share prices down approximately -16% over the last 5 trading days, we believe that this could either be the pullback that technical traders as well as long-term contrarian investors use to establish a buying base, or just the start of a pessimistic sell-off.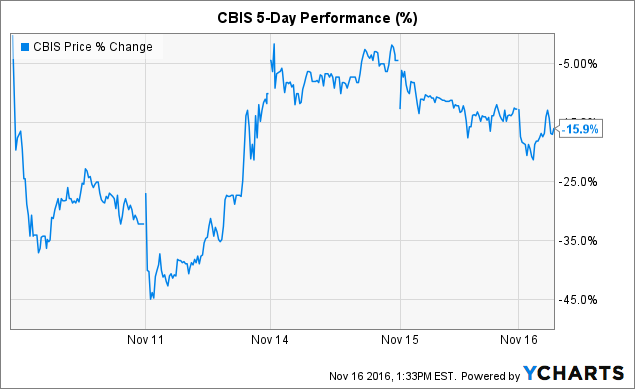 Canopy Growth Corporation (TWMJF) Financial Results
Canopy Growth reported fiscal Q2'17 financial results this week, with some really positive growth shown. The growth for Canopy includes continual revenue growth over last quarter as well as the same quarter last year. This amounts to roughly $8.5 million in revenues for Canopy. This ended in $5.4 million in net income for the quarter which is compared to $3.9 million for the same quarter last year. Up over 80% in the last 5 trading days, we are waiting for pullbacks to establish a long position.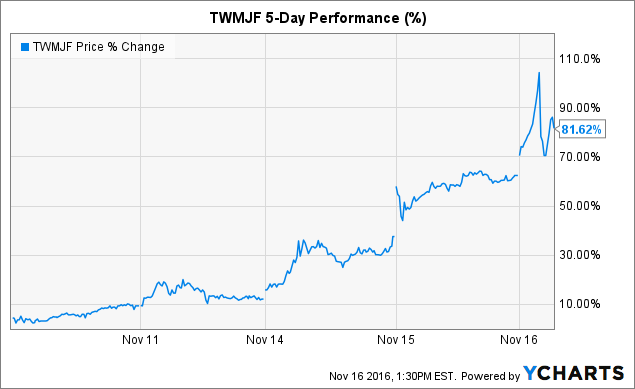 mCig, Inc. (MCIG) Financial Results
mCig announced a record quarter of net sales, net income, and more for their fiscal Q2'17. Reporting a 126% increase in revenues from the same quarter last year, mCig generated over $620,000 in revenues this quarter. CFO of mCig, Michael Hawkins, said it best: "For the second straight quarter MCIG has achieved an adjusted net income. This will be a landmark quarter in the history of MCIG as the company achieves a net profit for the first time in its history."
We believe that as mCig turns net profits, more long-term investors will see the value proposition in the company due to the scalable nature of their operations. mCig's wholesale division especially is set to balloon due to recent election results. With share prices down around -2.5% in the last 5 trading days, this may be a good entry point for a long-term bullish position in MCIG.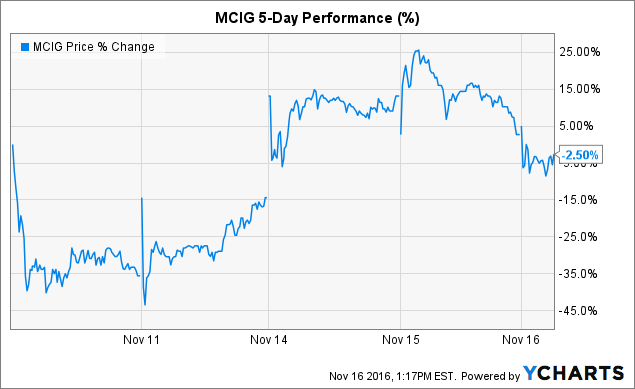 Mentor Capital, Inc. (MNTR) Financial Results
Mentor Capital filed its 10-Q this week for Q3 2016 ending on September 30th, 2016. Revenues for Q3 this year were $725,709 compared to $669,263 for the same quarter last year. Beyond the revenue growth announced in the results, MNTR announced a 26% increase in book value to $4,249,942 vs. $3,374,882 last year.
Additionally, a judge has granted MNTR's "request for contract rescission and ordered Bhang Chocolate Company to return Mentor's $1,500,000 plus approximately $352,000 in interest." With operations headed in the right direction, and the court case ending favorably, we will be watching MNTR share prices closely to determine a favorable entry point.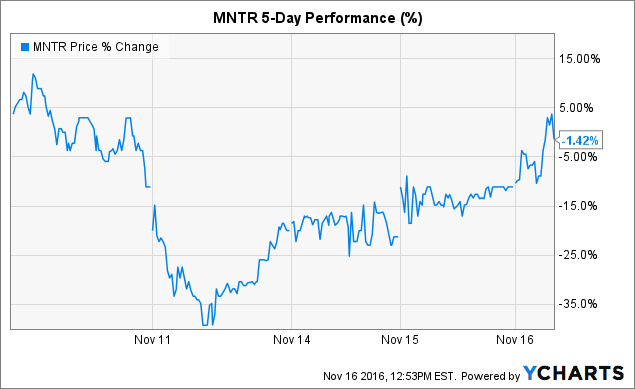 Surna Inc. (SRNA) Financial Results
This week, Surna released their Q3'16 financial results with some phenomenally positive results. While SRNA still had an operating loss, they improved operating losses by 56% compared with last year. Additionally, SRNA increased their gross margins from 18.7% last year to 35.6% this year.
With share prices down over 20% in the last week despite election results, we believe this could be a great entry point for a long-term bullish position in SRNA. Since SRNA makes infrastructure and equipment for commercial cannabis cultivation, they are truly set to benefit from the passage of legalization measures in California, Massachusetts, Nevada and more.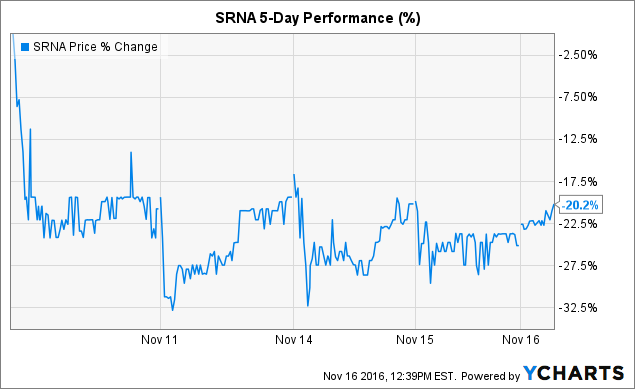 Zoned Properties, Inc. (ZDPY) Financial Results
Zoned Properties announced great Q3'16 financial results this week. Quarterly revenues for ZDPY increased from last year's $408,000 to $481,000, representing 18% revenue growth. Additionally, ZDPY reported a net profit compared to a loss of -$0.02 per share last year.
Additional information included in the release was amended agreements with their tenants to raise rents over the coming months up to 30%. Down approximately 30% over the last week, we believe this could be a good entry point for a position in ZDPY.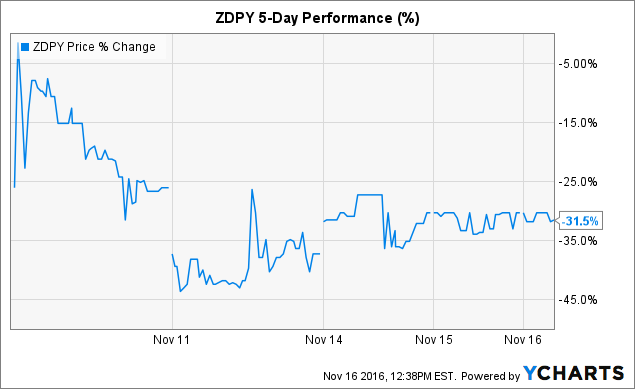 Zynerba Pharmaceuticals, Inc. (ZYNE) Financial Results
Zynerba Pharmaceuticals reported their Q3'16 financial results this week, announcing "significant advancement of our lead development candidate, ZYN002 CBD gel," according to ZYNE Chairman and CEO, Armando Anido. Additionally, ZYNE mentioned the successful completion of the issuance and open market sale of approximately 750,000 shares for $9.5 million in proceeds.
While the company continues to pump money into R&D for their drug candidates, ZYNE management " ...believes that the Company's available funds, including proceeds from the sale of common stock received through November 11, 2016, are sufficient to develop five Phase 3 ready programs and these resources are sufficient to fund operations and capital requirements into 2018." With share prices up almost 8% this week, we will be looking for pullbacks and corrections to establish a position on ZYNE.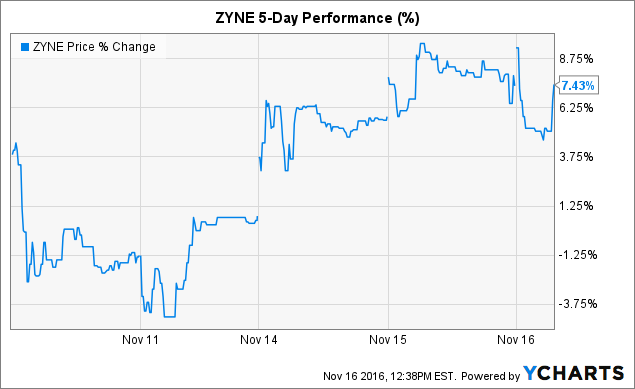 Other Notable Marijuana Stock Updates
Besides the six cannabis companies that reported financial results this week, there have been some other notable developments in marijuana stocks that we thought investors and traders should know about:
Kush Bottles, Inc. (KSHB): unveiled a new child resistant pop-top bottle today at the Marijuana Business Conference & Expo. The biggest headline regarding the new product from Kush Bottles is that these are made in California which "...gives us a huge advantage when it comes to quality control and minimizing the carbon footprint of each bottle," according to KSHB CEO Nick Kovacevich.
Maple Leaf Green World Inc. (MPEFF): issued a corporate update to its shareholders following the election. While MPEFF is a Canada-based cannabis company, they mention their Nevada and California focused cannabis endeavors in the update. Maple Leaf is actively applying for cultivation permits in California and already has acquired one in Nevada.
MyDx Inc. (MYDX): announced that its "MyDx One" app has been climbing up Apple's iOS App Store charts. Given the recent legalization efforts in many states, MyDx's app "provides users free valuable information to help them find and track cannabis strains and their effectiveness in treating various ailments or producing desired experiences."
Conclusion
We believe that despite uncertainty in the overall market there is certainty that the marijuana industry is on a serious growth trajectory.
We will be watching cannabis stocks closely as we let the dust continue to settle from the elections. With states including California, Nevada, Maine, and Massachusetts passing recreational marijuana reform and even more states passing forms of medical marijuana access, this industry is set to balloon in size. Once again, we reiterate our bullish stance on the overall cannabis industry.
We will be sure to update marijuana stock investors on any movements we see happening within the cannabis industry. Be sure to follow us to receive updates whenever we publish a new marijuana stock article on Seeking Alpha!
For a complete list of all marijuana stocks, be sure to check out our marijuana stock databases where you can filter marijuana stocks by sector, by exchange, and more.
Disclosure: I/we have no positions in any stocks mentioned, and no plans to initiate any positions within the next 72 hours.
I wrote this article myself, and it expresses my own opinions. I am not receiving compensation for it (other than from Seeking Alpha). I have no business relationship with any company whose stock is mentioned in this article.
Editor's Note: This article covers one or more stocks trading at less than $1 per share and/or with less than a $100 million market cap. Please be aware of the risks associated with these stocks.