Click to enlarge
The implications of a Trump presidency are reverberating through the energy industry, with the new administration set to be decidedly more pro-fossil fuels than either the Obama administration or a Clinton administration would have been. One notable focus during the campaign was Trump's vow to bring back the struggling coal industry ("Trump Digs Coal"). While oil and gas development also arguably benefits under a Trump administration, one ramification of a supported coal industry is the potential for increased competition between natural gas and coal for power generation demand. Could Trump's pro-coal support come at the cost of natural gas demand in the power market?
Power generation has been a key source of growing demand for US natural gas, increasing over 30% over the past five years. Natural gas has been gradually displacing coal in the generation stack, and net generation using natural gas has even started to exceed coal beginning at the end of last year, as seen in the graph below.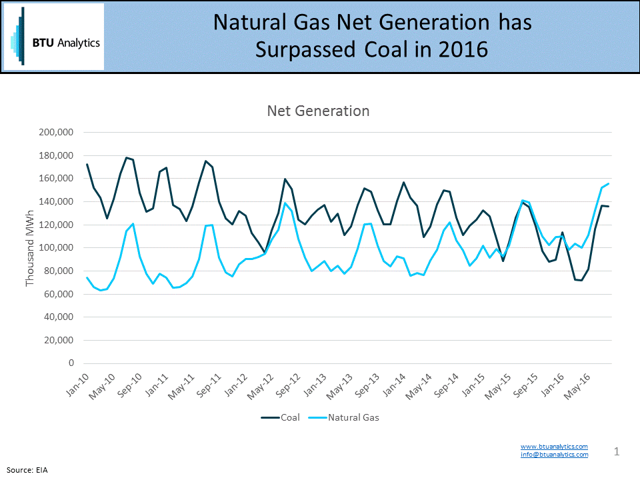 Click to enlarge
Trump's focus on the stump was in reducing regulations for the coal industry. One notable regulation in Trump's sights is the EPA's Clean Power Plan, which aims to reduce carbon emissions, targeting the power sector to be 32% below 2005 emission levels by 2030. This puts pressure on coal-fired power plants, given they are relatively large emitters of carbon dioxide. While the plan continues to be challenged in court, and the Supreme Court placed a hold on the plan pending judicial review, Trump may advocate to kill this plan outright, lifting the regulations and stemming the decline in coal plant retirements.
Beyond greenhouse gas emissions, the Obama administration has placed a moratorium on federal coal leases. Lifting this moratorium would help with the supply side of coal, particularly in Western states years in the future.
While loosening regulations would help with coal's outlook, market forces beyond regulations have hampered coal demand in the US making it less competitive. Chief among them is low natural gas prices resulting from a glut of supply that came online over the past few years during the shale revolution. The figure below illustrates the relative price of coal versus natural gas on an equivalent MMBtu basis. The Henry Hub gas price has tightened with Central Appalachia coal during parts of this year, while the price of Dominion South in Appalachia has fallen below that of Central Appalachia coal starting in 2015. This also coincides with the increasing trend in net generation capacity relative to coal shown in the figure above.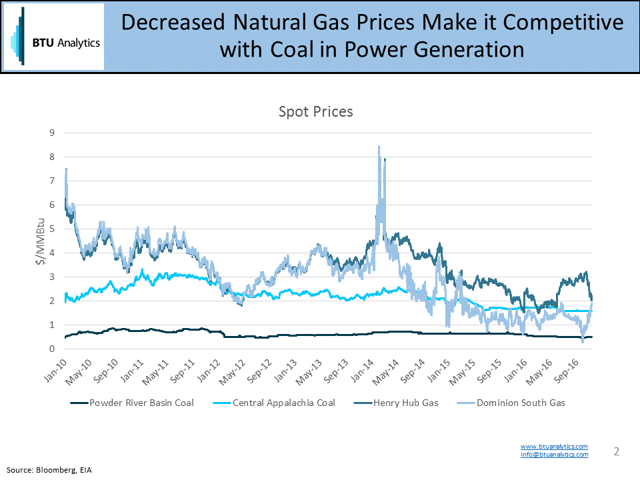 Click to enlarge
More competitive natural gas pricing, in conjunction with looming emissions regulation, has led to a structural shift in the power market with coal-fired generators being retired and new gas-fired plants coming online. The figure below illustrates the net generation capacity additions (new plants less retirements) by year. Coal has seen a net decrease in generation capacity over the past several years, with 2015 being a material year for retirements. Conversely, net natural gas generation capacity has consistently been added. Note that this does not capture heat rates - retired plants, both coal and natural gas, tend to be older and less efficient.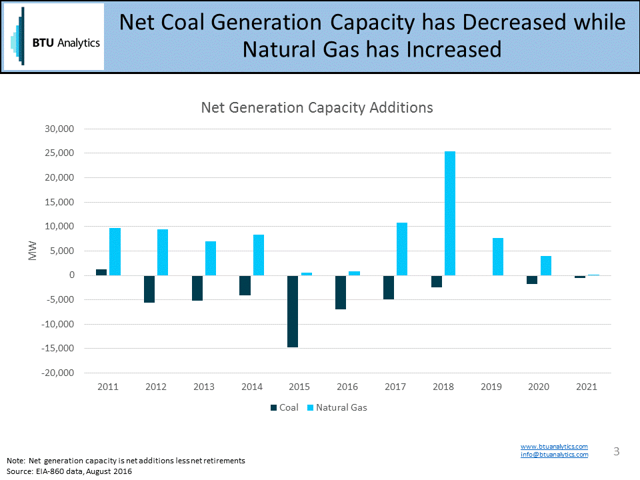 Click to enlarge
Ultimately, while a more friendly coal regulatory environment may help stem the decline in coal-fired generation in the US, momentum has been shifting in the power market over the past several years, making natural gas poised to reign supreme. That said, given abundant supplies of both coal and natural gas in the US, the power market will continue to be a competitive environment - with coal prices acting as a floor for natural gas prices. For additional analysis on the natural gas market, check out the latest edition of the Upstream Outlook.
Disclosure: I/we have no positions in any stocks mentioned, and no plans to initiate any positions within the next 72 hours.
I wrote this article myself, and it expresses my own opinions. I am not receiving compensation for it. I have no business relationship with any company whose stock is mentioned in this article.