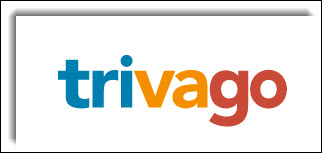 Quick Take
Expedia (NASDAQ:EXPE) online subsidiary Trivago (NASDAQ:TRVG) wants to raise $400 million in ADSs (American Depositary Shares) in a spinout transaction from its parent.
The $400 million figure is a placeholder amount according to company representatives.
Trivago is a rapidly growing hotel search platform focused on the hotel travel booking aggregation market.
We don't know the complete terms of the IPO yet, but I'm favorably disposed to this cash-flow-generating industry heavyweight.
---
Company
Based in Germany, travel B.V. dba Trivago enables users to search for and compare prices for hundreds of hotel chains worldwide.
The company is headed by CEO Rolf Schromgens and CFO Axel Hefer. Schromgens has been managing director of Trivago GmbH since 2005 and was previously founder of consumer review website ciao.com.
Bellevue, Washington-based Expedia is the sole corporate shareholder in the company through its subsidiary Expedia Lodging Partner Services S.a r.l.
Technology
Trivago operates a website that aggregates hotel pricing and availability and allows consumers to enter search criteria in order to find the most relevant hotel for their needs.
The site also encourages the user to write reviews for their hotel stays to help hotels improve their service and to provide visitors with additional, differentiated information about hotel service quality.
The service also incorporates review information from other sources and generates a single score for travelers to more easily compare choices.
Below is a brief explainer video:
(Source: trivago YouTube)
According to the company's F-1 filing, in the "12 months ended September 30, 2016, we tracked approximately 1.4 billion visits to our websites and apps, resulting in 487 million qualified referrals, and offered access to approximately 1.3 million hotels in over 190 countries."
Under its CPC (cost per click) platform, advertisers are only charged when a user clicks on an advertised rate for a hotel.
Market
The company operates 55 localized websites and apps in 33 different languages and segments its operations geographically between The Americas, Developed Europe and the Rest of the World.
As more consumers shift to online services, hotel bookings via online portals have increased.
According to a reference to Euromonitor International's travel research, the sales of online travel agencies, called OTAs, grew by 19% in the calendar year 2015, to reach $246 billion.
The Asia-Pacific region grew the fastest, by 43% to reach $79 billion in 2015.
Below is a chart showing the growth in online travel agency value by region: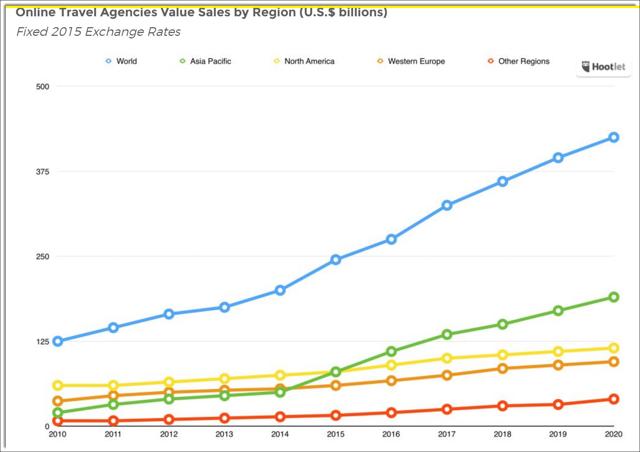 (Source: Skift.com)
Furthermore, the report expects the worldwide OTA market to reach sales of $434 billion in 2020, a 12% CAGR from 2015.
Trivago obtains a significant portion of its revenues from OTAs.
While there are possibilities for disintermediation of OTAs by services such as Google and TripAdvisor, OTAs may shift their business model to focus more on offering services throughout the travel process.
Competition
The company's main competitors are diversified online travel resources that offer a range of services, such as:
Priceline (NASDAQ:PCLN)
Ctrip International (NASDAQ:CTRP)
eDreams (EDR.MC)
Lastminute (LMN.SW)
Yahoo Travel (NASDAQ:YHOO)
In addition, the major hotel chains operate their own online booking services where consumers that are loyal to one brand can go directly to the brand to book their stay.
Financials
Trivago's recent financial results can be summarized as follows:
Strong revenue growth, although slowing
Consistently negative operating margins
Uneven but improving cash flow from operations
Below are the company's operational results for the past one and a half years (Unaudited, German GAAP = U.S. GAAP):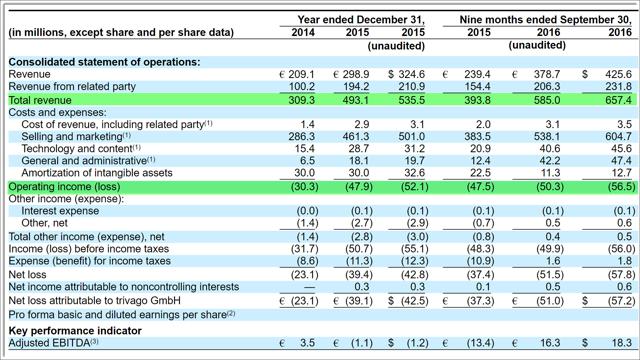 (Source: trivago F-1)
Revenue
To Q3 2016: $657 million, 48% increase vs. prior
2015: $536 million, 60% increase vs. prior
2014: $374 million
Operating Margin
To Q3 2016: ($56.5 million)
2015: ($52.1 million)
2014: ($36.7 million)
Cash Flow from Operations
To Q3 2016: $14.8 million cash flow
2015: $1.1 million cash used
2014: $762,000 cash flow
As of September 30, 2016, Trivago had $4.4 million cash on hand, accounts receivable of $94.2 million and current liabilities of $90.5 million.
IPO Details
Trivago intends to raise $400 million in a spinout IPO, according to its F-1 filing.
The company has not yet indicated an expected price range for the shares, so we don't have specific knowledge of an expected post-IPO market cap. Pre-IPO, Expedia holds 63.5% of trivago, but we don't know how much of the company Expedia will retain post-IPO.
There is an important tax-related contingency, that of the entity making a tax ruling request of the German tax authorities post-IPO about wanting a tax-free exchange of founder's shares vs. Germany's rights to tax the new public limited company entity for any capital gains as a result of the disposal of certain assets (merger with Trivago N.V.)
If Trivago does not receive a favorable ruling, the entity will reorganize first into a German stock corporation and then into a European public limited liability company (Trivago Societas Europaea).
Selling shareholders are the company founders, who will receive all of the net proceeds from the offering.
J.P. Morgan is the lead left underwriter for the offering, which also includes Goldman Sachs, Morgan Stanley, Allen & Company, BofA Merrill Lynch, Citigroup, and others.
Commentary
Trivago has created a hotel and lodging-focused search and review process that makes it easy for consumers to find lodging that fits their needs.
It has developed a CPC-based bidding platform to enable hotels to place higher in results, a la a Google-type of advertising system.
The service's independence is also a selling point, with user reviews providing consumers with additional, in-depth information that can't be found anywhere else.
I call this the "Amazon" approach. Users know they can get largely unbiased consumer reviews of the hotel experience to make smarter decisions. This feature also incentivizes hotels to provide better customer service to avoid negative reviews.
Trivago also likely benefits from being in the Expedia family, although their F-1 filing indicated an "independent" approach to their business, with the exception of Expedia providing certain "corporate functions, including with the legal, tax, treasury, audit and corporate development areas, and hosts all of the servers we use that are located within the United States."
However, the online market for travel aggregation is a very large market, so Trivago will always have significant competitive threats from existing players and potential new market entrants.
We don't know the proposed pricing of the IPO shares or potential market cap of the public entity so cannot form a final opinion on the IPO opportunity.
But the company's financials indicate that top line revenues are growing quickly, and the firm is generating cash flow from operations. Operating income is negative, however, so that is a caution.
Depending on valuation, Trivago may be a potential addition to a growth investor's portfolio.
I will provide updates as we know more.
---
I write about IPOs, M&A, and billion dollar privately-held tech companies. If you want to receive future articles automatically, click the +Follow link next to my name at the top of this article.
Disclosure: I/we have no positions in any stocks mentioned, and no plans to initiate any positions within the next 72 hours.
I wrote this article myself, and it expresses my own opinions. I am not receiving compensation for it (other than from Seeking Alpha). I have no business relationship with any company whose stock is mentioned in this article.