Shares of Target (NYSE:TGT) popped wildly, up over 7% after posting better-than-expected third quarter results. While I never like to buy after a large upside move, I think Target's focus on its core strengths and new found capital allocation discipline make the stock attractive. Let's take a look at the quarter and why I think shares could trade to $85.
Q3 by the numbers
Mature retail starts and ends with same-store sales growth and margin management. Target's comps in Q3, while at the high-end of management's guidance range, were relatively light. Same-store sales declined 0.2% y/y, well below the inflation rate. This marks the second consecutive quarter of negative comps.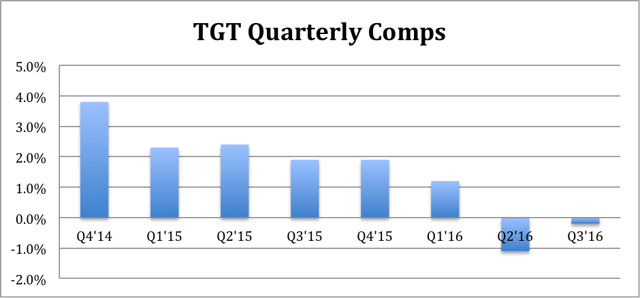 Click to enlarge
Source: TGT SEC Filings
As we can see in the above chart, Target will face a similar comp in Q4'16 that it faced in Q3'16. Management forecasted a slightly higher range of -1% to +1% for Q4 driven by strong pre-orders for Apple's (NASDAQ:AAPL) iPhone that were 3x higher than a year ago, as well as strong trends in board games and connected home devices. It is important to note that Target rode a Star Wars tailwind in last year's holiday season, which will decline this year, as I believe Rogue One will generate less demand than The Force Awakens. Target's guidance implies that the decline will mostly be offset by strength in other areas, but I am skeptical.
In contrast to a weak comp sales figure, Target posted online sales growth of 26% y/y. Though I will acknowledge that 20%+ growth is not uncommon for a retailer's online growth, Target was an early mover here, and I think 20% growth is relatively impressive. The segment has accounted for $1.7b YTD, and, in my view, it will come close to touching $3b for the entire fiscal year. While online sales account for just 3.5% of aggregate sales at this time, I think Target's strong execution and digital strategy could take this figure to 5-6% of sales over the next 5-7 years.
Target's management team also disclosed further insight into the company's strategy to use stores as distribution centers. This is now common throughout the industry, but I like the move to help bolster online growth and customer satisfaction.
Even though groceries have been notably weak at Target, I think management is focused on improving this segment, and I see positive signs developing. Prescriptions are up significantly at Target pharmacies after they were divested to CVS (NYSE:CVS). In my view, I see a lot of value in increasing prescriptions having positive pull-through on the rest of Target - particularly the grocery segment.
On the cost side, Target is doing a nice job of managing higher labor expenses. EBIT margins were 90 basis points higher than the year ago period at 6.4% of sales, driven largely by a higher gross margin in the wake of the pharmacy divestiture. SG&A looks likely to hover around the 20% rate, though there may be some cost control upside, in my view.
Capital allocation increasingly generous
After the disastrous move into Canada, management has taken a more conservative but likely much more value-creative approach to capital allocation. The company sees the value of investing in its proprietary brands that connect with consumers and differentiate the stores from Wal-Mart (NYSE:WMT), and Target continues to allocate capital towards strengthening these brands.
Additionally, Target has used the weak share price resulting from its Canada blunder to aggressively repurchase shares. In total, Target bought $878m in stock during Q3, including $564m in the open market at an average cost of $69.73 and $314m worth through an accelerated repurchase program at an average cost of $67.67. Given the attractive price paid, I believe these will create long-term shareholder value.
Lastly, management made a wise decision to get out of the pharmacy business. The decision to sell to CVS for $1.9b was made in 2015, and I think it has allowed management to better focus its efforts on the core business than the highly concentrated pharmacy market, which is dominated by Walgreens (NASDAQ:WBA) and CVS. Additionally, I think tapping into CVS's larger customer base will drive more customers into Target stores.
Overall, I believe Target's management team is focused on the core strengths: strong home and apparel, millennial appeal, and disciplined capital allocation. My fair value for Target is $83-87, with the midpoint representing a ~17x earnings multiple. I would probably wait for the share price to come down slightly, but I think Target will have a solid holiday season and it looks poised to deliver robust shareholder returns for 2016 and 2017.
Disclosure: I/we have no positions in any stocks mentioned, and no plans to initiate any positions within the next 72 hours.
I wrote this article myself, and it expresses my own opinions. I am not receiving compensation for it (other than from Seeking Alpha). I have no business relationship with any company whose stock is mentioned in this article.