In my last article about platinum, I pointed out that the daily chart had produced a dodgy looking candlestick on the 50-day moving average, and that a bullish resumption needed confirmation as the fast stochastic was on a high at the same time.
It's become evident that caution was warranted as that candlestick and oscillator position triggered an immediate correction. With the election over, speculators are moving away from defensive assets, favoring corporations which will benefit from Trump's intended tax cut policy (which according to this article is "doable" over a period of time).
Since bearish general markets are a reason for hedging stock positions with precious metal investments, it isn't necessarily going to need continuous interest rate rises to further develop a weak technical set-up in precious metals, even though the Fed may become more hawkish around the potential inflationary impact of Trump's policies. That said, within every bear is a bounce and we can never rule out the unexpected.
Looking at the last COT report, it's clear that long positions have eased off, while commercials added shorts; also looking at the weekly chart bar below, the current trend is weak.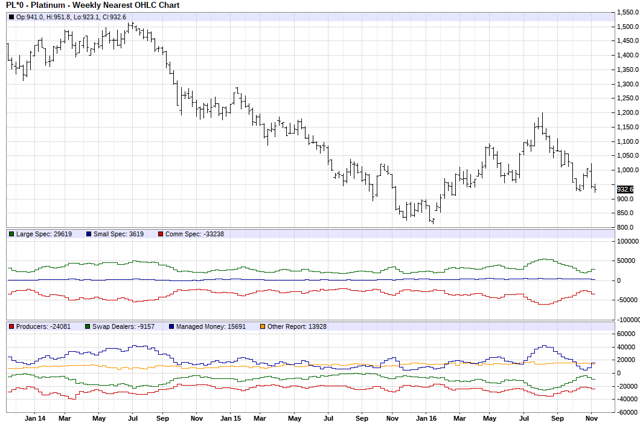 Click to enlarge
There are a number of points to note from the following chart:
Highlighted yellow, both RSI and fast stochastic are nudging oversold, which is likely to create a bounce. Platinum is also holding the lower Bollinger band. Historically the dip has been lower, the RSI is flattening out as platinum is also on a support level and the fast stochastic is curling up, very short term.
Note that previous lows have been built from a zigzag stochastic on the bottom, also that the MACD is still falling and hasn't yet attempted to flatten. Manage risk by looking for candlestick confirmation of the break-out from the recent downtrend and also a break over 20 on the fast stochastic; however, a reversal may be mid-way (see September). If platinum fails at the pivot, there won't be much of a bullish adx cross on the MACD to work with.
Platinum needs to break the pivot level (note previous bear leg bounces have been similar in duration) for bull mode and then advance over the 50MA, initially also selling resistance. If platinum is unable to break the pivot level selling resistance, a similar bounce can be expected from support level 2 and a similar failure giving rise to a test of the January low.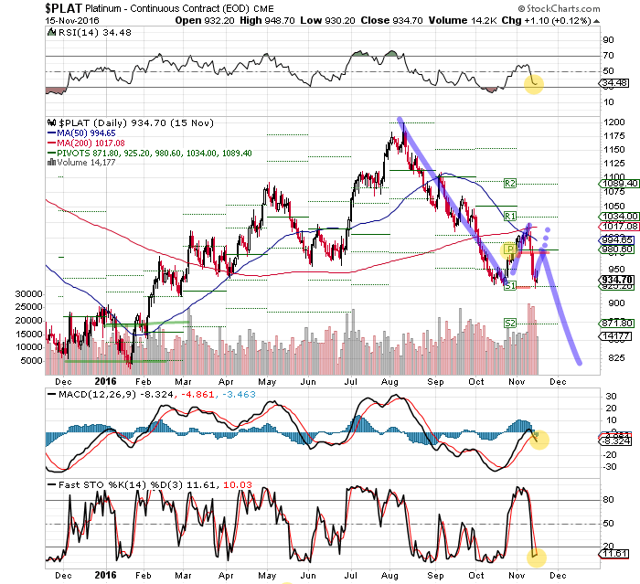 Click to enlarge
In summary, an oversold bounce is imminent, although there could still be some price weakness as a low is developed. Risk can be managed by confirming the daily candlesticks and a break over 20 on the fast stochastic. If platinum fails to recover over the pivot indicated, a bearish resumption will follow, with first reaction being a test of the support 2 level and a failure there to the January low.
Disclosure: I/we have no positions in any stocks mentioned, and no plans to initiate any positions within the next 72 hours.
I wrote this article myself, and it expresses my own opinions. I am not receiving compensation for it (other than from Seeking Alpha). I have no business relationship with any company whose stock is mentioned in this article.