Click to enlarge
Quick Take
AnaptysBio (Pending:ANAB) wants to raise an undisclosed amount in an upcoming IPO.
The company has received significant milestone revenues from successful collaborators, which it has used to fund its wholly-owned pipeline of anti-inflammatory biologics.
We will need to wait until we know the proposed financial terms of the IPO, but so far, I like what I see with ANAB.
Company
San Diego-based AnaptysBio was founded in November 2005 to develop treatments for severe inflammatory diseases.
The company CEO is Hamza Suria, who has been with the firm since 2008, when he was hired as VP Corporate Development.
Marco Londei, M.D., was appointed the company's chief medical officer in September 2016 and was previously Therapeutic Area Head Immunosciences at Bristol-Myers Squibb (NYSE:BMY).
Chief Scientific Officer Matthew Moyle started with the company in May 2016 and was most recently VP Biotherapeutics at Boehringer Ingelheim GmbH. He has 25 years of relevant industry experience.
AnaptysBio is backed by a syndicate of top life science venture capital firms, such as Frazier Healthcare, Novo A/S, Avalon Ventures, Alloy Ventures, HBM Healthcare Investments and Biotechnology Value Fund.
These institutional investors hold a combined 79.1% of company stock pre-IPO.
The company has raised $94.3 million in venture financing in several financing rounds from these investors, with its largest funding round of $40 million closed in July 2015.
Technology
AnaptysBio is developing two antibody candidates to help fight severe inflammatory disorders via its wholly-owned pipeline:
ANB020 - Promises to inhibit interleukin-33, which can cause severe adult asthma and peanut allergies.
ANB019 - An antibody to inhibit interleukin-36 and that may treat generalized pustular psoriasis and palmoplantar pustular psoriasis, GPP and PPP respectively.
Below is a summary of the company's pipeline of wholly-owned and collaboration candidates: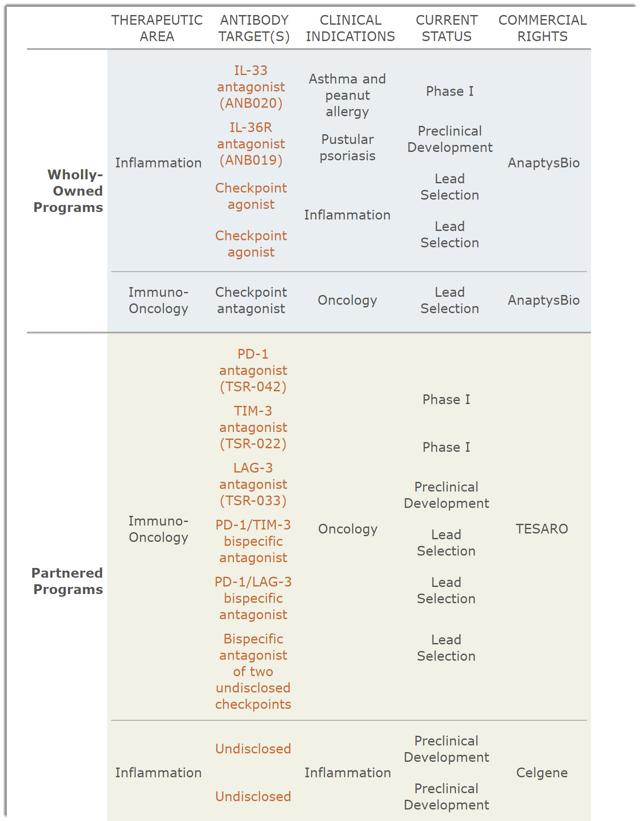 Click to enlarge
(Source: AnaptysBio)
Also, the company is developing antibody programs through the following collaborations:
TESARO - A Phase 1 clinical trial began in Q1 2016 for an AnaptysBio-generated anti-PD-1 antagonist antibody (TSR-042).
Celgene - An in-vivo toxicology study was completed in Q2 2016 for an AnaptysBio-generated antibody.
Additional candidates in the wholly-owned and partner programs are in either Lead Selection or Preclinical Development stages.
The company has developed what it calls the "SHM-XEL" platform, which it believes can "generate an unprecedented diversity of antibodies by applying SHM-based diversification outside of the constraints of an in vivo environment."
Thus, it has the potential to develop antibodies for treatments that may not have been accessible using existing technologies.
Market
The market for anti-inflammatory therapeutics is expected to exceed $100 billion in 2020, representing a CAGR of 5.9% from 2015, according to a 2015 research report by Allied Market.
There are numerous drug classes that treat various inflammatory diseases, such as biologics, NSAIDs and corticosteroids.
Anti-inflammatory biologics hold the largest market share by drug class, at 60% as of 2014, according to a 2015 report by Research and Markets. This category is also expected grow the fastest through 2020, with corticosteroids decreasing due to negative side effects of withdrawal syndrome.
The disease psoriasis is expected to grow the fastest, at an 8.1% CAGR, and North America will account for half of global revenue, leading the Europe and Asia-Pacific regions.
However, Asia-Pacific is expected to be the fastest-growing region during the period.
Competition
Major competition for anti-inflammatory treatments include the following companies:
AbbVie (NYSE:ABBV)
Amgen (NASDAQ:AMGN)
AstraZeneca (NYSE:AZN)
Eli Lily and Company (NYSE:LLY)
GlaxoSmithKline (NYSE:GSK)
Hoffmann-La Roche AG
Johnson & Johnson (NYSE:JNJ)
Merck (NYSE:MRK)
Novartis AG
Pfizer (NYSE:PFE)
Roche (OTCQX:RHHBY)
Note that the above list is not exhaustive, since there are many inflammation antibodies and other treatment under development for various inflammatory indications.
Financials
AnaptysBio's recent financial results can be summarized as follows:
Growing revenues from collaboration milestones
Uneven operating margin
Uneven cash flows from operations
Below are the company's operational results for the past 3¾ years (audited GAAP full years only):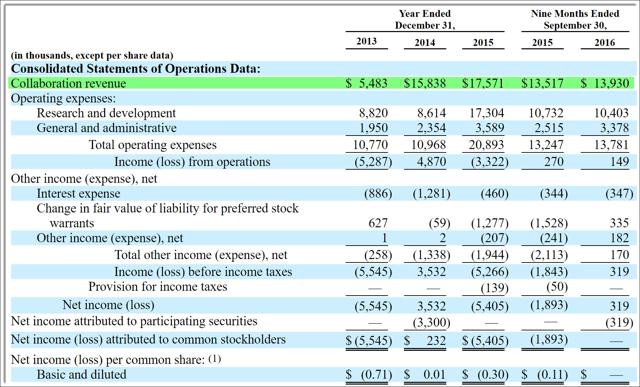 Click to enlarge
(Source: AnaptysBio S-1 Filing)
Revenue
To Q3 2016: $13.9 million
2015: $17.6 million
2014: $15.8 million
Operating Margin
To Q3 2016: 1%
2015: Negative
2014: 31%
Cash Flow from Operations
To Q3 2016: $3.5 million cash used
2015: $9.7 million cash used
2014: $$14.6 million cash flow
As of September 30, 2016, AnaptysBio had $47 million in cash on hand and current liabilities of $7.5 million.
IPO Details
ANAB has filed its S-1 registration with the SEC, but has not indicated an expected raise amount, which is unusual. It has also not indicated a price per share range.
The company says it intends to use the proceeds to fund further development of its lead, wholly-owned candidates ANB020 and ANB019 through initial clinical trials.
It will also use the proceeds to pursue development of its checkpoint receptor agonist antibodies and for general corporate purposes.
ANAB expects the IPO to fund its operations for the next 24 months.
Given that the company has received $65.4 million in milestone payments from its collaboration partners which are "lumpy" in nature, it is difficult to determine how much future milestone payments will contribute to its wholly-owned development pipeline.
Credit Suisse is the lead left underwriter for the offering.
Commentary
ANAB is pursuing a two-pronged strategy of developing wholly-owned candidates and expanding its proprietary pipeline.
It has created a proprietary platform called SHM-XEL, which generates a greater diversity of antibodies by replicating the natural process of SHM in vitro.
While I can't give an opinion on the validity of its SHM platform, the results of the company's antibody approach are in the numbers: ANAB has received more than $65 million from collaboration partners, which may be used to continue platform development and pursue trials for its wholly-owned candidates.
This strategy is a fantastic approach to reducing financing risk and is one I endorse. While those milestone payments can be "lumpy" and hard to forecast, since they are usually based on collaborators achieving milestones, having a significant source of revenue reduces shareholder dilution and risk.
Notably, the company has not indicated an expected IPO amount. Since ANAB could have filed confidentially to test the waters, one wonders: Why file publicly?
Until we know the financial terms of the IPO offering, I can't provide a fully informed opinion.
But based on the company's financial and development results so far, I like what I see and will provide an update when we know more.
---
I write about IPOs, M&A, and billion dollar privately-held tech companies. If you want to receive future articles automatically, click the +Follow link next to my name at the top of this article.
Disclosure: I/we have no positions in any stocks mentioned, and no plans to initiate any positions within the next 72 hours.
I wrote this article myself, and it expresses my own opinions. I am not receiving compensation for it (other than from Seeking Alpha). I have no business relationship with any company whose stock is mentioned in this article.