BlackLine, Inc. (Pending:BL) - Buy recommendation
The quiet period for the BlackLine, Inc.'s initial public offering is scheduled to expire on Nov. 22, 2016. This will allow the underwriters of the offering to conduct analyses and release their reports and recommendations beginning on Nov. 23, 2016. The underwriters of the IPO include: Goldman Sachs & Co. and J.P. Morgan. The co-managers include Pacific Crest Securities, Raymond James, William Blair and Baird.
Research on quiet period expirations has found an uptick in stock price in a short window of time around a company's quiet period expiration. Our own firm has studied this phenomenon and found above-market returns of in between day (-5, +2), with day (0), being the date of the quiet period expiration.
We first recommended BlackLine ahead of its IPO. The company's experienced management team, strong financial performance, and backing by notable VC firms, all made us keen on the investment. In addition to the upcoming quiet period catalyst, these factors, as well as its strong performance since going public, make us bullish on BlackLine as an investment now.
Performance since IPO
Share price rose 39.4% during the first day of trading to close at $23.70. Since then, stock price has stayed near that point and currently trades at about $25.20.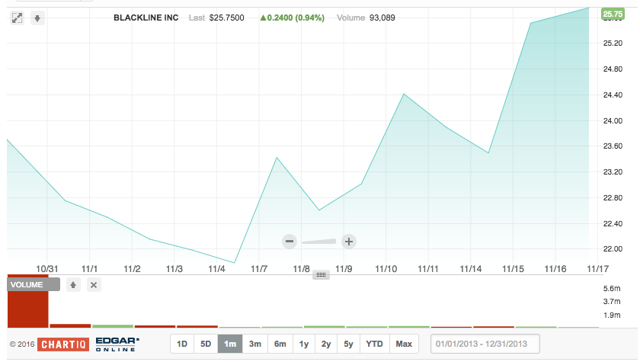 Click to enlarge
Business overview
BlackLine is based in Woodland Hills, California. It provides financial accounting software solutions to its customers using a cloud-based SaaS platform. As of June 30, 2016, the company reported that it had 1,500 customers in more than 120 countries around the world. The company's platform is used by both small and large companies, and it offers seven core products, including: account reconciliation, consolidation integrity manager, daily reconciliation, journal entry, task management, transaction matching and variance analysis. Pre-IPO, the company had raised $220 million in private equity funding.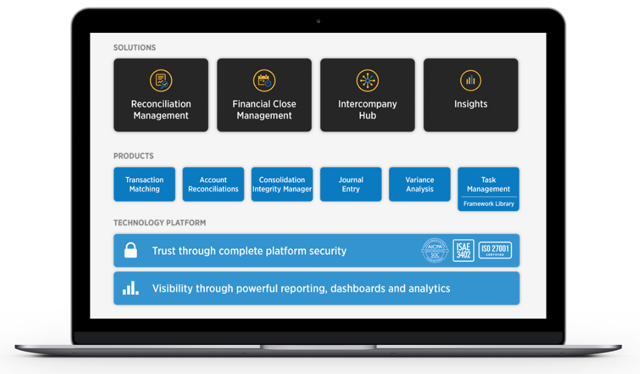 Click to enlarge
(Source)
Management team overview
Therese Tucker is the founder, a member of the board of directors, and the chief executive officer of BlackLine, Inc. She has served in those roles since Aug. 2001. Before founding the company, Tucker served as the chief technology officer at Sunguard Treasury Systems, Inc. She holds a Bachelor of Science in mathematics and computer science from the University of Illinois.
Mark Partin is the chief financial officer of BlackLine, a position he has held since joining the company in Jan. 2015. Prior to that, Partin worked at Incor, Inc., serving as a senior vice president and the general manager of the company's financial solutions group. Partin's experience dates back to 1991 for a variety of different companies. He holds a Master of Business Administration from Depaul University and a Bachelor of Science in finance from the University of South Carolina.
Financial highlights and risks
Since its founding, BlackLine has substantially increased both its customer base and its revenue. It enjoyed a 48.3 percent increase in revenue between the first six months of 2015 and 2016, increasing from $37.5 million to $55.6 million. For the year ending on Dec. 31, 2015, the company reported revenues of $83.6 million, which was a $61.7 million increase over the year ending on Dec. 31, 2014. The company reports that it has a history of losses. It reported a net loss of $24.7 million for the year ending on Dec. 31, 2015.
Conclusion: Second Buying Opportunity, Following IPO
BlackLine has experienced strong revenue growth and has consistently grown its customer base since its founding. BL has performed well since its IPO, increasing close to 40% from its IPO price in less than a month.
We recommended buying shares ahead of its IPO, and view now as a second buying opportunity. We predict an increase in stock price between days (-5, +2), with day (0) being the quiet period expiration (Nov. 22).
Disclosure: I am/we are long BL.
I wrote this article myself, and it expresses my own opinions. I am not receiving compensation for it (other than from Seeking Alpha). I have no business relationship with any company whose stock is mentioned in this article.