Click to enlarge
Important Note: This article is not an investment recommendation and should not to be relied upon when making investment decisions - investors should conduct their own comprehensive research. Please read the disclaimer at the end of this article.
U.S. Silica Holdings' (NYSE:SLCA) massive equity raise last week positions the company further ahead of its peers in the ability to capture additional market share along the entire frac sand value chain, from the sand mine to the wellhead.
A Successful Equity Raise
Capitalizing on strong investor appetite for frac sand equities, U.S. Silica issued nearly $0.5 billion in stock (assuming the green shoe is exercised in full). To put the offering's size in perspective, the amount of capital raised exceeds enterprise values of each Emerge Energy Services (NYSE:EMES) and Smart Sand (Pending:SND), the #4 and #5 publicly-traded U.S. frac sand suppliers.
U.S. Silica's offering was well received by the market. The deal priced at a modest discount to the pre-announcement closing price and had minimal impact on the price performance after the offering. The stock continues to trade just under the 52-week high.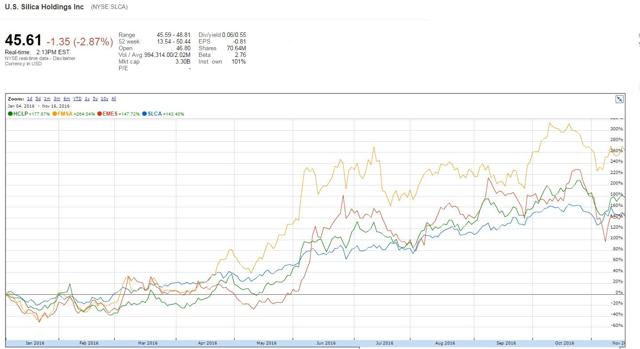 Click to enlarge
Is Potential Dilution A Concern?
I view this equity raise as an enabling strategic win for U.S. Silica.
First, the stock's current price implies a rich premium to the replacement cost of the company's assets. Therefore, as long as the funds are used to pursue organic growth initiatives, the equity issuance is strongly accretive to the existing shareholders on the NAV-per-share basis. In the event the funds are used for acquisitions, U.S. Silica has plenty of headroom to pay a premium to the replacement cost before the acquisition becomes value dilutive.
Second, the offering preserves financial strength in a market environment that remains difficult to predict. While frac sand producers saw a strong uptick in customer demand during the third quarter and implemented some price increases, operating margins and cash flow generation remain very weak (U.S. Silica is no exception in this regard). Moreover, it is difficult to bank on the timing and strength of the upcycle in oil. In this context, preserving an ironclad credit profile is paramount and should be rewarded by investors. The equity offering achieves just that - on a pro forma basis, U.S. Silica will have ~$730 million in cash versus $510 million of total debt (as of September 30, 2016, assuming the green shoe is exercised in full).
Finally, after replenishing its "war chest," U.S. Silica is again positioned to consolidate assets. As I have argued in the past, the company is unlikely to undertake a strategic merger with any of its larger peers, as antitrust hurdles would likely be unsurmountable. However, the consolidation of smaller assets is certainly feasible, as demonstrated by the company's most recent transactions:
As a reminder, in July 2016, U.S. Silica agreed to pay $210 million for NBR Sand's operation, a low-cost regional sand mining company based in Tyler, Texas. The acquired facility has annual capacity of just over 2 million tons and produces 40/70 mesh and 100 mesh that are currently enjoying differentiated demand from customers. With minor investments, U.S. Silica has been able to ramp up production to ~1.0 million tons per annum run rate and expects to achieve production rate of ~1.6 million tons per year before year-end.
In August, U.S. Silica announced the acquisition of Sandbox Enterprises, a provider of "last mile" logistics solutions for proppants. The transaction was valued at $218 million. U.S. Silica estimates that Sandbox currently has a ~10% market share in last-mile logistics services. By investing an additional ~$25 million, SLCA plans to significantly expand Sandbox's fleet and increase its delivery capacity from 24 crews currently to 40-45 crews.
In May, U.S. Silica purchased a fully-permitted, 327-acre parcel of land adjacent to its existing silica sand mine and plant in Ottawa, Illinois, adding ~30 million tons of proven reserves. The property was purchased from a privately-held mining company. The Ottawa facility serves multiple industrial sand markets such as glass, building products, foundry, filler and extenders, chemicals and oil and gas proppants.
The cost of these three acquisitions and announced additional investments add up to nearly $0.5 billion, approximately the same amount that U.S. Silica raised in its equity offering last week.
I would argue that the M&A market environment in the frac sand sector remains highly opportune for strong players, even though assets with low cost of supply or differentiated competitive advantage command rich valuations (as evidenced, for example, by U.S. Silica's acquisitions of NBR Sand and Sandbox Enterprises).
One important opportunity that should be mentioned in this regard is the trend toward the outsourcing of proppant logistics by the largest customers. It is important to remember that large frac sand producers cater predominantly to pressure pumping service providers, such as Halliburton (NYSE:HAL), Schlumberger (NYSE:SLB) and Baker Hughes (NYSE:BHI). On its recent conference call, Halliburton indicated its preference to become "asset light" in all areas where it might make sense. Proppants is one such area.
While pressure pumpers typically purchase frac sand from third-party suppliers, such as U.S. Silica, the largest integrated service companies are heavily involved in the logistics for proppants, effectively competing against frac sand suppliers. Outsourcing the logistics may be one of the ways for oilfield service majors to reduce costs and headcounts in a highly commoditized and competitive business.
For a company like U.S. Silica, this potential outsourcing trend would mean an opportunity to expand the footprint in the logistics portion of the value chain, capturing a larger portion of the storage and terminalling market as well as the "last mile solutions" market. In this context, the acquisition of Sandbox Enterprises is timely and visionary, albeit quite expensive.
In Conclusion…
In light of the intriguing opportunity set presented by the current downcycle, a large cash balance available for acquisitions and investments represents a strategic advantage. In this regard, U.S. Silica has again secured a differentiated position versus peers.
Overall, the competitive landscape in the frac sand business is becoming increasingly bifurcated, with the logistics and distribution likely to be the most critical factor separating the "haves" from "have-nots." Three companies are likely to continue to lead in this regard:
U.S. Silica, which I rank as strong #1 in terms of overall competitive strength;
Fairmount Santrol (NYSE:FMSA) which I rank as a #2; and
Hi-Crush Partners (NYSE:HCLP) which I view as a distant #3.
I will be providing a detailed a detailed discussion of Frac Sand industry fundamentals for Zeits OIL ANALYTICS subscribers next week.
Disclaimer: Opinions expressed herein by the author are not an investment recommendation and are not meant to be relied upon in investment decisions. The author is not acting in an investment, tax, legal or any other advisory capacity. This is not an investment research report. The author's opinions expressed herein address only select aspects of potential investment in securities of the companies mentioned and cannot be a substitute for comprehensive investment analysis. Any analysis presented herein is illustrative in nature, limited in scope, based on an incomplete set of information, and has limitations to its accuracy. The author recommends that potential and existing investors conduct thorough investment research of their own, including detailed review of the companies' SEC filings, and consult a qualified investment advisor. The information upon which this material is based was obtained from sources believed to be reliable, but has not been independently verified. Therefore, the author cannot guarantee its accuracy. Any opinions or estimates constitute the author's best judgment as of the date of publication, and are subject to change without notice. The author explicitly disclaims any liability that may arise from the use of this material.
Disclosure: I/we have no positions in any stocks mentioned, and no plans to initiate any positions within the next 72 hours.
I wrote this article myself, and it expresses my own opinions. I am not receiving compensation for it (other than from Seeking Alpha). I have no business relationship with any company whose stock is mentioned in this article.