Ok so I should have seen it coming. The production delays that were mentioned in the press, the Amazon (NASDAQ:AMZN) incident, and the fact that the company has been off schedule with new products over the past year was not a good sign.
However the icing on the cake was the Karma recall, that will make it extremely difficult for the company to have a good holiday season.
However, this does not change my theme of GoPro (NASDAQ:GPRO) going forward people. And that theme, as far as I am concerned, is that the drone genie is out of the bottle and the company's future is very bright, despite the short term problems.
The main problem for GoPro's stock at the moment is that there will not be much interest until the company proves that production is back on track, and that there are no problems with the Karma. I have to admit it might take a while.
My long term thesis is still intact
First of all, there is a big difference between not being able to sell product, and not having enough product to sell. Contrary to BlackBerry (NASDAQ:BBRY) that could not give its devices away (which resulted in major inventory write-downs), GPRO can not make enough product to sell. This folks is a big difference.
GPRO remains the defacto sports camera standard around the world. Yes there is and will continue to be competition in the space, however the brand's recognition is still second to none.
Granted that the next quarter will not be what I expected, however it will not be the end of the world. Remember, this is mostly a sports camera company and not a drone company yet.
And while some Karma sales will be lost forever during the holiday season (assuming the company does not start shipping the Karma till then), not all missed sales will be permanent.
There is such a thing as pent up demand. I for one think that any production issues that will result in missed sales during this quarter, will spill into the coming quarters. So while sales will be lower than expected over the next quarter, chances are that for the full year, the damage will be minor.
You make money when you buy cheap
However the main reason why it is not the end of the world, is that at $10 a share, everything is baked into the cake. It's not as if the stock was at $50 a share or something. In my opinion, the smart money will be buying at these levels.
Please recall the last time everyone thought GPRO's quarter was a disaster and they were dumping shares like there is no tomorrow. That was back in February.
Right at the very bottom, I told you it was time to buy (please consider: GoPro: It Doesn't Get Any Better Than This). The reason was none other than the appealing valuation.
See at current prices, GPRO's market cap is just $1.4 billion, or just about 1X revenue. I am sorry folks, but this figure is very much in my buying range, no matter what the short term problems might be. If it weren't for all the problems over the past month or so, the stock would not be at these levels.
Now let me show you the chart below: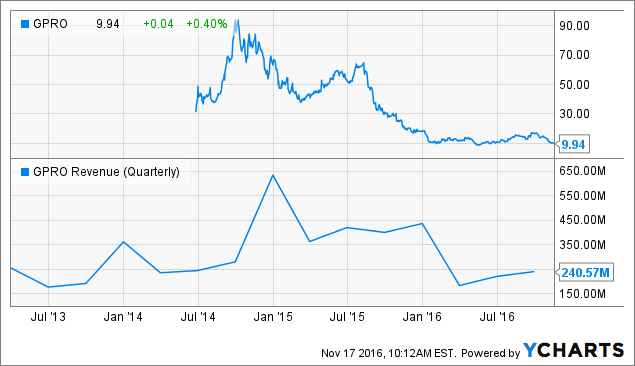 If you look closely at the chart above, last quarter revenue was almost the same was 2 years ago, in July'14. However the stock back then was as high as $50 a share, where today it is hovering around $10 a share.
Please also note that some of you guys were buying GPRO at almost $90 a share, with the yearly revenue run rate was about the same as it will be this year, about $1.3 billion.
So in other words, you guys are telling me that at $90 a share the stock was fine with $1.3 billion in revenue (irrespective of EPS), but today at $10 a share you are dumping the stock as if the world is coming to an end? I think something is a little wrong with someone's investment logic.
Bottom line
Yes I am disappointed with the turn of events, however I also remain positive over the long term, for my GPRO thesis is still intact.
Yes it will take 1-2 extra quarters for my goals to be realized, but that's the name of this game, things never go the way you want.
The brand name is there, Karma is a great product, and when production issues subside, I think GPRO will be a smash hit. And at current valuations, I think the chances of making a lot money are much higher, than the chances of losing some money.
Disclosure: I am/we are long GPRO.
I wrote this article myself, and it expresses my own opinions. I am not receiving compensation for it (other than from Seeking Alpha). I have no business relationship with any company whose stock is mentioned in this article.