Today's reopening auction of CUSIP 912828S50 - creating a 9-year, 8-month Treasury Inflation-Protected Security - resulted in a real yield of 0.369%. Here's is the Treasury's auction summary.
Real yields have risen substantially in recent weeks, and that means this TIPS went off at a discount. It was created in a July 21 auction where it generated a yield of just 0.045% and a coupon rate of 0.125%, the lowest the Treasury will go on a TIPS.
Investors today paid an adjusted price of about $98.30 for $100 of par value, but that price factors in about 71 cents of inflation-accrued principal since the original auction. The unadjusted price was $97.69.
Real yields (meaning above inflation) have been rising dramatically in the last 45 days, following along with the trend in the overall bond market. On October 3, the Treasury estimated a full-term 10-year TIPS would have a real yield of 0.00%. Today's auction was about 37 basis points higher.
But if you look at the history of TIPS, today's 10-year yield was still substantially below what was considered 'normal' before the Federal Reserve's stimulus effort of 2011 to 2013, as shown in this chart:

Click to enlarge
In my opinion, TIPS yields have a lot of room to move higher.
Inflation breakeven rate. With a nominal 10-year Treasury currently trading with a yield of 2.27%, this TIPS gets an inflation breakeven rate of about 1.90%, the highest level since May 2015. Investors are starting to price in higher inflation, and the 10-year breakeven rate is starting to climb toward the 'normal' range between 2.0% to 2.5%. Once it hits that level, TIPS will no longer be 'cheap' versus nominal Treasuries. At that point, TIPS yields will probably rise in lockstep with nominal Treasuries.
Today's inflation report showed year-over-year inflation of 1.6%, still under the 1.9% breakeven rate. But that rate has been climbing (it was the highest year-over-year number since October 2014) and core inflation has been running above 2.0% for a year. Investors are on alert for future inflation.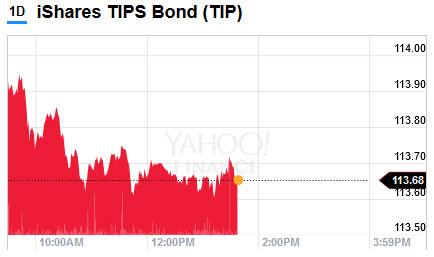 Reaction to the auction. The TIP ETF had almost no reaction to today's auction's closing at 1 p.m., as shown in the chart. This is an indication that the auction went as expected.
A Bloomberg report posted just before the auction closed noted that many top investment advisers are promoting Treasury Inflation-Protected Securities for protection against the threat of future inflation.
"After this election year, it's likely that the inflation will move higher - fiscal stimulus and protectionism are inflationary," said Mihir Worah, co-manager of the $83 billion PIMCO Total Return Fund. TIPS "will outperform Treasuries again next year."
Disclosure: I/we have no positions in any stocks mentioned, and no plans to initiate any positions within the next 72 hours.
I wrote this article myself, and it expresses my own opinions. I am not receiving compensation for it (other than from Seeking Alpha). I have no business relationship with any company whose stock is mentioned in this article.