I recently warned you about the detrimental effect that high interest rates could have on the valuation of Johnson & Johnson (NYSE:JNJ), but here I'll focus on a couple of side risks I barely touched upon in my recent coverage of this $316bn market-cap behemoth, which so far includes:
What To Make Of Johnson & Johnson At $118 In The Wake Of Q3 Results (18 October)
How Johnson & Johnson Could Plummet To $98 (17 October)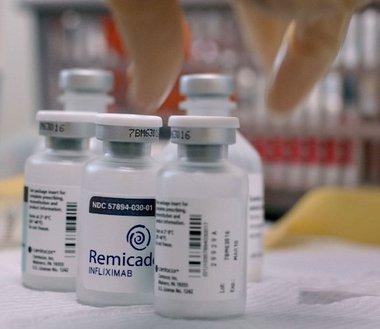 Remicade
A federal judge in Boston invalidated a key patent on Johnson & Johnson's blockbuster arthritis drug Remicade, increasing the odds that Pfizer Inc. will sell a rival copy in the U.S. J&J pledged to appeal," Bloomberg reported on 17 August.
JNJ's announcement can be found here.
Until recently, its shares comfortably traded close to a 52-week high of about $126, but have become more volatile since the day before quarterly figures were released.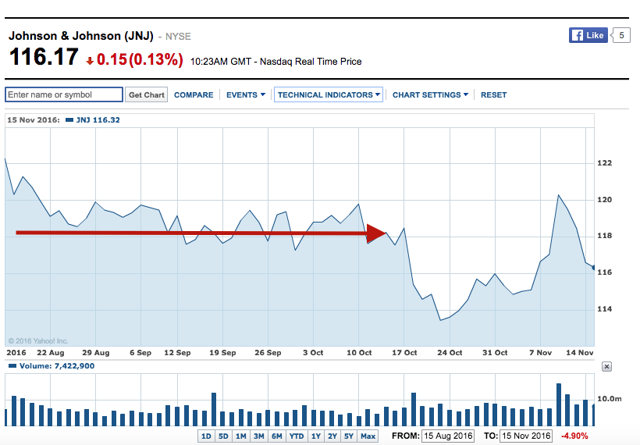 Click to enlarge(Source: yahoo finance)
If you wonder why Remicade is so important, just look at the numbers highlighted in the tab below.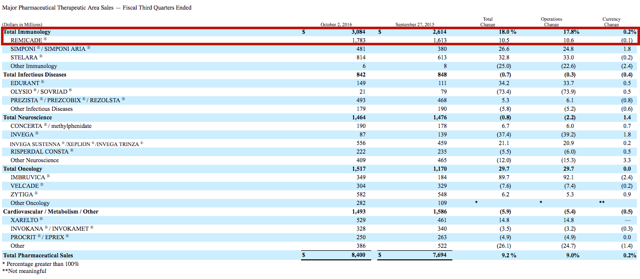 Click to enlarge(Source: JNJ 10-Q)
Remicade turnover represents the majority of sales for the immunology drugs portfolio, and roughly 21% of total pharma sales both in the third quarter and in the first nine months of the year.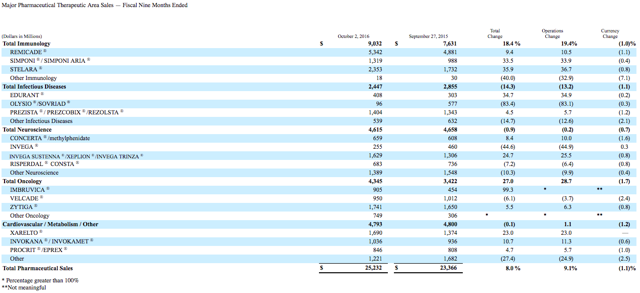 Click to enlarge(Source: JNJ 10-Q)
It isn't growing at a very fast clip on a relative basis, but its performance is clearly relevant given its contribution to group sales and earnings.
Growth
JNJ noted in its quarterly results that immunology products "achieved operational sales growth of 17.8% as compared to the same period a year ago," adding that contributors "to the growth were REMICADE (infliximab), STELARA (ustekinumab) and SIMPONI/SIMPONI ARIA (golimumab) driven by U.S. market growth and increased penetration for both STELARA (ustekinumab) and SIMPONI/SIMPONI ARIA (golimumab)."
Additionally, it said that "REMICADE (infliximab) sales to distributors were positively impacted by an inventory build in the current period as well as lower inventory levels in the third quarter of 2015."
"The patents for REMICADE (infliximab) in certain countries in Europe expired in February 2015. Biosimilar versions of REMICADE have been introduced in certain markets outside the United States, resulting in a reduction in sales of REMICADE in those markets."
The damage could be contained, although during the quarterly call with analysts, management failed to reassure investors, and JNJ shares inevitably struggled.
The payout is solid and the stock doesn't look madly expensive, but risks remain even at the current price of $116 a share.
Pfizer
The day before JNJ reported its quarterly figures, Pfizer (NYSE:PFE) announced that it would begin "shipment of INFLECTRA (infliximab-dyyb) for injection, a biosimilar of REMICADE (infliximab) to wholesalers in the United States in late November 2016."
INFLECTRA will be introduced at a 15% discount to the current wholesaler acquisition cost of REMICADE, its reference product. WAC is not inclusive of discounts to payers, providers, distributors and other purchasing organizations," Pfizer said a month ago.
End of the story? No, really.
JNJ's rival "is reportedly looking at selling or spinning off its consumer healthcare business," The Motley Fool wrote earlier this week.
Legal Risk
Aside from Remicade, another element that is often overlooked by investors -- as several readers kindly reminded me in recent weeks -- is the legal risk associated to some products that still belong to JNJ's vast portfolio as well as others that were recently discontinued.
JNJ said in its quarterly report that in June 2014, the Mississippi Attorney General "filed a complaint in Chancery Court of The First Judicial District of Hinds County, Mississippi against Johnson & Johnson and Johnson & Johnson Consumer Companies, Inc."
The complaint alleges that defendants failed to disclose alleged health risks associated with female consumers' use of talc contained in JOHNSON'S Baby Powder and JOHNSON'S Shower to Shower (a product no longer sold by Johnson & Johnson) and seeks injunctive and monetary relief. This matter is currently scheduled for trial in September 2017."
It is hard to quantify the damage here, but arguably JNJ and its investors are sitting on a time bomb, given certain news that has been published in recent months.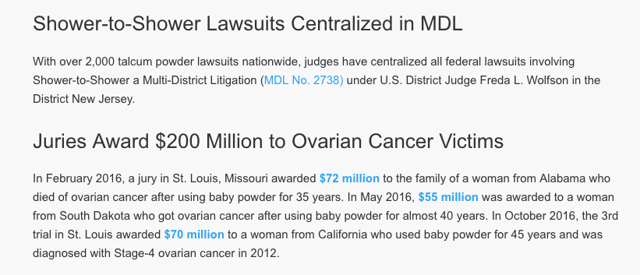 Click to enlarge(Source: schmidtlaw.com; to read the full coverage, please click here)
This, for example, was the headline from Bloomberg in early May: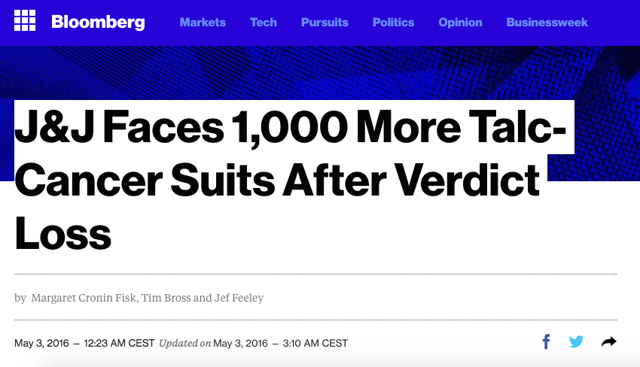 Click to enlarge(Source: Bloomberg)
It is simple math on paper: assuming the low end of that $55m-$72m range, this issue could cost JNJ up to $55bn, or about four years of net profits.
Of course, JNJ had funding options at its disposal, but nonetheless value destruction is possible over the next 12 month or so.
Its gross cash pile stands at $18bn, which comes on top of $22bn of marketable securities, against some $23.5bn of non-current debt obligations and $3.4bn of short-term debts.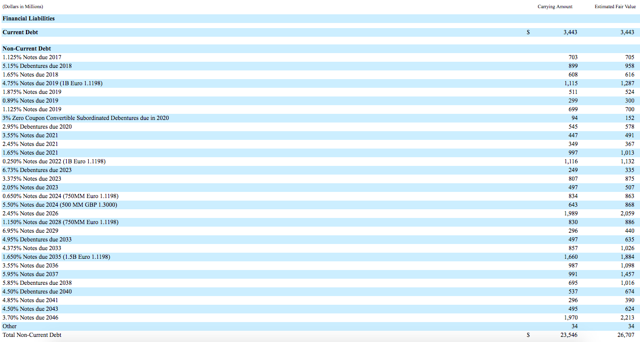 Click to enlarge(Source: JNJ 10-Q)
On 27 October, JNJ said "we deeply sympathize with the women and families impacted by ovarian cancer. We will appeal today's verdict because we are guided by the science, which supports the safety of Johnson's Baby Powder."
In fact, two cases pending in New Jersey were dismissed in September 2016 by a state court judge who ruled that plaintiffs' scientific experts could not adequately support their theories that talcum powder causes ovarian cancer, a decision that highlights the lack of credible scientific evidence behind plaintiffs' allegations."
Furthermore, JNJ was also ordered to pay $502m over Pinnacle hip failures earlier this year -- the latest updates on the DePuy Pinnacle hip trial can be found here.
If a worst-case scenario plays out, it might have to use some leverage to support the dividend, an analysts told me this week -- which, of course, would harm its credit rating.
Consumer
Speculations aside, more details emerged in the 10-Q about the performance of its sluggish consumer business.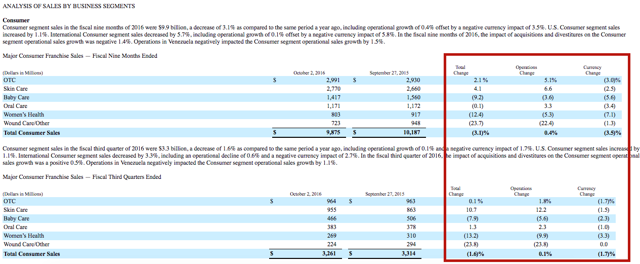 Click to enlarge(Source: JNJ 10-Q)
Now, with the Dollar Index hitting a 14-year high, more pain ahead is likely for JNJ shareholders, also in light of recent trends for interest rates -- in fact, it's back to square one for the year on that front, as the 10/2 year Treasury yield spread indicates.

Click to enlarge(Source: YCharts.com)
Meanwhile, my DCF model points to a fair value through to early Q1 that is some 8% below its current level of $116, excluding one-off adjustments.
For all these reasons, I'd look for value elsewhere at least until the end of the fourth quarter.
Disclosure: I/we have no positions in any stocks mentioned, and no plans to initiate any positions within the next 72 hours.
I wrote this article myself, and it expresses my own opinions. I am not receiving compensation for it (other than from Seeking Alpha). I have no business relationship with any company whose stock is mentioned in this article.