One of the best strategies I follow as an investor is buying solid businesses suffering a decline in revenue, with investors dumping the stock as if it's going bankrupt. Buying Bank of America (NYSE:BAC) stock at its lowest levels, when it was raining settlements on the bank and suffering a decline in revenues, is a perfect example.
That's what's happening to Murphy USA (NYSE:MUSA). Its valuation is being hammered with deep discounts after a streak of declining revenues since 2013, after it was spun off from Murphy Oil Corp. (NYSE:MUR). Although declining revenue is a problem, I believe that the priority in the retail gas stations business belongs to profit margins. That's because a huge decline in revenues can be easily covered with higher margins. To make my point clear, take a look at Murphy's revenue and net income: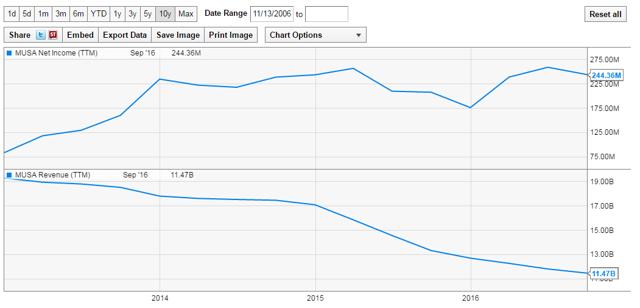 Click to enlarge
Source: YCharts
Although revenue declined about 50% since 2012, net income increased 200% in the same period.
Proving Murphy USA Is Undervalued
I believe that Murphy USA is the most undervalued stock in the industry. To show the extent of this undervaluation, and to calculate its intrinsic value, I used the multiples given to one of its closest competitors, CST Brands (NYSE:CST), as the basis for my valuation process.
Luckily, it happens to be that CST Brands will be acquired by the Canadian gas stations operator, Alimentation Couche-Tard, for $3.78 billion (CST is currently trading at the same exact level). This will make my analysis more accurate, since the price tag of this acquisition proves that CST valuation is not dependent on investors' appetite, but on true fundamentals.
To summarize the multiples comparison between both companies, I created the table below. The blue color is given to the better metric, while the red is given to the worse metric.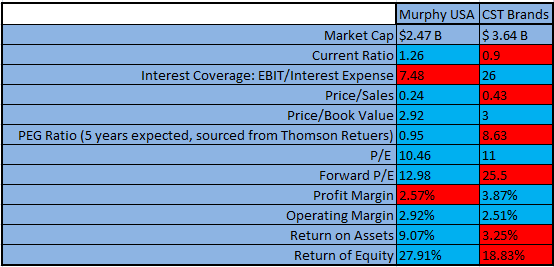 As you can see, Murphy USA is better in most of the important metrics. It's crushing CST on ROE and ROA, while slightly lagging it on the profit margin front. With both companies having a weighted average cost of capital of 8%, Murphy USA has a return on invested capital of 14.7%, while CST has a ROIC of 11.63%. This makes MUSA the firm with higher economic profit spread (ROIC-WACC).
Another metric that shows Murphy's undervaluation, relative to CST Brands, is the enterprise value/number of stores ratio. Murphy USA has a current EV of $2.82 billion, with 1,364 stores. This gives an average market valuation of $2 million for each store. However, CST Brands has a current EV of $4.91 billion, with 2033 stores (located between the U.S. and Canada). This gives an average market valuation of $2.41 million for each store, 20% higher than Murphy's.
This case can only be logical if CST Brands has a better store location. But a better location than being the closest gas station to every Wal-Mart Store (NYSE:WMT)? I don't think so. Although the partnership between Wal-Mart and Murphy USA has been terminated, and Wal-Mart is starting to operate its own gas stations, more than 90% of Murphy's stores are still located near the retail giant.
Analyst Matthew Boss from JPMorgan asked Andrew Clyde (Murphy USA CEO) about the effect Wal-Mart's move on Murphy. Clyde said the following:
Just in terms of stores there's really not that many stores where a Supercenter has been built in close proximity to one of our stores. And the results of those where it has happened frankly don't look that different than if another high volume retailer opened up in a proximity. And so we've had competitive incursions, since the beginning we continue to have them on a regular basis.
Actually, I didn't believe that at first glance. But after looking into the numbers, Murphy's same-store sales only declined 1.5% in the first nine months of 2016, compared to the same period in 2015.
What Is the Value of Murphy USA?
Having the same problem of declining revenues, I believe that Murphy USA should be valued close to CST Brands' valuation. CST Brands having a forward P/E of 25.5, while that of Murphy's is just 13, is a huge disparity.
Although I believe that a P/E of 25 for Murphy's is over optimistic, due to its concentration risk by having most stores located near its new competitor Wal-Mart, a P/E of just 16 will give the stock 25% upside. Another way to value MUSA is to apply the same valuation of CST Brands stores. Don't forget, Alimentation Couche-Tard will pay $2.4 million/store for CST shareholders.
Applying this metric to Murphy, which its stores is having a significantly higher ROA, Murphy's equity value will be valued at $2.9 billion, or $74/share ($2.4 million x 1364 - $350 million in debt). Merging both strategies, Murphy's intrinsic value will be at $78-$74. At a midpoint of $76, that represents a 20% upside. The share repurchase program will also give a push to the stock, with $300 million left to be used next year. Just for the record, that's 12% of Murphy's current market cap.
Conclusion
I believe that the risk lies in Murphy USA getting crushed by Wal-Mart's new gas stations. Although Murphy's CEO regarded Wal-Mart's existence as not being a threat, I think that the situation is more dangerous over the long term. That's due to Wal-Mart's retail strategy in cutting prices as much as it can, even selling its items for a loss, for the sake of crushing small competitors. Then there is Murphy's management's role in providing growth in Murphy Express, the stores that are far from Wal-Mart (28 new sites are currently under construction). Another thing that Murphy USA should focus on is customer royalty. Depending on its Wal-Mart partnership, Murphy USA had not issued any loyalty cards or programs since its existence; I think it's time to do so.
However, with a low PEG ratio (below 1), a price-to-sales ratio of just 0.24, strong profitability metrics, and a solid balance sheet I believe that MUSA's upside is rewarding, while its downside is limited.
Disclosure: I am/we are long MUSA.
I wrote this article myself, and it expresses my own opinions. I am not receiving compensation for it (other than from Seeking Alpha). I have no business relationship with any company whose stock is mentioned in this article.