Overview of Legislative Risk Facing REITs
No industry is immune from the mighty power of a legislator's pen. Real estate investors and REITs are no exception. Analyzing the political contributions of industry trade groups provides a good insight into the magnitude and degree of the regulatory risks that a particular industry faces.
The publicly traded REIT model has been one of the most economically significant advances in modern finance. The general Real Estate Investment Trust framework has historically had bipartisan support, and we expect this to continue indefinitely. Since the creation of the initial legislative framework in the 1960s, the REIT model has proven to be the most effective means to democratize commercial real estate investing. The REIT framework in the United States has been so effective that dozens of other developed nations such as India, Hong Kong, Japan, and the UK have modeled their real estate financial markets around the same legislation.
While an explicit attack on the REIT model itself seems highly unlikely, REITs and real estate homeowners do confront legislative risks that can impact the value of real estate assets. Some of this legislation is REIT-specific, such as the REIT Modernization Act in 2015, while other legislation impacts REITs through its impact on the broader commercial real estate or financial markets, such as potential changes to the broader tax code, the 1031 Like-Kind Exchange, healthcare reform, online sales tax, and foreign investment in US real estate.
REITs Backed Winners in 2016
NAREIT describes itself as the "voice of the REIT industry" by working to "preserve and protect REITs by helping to shape the landmark legislation and policy decisions that have defined the evolution of REITs and real estate investment." NAREIT's Political Action Committee has been making political contributions on behalf of the REIT industry since the NAREIT PAC donated a mere $32,000 dollars in 1996.
According to data from OpenSecrets: The Center for Responsible Politics, the National Association of Real Estate Investment Trusts favored Republican legislators in 2016, particularly in US Senate races. The margin by which NAREIT supported Republican candidates was the widest margin on record, a signal that REITs feel pressure from the rising influence of the far-left wing of the Democratic party.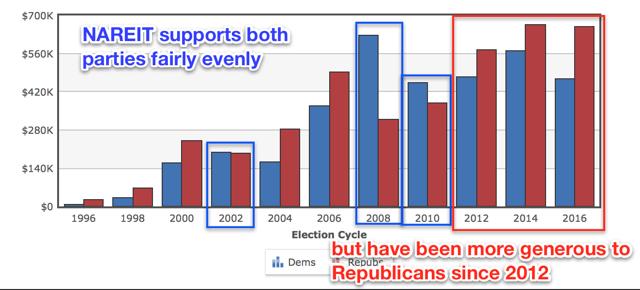 Click to enlarge
(Source: OpenSecrets.org)
It is common for industry trade groups to support the projected winners of Congressional races in order to gain some degree of political goodwill, whether or not the particular candidate is completely aligned with the agenda of the industry. For better or worse, this is how US politics works, particularly at the House of Representatives level where political funding is more scarce and thus there is a higher expectation of political goodwill from donations.
Even considering the bias towards supporting projected winners, NAREIT had an impressive level of success in the 2016 cycle, higher than any previous cycle we analyzed. NAREIT supported the winning candidate in roughly 90% of Senate races and 95% of House of Representative contests, including supporting the upset bids of Republican Senate candidates Ron Johnson, Pat Toomey, and Todd Young.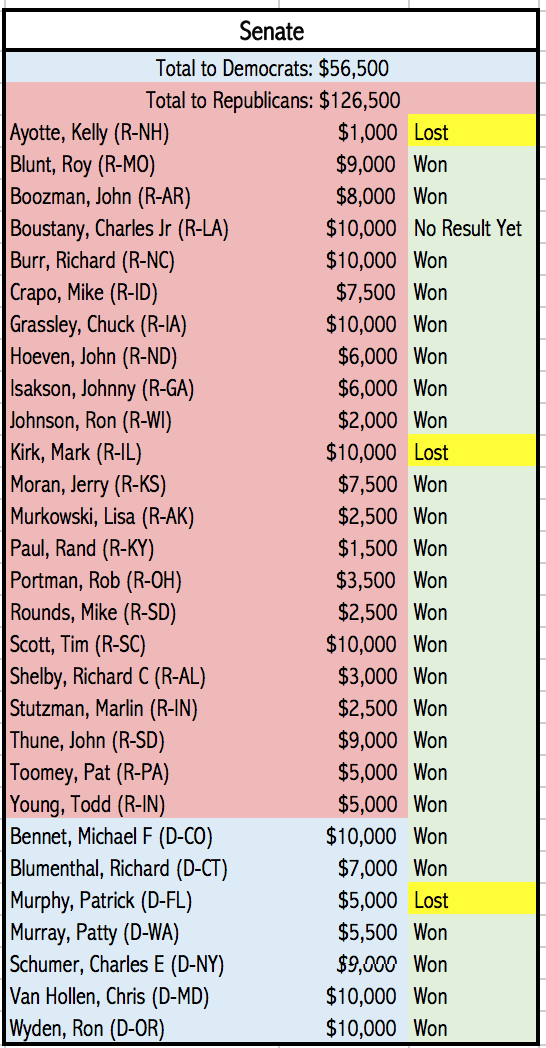 This was an unlikely but welcomed outcome for REITs and REIT investors from just two weeks earlier. In mid-October, the prediction model from FiveThirtyEight gave Republicans just a 25% chance of winning control of the Senate, at which point we had begun to analyze the negative consequences of a potential Democratic sweep, which was worrisome given the recent embrace of far-left economic policies from some factions of the Democratic party. Specifically, we envisioned a possibility that Bernie Sanders and Elizabeth Warren, both of whom have been hostile towards investors and critical of the perceived "loopholes" currently utilized by the commercial real estate industry, would have prominent leadership roles in the Senate, and would pose a material risk to real estate valuations at both commercial and residential levels.

Click to enlarge
(Source: FiveThirtyEight)
The balance of power is now firmly under the control of Republicans, despite minor losses in the House and Senate. Conservatives now control the presidency, Senate, House, majority of governorships, majority of state legislators, and soon the Supreme Court. To add insult to injury for the Democrats, the 2018 election cycle is projected to be very "Republican-friendly" based on the distribution of toss-up Senate contests being predominantly in seats currently held by Democrats. In recent cycles, mid-term elections have tended to be more favorable for Republicans.
Real Estate Implications of the Republican Sweep
Plenty has been written on the broader economic implications of the unexpected Trump victory, much of which we believe is flawed and based on campaign rhetoric that has little chance of becoming policy. We are a subscriber to Peter Thiel's theory on Trump. To paraphrase: the media takes Trump literally but not seriously. The rest of America takes him seriously but not literally. After all, we remind readers that Trump was a self-described Democrat for most of his adult life.
As we have outlined in prior articles, we expect to see a version of President Trump that is far more moderate and pragmatic than his media and campaign caricature. We anticipate President Trump to be well aligned with the current Republican agenda, but with a slightly more populist tilt, especially on trade and immigration. While we expect some tough talk, we don't expect to see mass deportations or trade wars. We don't expect to see a 2,000 mile wall along the border or outright bans on groups of immigrants. To echo Peter Thiel, while the media takes that rhetoric as actual policy objectives, Trump's true objectives are simply to change the narrative around those issues. The end result will be a compromise towards slightly tougher positions than the status quo.
That being said, if Trump's tough-talk on the campaign trail becomes actual policy, or if Democratic-minded people are substantially disaffected by Trump's victory enough to alter their spending habits, we will have to revise our macroeconomic growth assumptions. Until then, we will assume our 'base case' scenario, which is an economic policy of fiscal expansion through lower taxes, economic liberalization by reduced regulation, and a moderate slowdown in net migration into the United States.
Interest Rates and Inflation
We believe that the Republican sweep will result in slightly higher real growth expectations from a loosening of regulation and business-friendly policies, and higher inflation expectations through tax cuts and deficit expansion. Keep in mind that a significant number of Republicans were elected on the Tea Party platform of extreme fiscal conservatism, and thus it should not be assumed that Republicans will immediately approve policies that result in deficit expansion.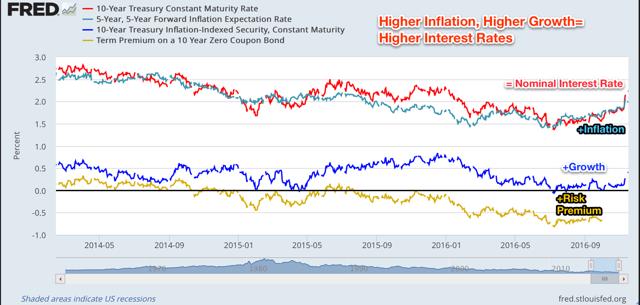 Click to enlarge
Medium and long-term interest rates are a function of three primary factors: real growth expectations, inflation expectations, and a term/risk premium. As real estate provides TIPS-like inflation hedging properties, it is important to know which of the three factors is behind the move in rising rates. Higher rates that are a result of inflation may be marginally beneficial to REITs and real estate, pushing income-seeking investors into the safe haven of inflation-protected income vehicles.
On the other hand, higher rates resulting from a higher real cost of borrowing will be headwinds for residential and commercial real estate values, all else equal. Because of weak demographic trends and international economic uncertainty, we anticipate slightly higher real interest rates even if capital requirements of banks are loosened, and much of the rise in rates will result from higher inflation expectations.
Mortgage Rates
Mortgage rates track movements in risk-free interest rates closely, and higher rates should be expected to increase mortgage rates. All else equal, higher mortgage rates push out marginal buyers of homes and can be a drag on home prices. During good economic times, the effect of higher rates can be more than offset by income growth and increased availability of mortgage credit. We expect the recent spike in mortgage rates will result in short-term downward pressure on home prices and result in continued high rental demand. This will benefit apartment and self-storage REITs such as Public Storage (NYSE:PSA), Equity Residential, (NYSE:EQR), and AvalonBay (NYSE:AVB).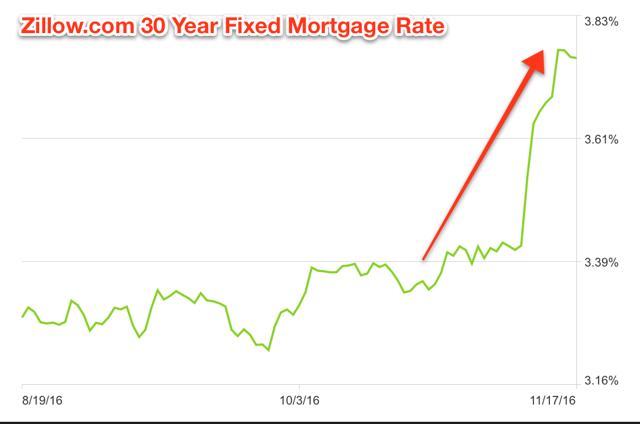 Click to enlarge
Construction & New Supply Growth
We highlighted in a previous article, "Are We Approaching A Construction Recession?" that the mini-boom in construction in 2013-2015 appears to have moderated.
We cited tight lending standards, tough local zoning regulations, and the high cost of construction labor as the three primary reasons behind the slowdown.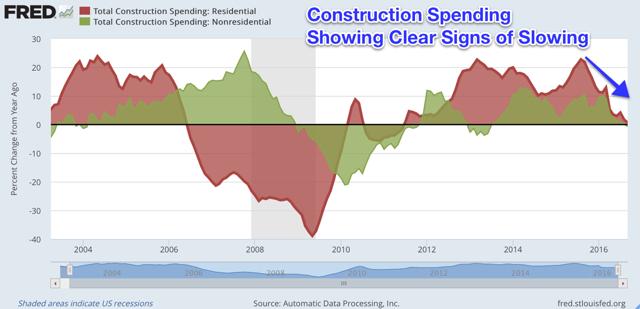 Click to enlarge
The Republican sweep has resulted in potential movement in all three of those constraints, but not all in the same direction. We believe that construction lending will be loosened moderately by scaling back some of the more restrictive capital requirements related to Basel III and Dodd-Frank. That said, we don't expect a return to the "Wild West" of real estate financing, as the financial crisis is still very fresh in the mind of all politicians and the general public.
When it comes to local zoning regulations, the Republican success in governor and state legislator races could result in loosening of the restrictive nature of land-use zoning regulations in local areas, which could increase construction activity. Together, loosening these two constraints could lead to an increase in private construction activity and thus an increase in supply in the usable space market. Supply growth tends to put downward pressure on real estate values.
The third constraint, increased cost of construction labor, could do more than offset the gains of the other two constraints. We have continued to discuss the tightness in the construction labor market. Construction wages have risen over 30% since the boom of 2007, and have accelerated in 2016 despite the relative moderation in construction activity. An increase in federal infrastructure spending is one of the few "sure things" of the new administration, as it has widespread support on both sides of the aisle. We believe that a significant increase in public construction spending will crowd-out potential private construction spending by significantly raising the cost of construction labor. In all, it's difficult to determine the net result, but we encourage real estate investors to watch construction activity and wages very closely over the next 12 months.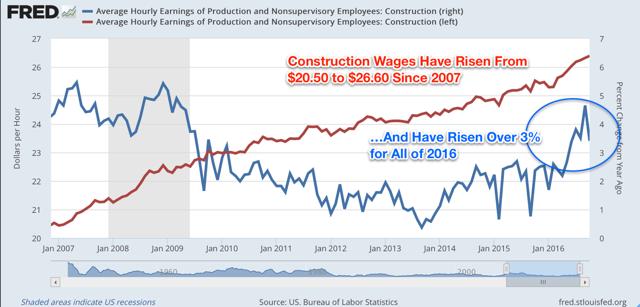 Click to enlarge
Taxes
Steven Mnuchin, an economic advisor for Trump and possible future Treasury Secretary, said reforms to the tax code will be "the biggest changes since Reagan." We believe the Paul Ryan-backed "A Better Way for Tax Reform" will serve as a blueprint for business and tax reform over these next four years. We expect lower rates for investors on both ordinary income and qualified/capital gain income, along with a reduction in the corporate tax rate.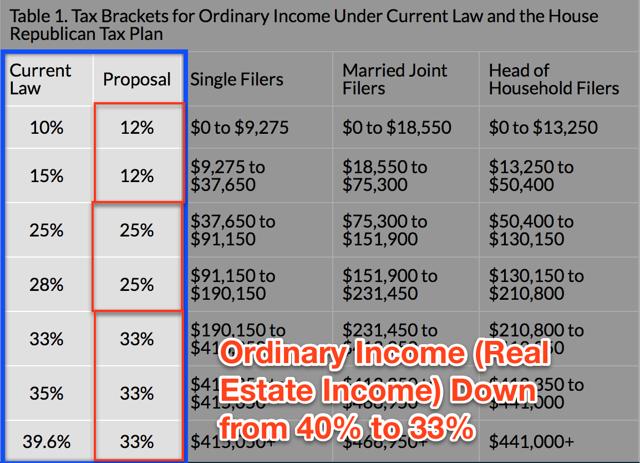 Click to enlarge
As the majority of REIT distributions are taxed at ordinary income rates, the lower marginal rates will result in an immediate increase in after-tax returns if the REIT framework stays consistent. The smaller reduction (and perhaps increase) in the rate of qualified income and capital gains would be interesting, as it would make REITs more attractive compared to typical equities, particularly for companies that already pay an effective tax rate near the 20% proposed corporate tax rates, and thus would not benefit from the decreased tax rate.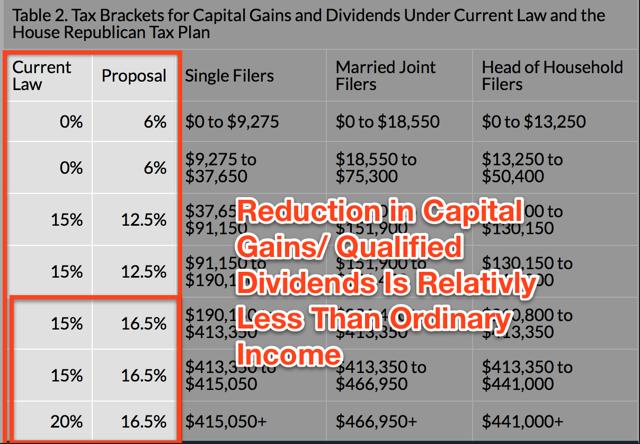 Click to enlarge
The Republican proposal and Trump both agree on a continued "subsidization" of home mortgages through a continuation of the standard mortgage interest deduction. Until the final tax plan gets approved, it is difficult to analyze its specific effects on real estate and REITs. We are reasonably confident that the new tax regime will result in lower taxes for the majority of both REIT and equity investors.
REIT-Specific Impact of Republican Sweep
In terms of REIT-specific legislation, NAREIT's balance of support is a reflection of the organization's specific policy objectives and the current and evolving policy platforms of the two major political parties. NAREIT's relative success in the 2016 election cycle should be a positive catalyst for the industry over the next four years.
The full list of NAREIT's objectives is outline on its website, but we highlight its four main priorities below. We believe that the probability of positive legislative outcomes for REITs is significantly higher than before the election.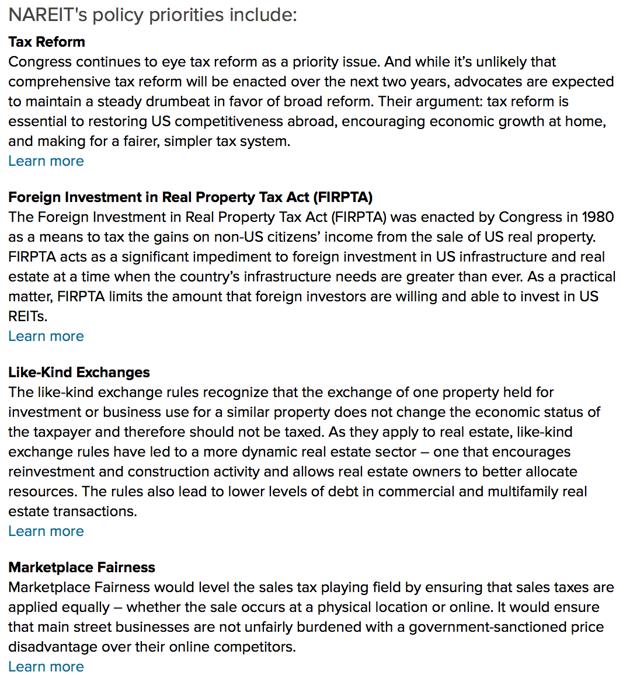 Click to enlarge
(NAREIT)
Given the strong bipartition support of the REIT model and the election success of NAREIT-supported candidates, we expect that the most likely outcome is that REIT tax code, along with the 1031 Like-Kind Exchange, remains mostly untouched, but the lower tax rates on ordinary income will increase the after-tax income for REIT investors.
Given Trump's hostility towards Jeff Bezos and Amazon (NASDAQ:AMZN), combined with a Republican party that was elected on the promise to revive "Main Street," we believe there is a significantly higher likelihood of "marketplace fairness," meaning that online retailers will not be exempt from sales tax. This would materially benefit brick-and-mortar retailers and shopping center REITs (NYSE:GGP) and (NYSE:SPG) but may put downward pressure on industrial REITs (NYSE:PLD) that have benefited from the proliferation of online retail sales.
Other legislation includes modifications to Basel III framework, state tax issues, terrorism risk insurance, and standardization of non-GAAP financial metrics. We also expect to see progress with these issues.
Bottom Line
With so many moving parts, particularly at the macro level, it is difficult to project the final effects on the real estate industry. REIT ETFs (NYSEARCA:VNQ) and (NYSEARCA:IYR) enjoyed the "goldilocks" economy of moderate growth and low interest rates, which resulted in low supply growth, cheap financing, and incremental investment demand from yield-seeking investors. The Republican sweep was a divergence from the status quo and will raise the odds of higher rates and increased construction.
Investors must be aware of potential legislative risk. No industry is inoculated from the risk of government legislation impairing the value of the business. While we do not believe that there is significant risk to the REIT framework itself, changes to the tax code can result in immediate re-pricing of financial assets, either to upside or downside.
Based on the past successes of NAREIT's legislative efforts, highlighted by the US REIT Act of 2015, REITs appear to be in good hands, and NAREIT's sweeping success during this election cycle should allow REIT investors to breathe a sigh of relief compared to what could have been under a Democratic sweep. Investors should familiarize themselves with the objectives of NAREIT and the upcoming legislation that may potentially impact REITs. We believe that the probability of success in all four of NAREIT's top priorities are increased considerably and that the REIT framework is more likely to strengthen under the newly composed Republican government.
Disclosure: I am/we are long AVB, PLD, EQR, PSA.
I wrote this article myself, and it expresses my own opinions. I am not receiving compensation for it (other than from Seeking Alpha). I have no business relationship with any company whose stock is mentioned in this article.
Additional disclosure: All of our research is for educational purpose only, always provided free of charge exclusively on Seeking Alpha. Recommendations and commentary are purely theoretical and not intended as investment advice. Information presented is believed to be factual and up-to-date, but we do not guarantee its accuracy and it should not be regarded as a complete analysis of the subjects discussed. For investment advice, consult your financial advisor.