The EIA reported an injection figure of +30 Bcf, bringing the total storage number to 4.047 Tcf. This compares to the +15 Bcf build last year and the +2 Bcf build for the five-year average.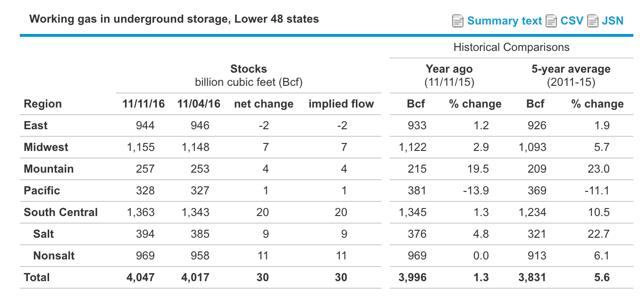 Click to enlarge
Source: EIA
Going into this report, a Reuters survey of 19 traders and analysts showed an average of 31 Bcf with a range of 24 to 43 Bcf. We expected a +23 Bcf build and were off by 7 Bcf.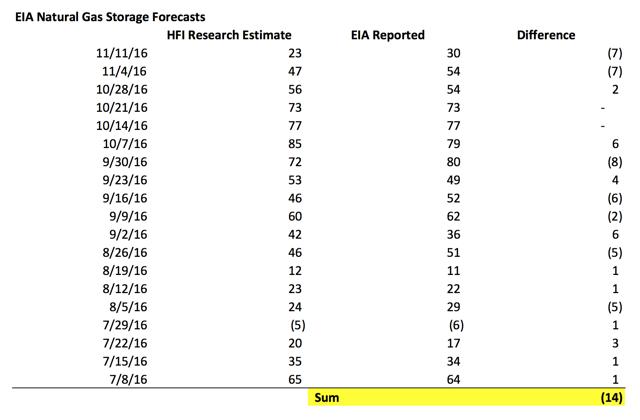 Click to enlarge
Source: HFI Research Natural Gas Injection Track Record
Looking at this storage report, we had a base forecast of +26 Bcf, but revised it lower by 3 Bcf as we thought last week's report would see a reversion lower. We guess that didn't turn out to be the case and consensus estimates for the last two weeks were pretty spot on despite the wide range. Our estimate for both weeks came at the very low end of the range.
This report catapults natural gas (NYSEARCA:UNG) storage to an all-time high. Next week's EIA storage report could also see a build, and that will be the last injection this year. Base temperature is declining, so injection forecasts are being revised on the changes in HDDs. So far, the next two weeks' HDDs are very close to the 10-year average and while natural gas prices are selling off by 2%, it has so far held the $2.60-$2.70/MMBtu range.
Looking at fundamentals, overall gas supplies were down slightly while Canadian natural gas imports recovered to just under 5 Bcf/d. Despite weak heating demand, Mexico export and LNG demand remain strong. Next week's report is currently between -2 Bcf - 7 Bcf, and we will be posting our forecast tomorrow.
Overall, this was a record setting storage report. Heating demand was very weak resulting in the large relative injection, and we should see another weak report next week as injections come in higher than the five-year average.
Disclosure: I/we have no positions in any stocks mentioned, and no plans to initiate any positions within the next 72 hours.
I wrote this article myself, and it expresses my own opinions. I am not receiving compensation for it (other than from Seeking Alpha). I have no business relationship with any company whose stock is mentioned in this article.