Investment Thesis
Although Comtech Telecommunications Corp. (NASDAQ:CMTL) looks cheaper after the selloff of 50% since last year, I argue that there is no margin of safety in this investment. Additionally, post acquisition, Comtech's balance sheet is overlevered, and its revenue is not growing as fast as management would like investors to believe.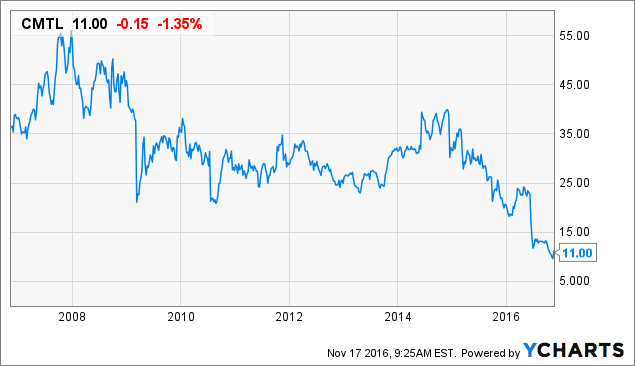 Business Overview
Comtech is provider of advanced communications solutions for both commercial and government customers worldwide. Its solutions secure wireless communications in some of the most demanding environments, where traditional communications are unavailable or cost prohibitive.
In February 2016, Comtech acquired TCS, paying an enterprise value of ~$425m. This has left the balance sheet with too much debt. There are ~$350m of tangible assets and $451m of liabilities, leaving equity holders with negative ~$100m of book equity. In a sense, management was very clever, as it could see that its business was struggling, and with record low interest rates, it levered the balance sheet and in effect "bought in" some revenue to the tune of $151m for fiscal 2016.
Financials

Click to enlarge
Financials
Source: Author's calculation
I will be the first one to be the devil's advocate and say that the financials are not too bad. Comtech generates an average of $27.2m in free cash flow. This is very good. But when the market cap is already ~$255m, this leaves no margin of safety on this investment as you will see in the rest of this article.
Post acquisition the financials look better than they are in reality. The reason being twofold. First, both TCS's business and Comtech's legacy segment are Q4 heavy, meaning these businesses are seasonal with most of the revenue being recorded at the end of the fiscal year. Investors who simply annualize this quarter's result will get the wrong impression.
Secondly, the acquisition of TCS has given financials a boost of ~$151m in revenue. In the graph below, I have shown how the revenue for Comtech looks like without the TCS acquisition.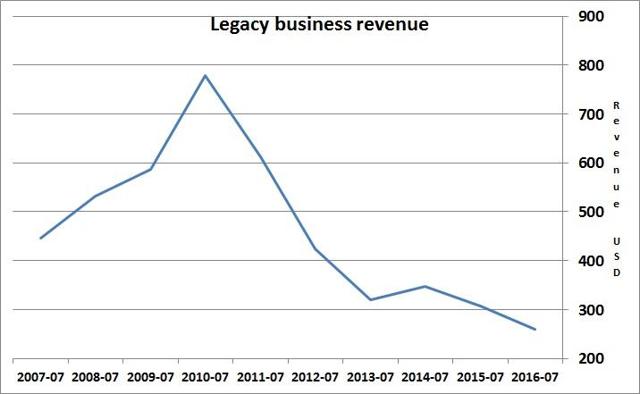 Click to enlarge
Revenue without TCS operations
Source: Author's calculation
On the Comtech legacy side, although sales continue to be impacted by challenging international business conditions, we do believe that market conditions have somewhat stabilized. - Earnings transcript Q4 2016
Current Ratio
Below is a graphical representation of Comtech's current ratio: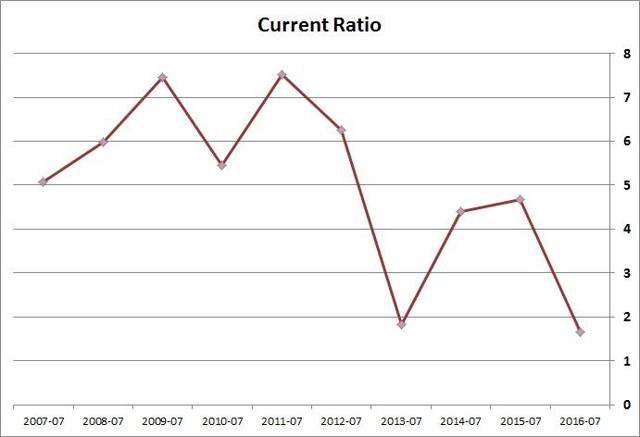 Click to enlarge
Current ratio
Source: Author's calculation
When the current ratio falls below 2x, this is a small warning sign. Of course, not all businesses need to have a current ratio of 2. Dell is a classic example of a business with a negative current ratio and that is very successful. Moody's Corporation (NYSE:MCO), and Coca-Cola (NYSE:KO) are of course others, but my point is that these businesses are exceptions and not the norm.
Dividend Cut
Although insiders own a very respectable amount of shares (7.7%), with CEO Kornberg owning 4.3% of Comtech, the Board will have to cut the dividend. This is the last thing a board wants to do, and it demonstrates the difficult environment Comtech currently trades in.
Although the Board of Directors is currently targeting fiscal 2017 dividends aggregating $1.20 per share, the Board has began the assessing the Company's capital needs generally and the appropriate level of future dividends. - Earnings transcript Q4 2016
CEO Kornberg had already left the business once, but since Mr. Sloane did not do a great job of managing the company, Mr. Kornberg returned. Although, even he admits he will not be sticking around for very long.
Looking forward, it is fair to say that I don't expect my second term as CEO to last as long as my first term. - Earnings transcript Q4 2016
As an investor, knowing that the business I invest in has little margin of safety and will continue to have revolving door of CEOs does not inspire confidence.
Future Guidance
I understand that the market is very impressed with the fiscal 2017 guidance of $600m in revenue, as you can see from the recent rally in its shares. However, if you stop and think about this guidance for a minute, you will see that this "growth" is simply because of the TCS acquisition and that Comtech's legacy business is actually dropping.
Here are the calculations. We know that TCS is Q4 heavy. I have calculated very roughly since TCS was incorporated over the last five months, and annualizing that figure with an adjustment for Q4's seasonality, I get at an annual figure of $350m very roughly. And since management has guided fiscal 2017 revenue at $600m, this means that the legacy business must be declining to $240-250m in fiscal 2017. This is down from $260m in fiscal 2016 and $307m in fiscal 2015. Not really a sign of recovery. I have no problem investing in a business with falling revenue. All my investments are out of favor, but here is the thing. At what price are you asked to invest? Currently, CMTL trades for $255m.
It is true that future revenue will be more diversified and less volatile. Generally, investors prefer a business with smoother earnings and are willing to pay a higher multiple for these businesses, but if the company's legacy business is falling and TCS is not really growing, then investors will be in for a little surprise.
Conclusion
I do not mind missing out on a great idea if in the future Comtech turns itself around and returns to, say, $400m in market cap. But I do not want to be in a position of losing any invested capital. I do not believe that Comtech has the margin of safety, and I recommend that investors look for better opportunities elsewhere, such as here or here.
Thank you so much for reading my article. If you have enjoyed it, please click "follow" to get more articles of mine in real-time.
Disclosure: I/we have no positions in any stocks mentioned, and no plans to initiate any positions within the next 72 hours.
I wrote this article myself, and it expresses my own opinions. I am not receiving compensation for it (other than from Seeking Alpha). I have no business relationship with any company whose stock is mentioned in this article.