3 Gold Stocks With Insider Buying Activity
Corporate insiders may sell their company's stock for any number of reasons, but they usually only buy their company's stock for one: they are bullish and think the share price will rise. As I've pointed out in the past here on Seeking Alpha, I think insider buying (and heavy insider ownership) is typically a good sign. While it's far from the only data I use to make an investment decision, it is certainly a positive sign.
As a reminder, insider trading activity is freely available public information. For a lot of gold and silver stocks, you can find SEDI filings for stocks listed on the Toronto Stock Exchange, or you can use CanadianInsider.com to search for recent insider trading activity. On U.S. markets, insider trading activity can be found on SEC Form-4 documents.
Insiders have been buying shares of these three gold stocks lately. Here is a summary of the insider purchases, as well as my thoughts on each stock.
Primero Mining (NYSE:PPP)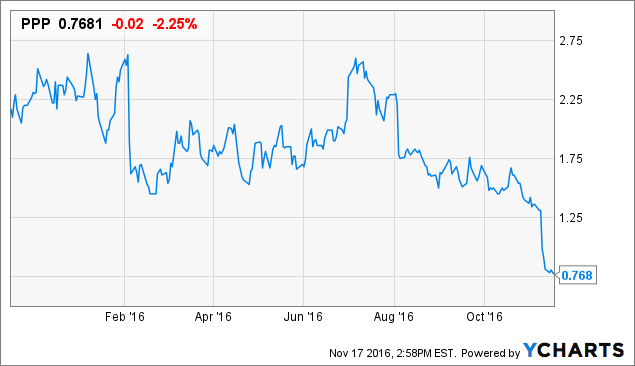 Primero Mining is a gold miner I have recommended investors avoid for quite some time now. First, I said to sell Primero back in February with shares trading at $3.33 per share. Then I listed the stock as one of 5 gold miners to avoid for 2016 with shares trading north of $2. Finally, in late October, I still recommended avoiding shares at $1.51. The stock has underperformed the gold miners index (NYSEARCA:GDX) by a pretty wide margin this year.
Why have I been so bearish? I've pointed towards numerous issues with the company in the past, including its high debt load, its legal issues with the Mexican tax authorities, and the safety concerns surrounding its San Dimas mine, which has witnessed several deaths over the years.
The stock has fallen even lower since that last article and now trades at $.765 on the US exchange. Is the selloff overdone? Well, insiders appear to believe so, as they have used the recent selloff to purchase shares on the cheap:
- On Nov. 14, Joe Francis Conway bought 200,000 shares at $1.07 per share. Conway is the former CEO of Primero and currently serves as Vice Chairman.
- On Nov. 14, Heather Maura Lendon bought 10,000 shares at $1.08 per share. Lendon is Chief General Counsel and Corporate Secretary of Primero.
- On Nov. 14, Tamara Lee Brown bought 20,000 shares at $1.06 per share. Brown is VP of Corporate Development.
- On Nov. 14, Robert Allan Quartermain bought 15,000 shares at $1.08 per share. Quartermain is a director of Primero.
- On Nov. 14, Wade Donald Nesmith made several purchases. He bought a total of 107,000 shares at prices between $1.07 and $1.09 per share. Nesmith serves as Chairman of the Board for Primero.
So, is Primero Mining a buy here? Has the selloff created a buying opportunity? I have to admit that shares do look pretty cheap here at first glance, as the company's market cap has fallen to $147 million. That's pretty low for a company that's on track to produce close to 200,000 gold equivalent ounces this year, and for a miner that has more than 55 million silver ounces and 809,000 gold ounces in reserves at its core mine.
But, there are still significant risks to consider that could send shares even lower. After repaying $40 million of debt in the quarter, Primero's balance sheet remains a risk, with $62.3 million in long-term debt and $51.7 million in short-term debt. Meanwhile, the Mexican tax issues have not gone away, nor has the company's challenges at San Dimas.
I really have mixed feelings on Primero here. It's possible the company will resolve its tax issues and turnaround operations at San Dimas, which would likely send shares soaring higher. But the downside risk is very high as well. If you are willing to take significant risks with the potential for a huge payoff, it could be a wise bet, but even so, I would recommend only buying a small position.
Jaguar Mining (OTC:JAGGD)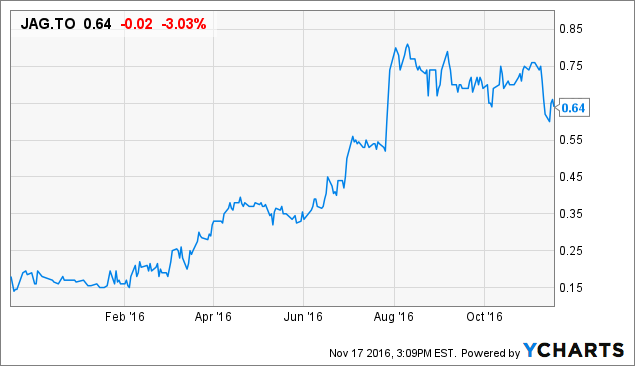 Jaguar Mining operates three gold mining complexes in Brazil: Turmalina, Paciência and Caeté. The company's 5-year strategic plan is to become a 200,000+ ounce per year gold producer. Currently, two of these mines (Turmalina and Caete) have combined to produce 71,201 ounces of gold year-to-date; Turmalina has contributed 47,158 ounces at $730 all-in sustaining costs, while Caete has added 24,043 ounces at $1,180 AISC; production is expected to meet full-year guidance.
The company has $17.3 million in cash and $21.1 million in debt as of Nov. 7, according to its corporate presentation. Major shareholders include the Tocqueville Gold Fund (21%), as well as investor Eric Sprott (19%).
Here's a summary of recent trading activity:
- On Nov. 11, Hashim Ahmed purchased 64,527 deferred share units under a purchase/ownership plan. Ahmed also bought 10,000 shares at $.60 per share in the public market on Nov. 14, valued at $6,000. Ahmed is Chief Financial Officer at Jaugar.
- On Nov. 11, Rodney Lamond made several purchases on the public market. He bought 100,000 shares at $.73, 100,000 shares at $.693, 20,000 shares at $.64, and 27,000 shares at $.598. The total purchases are valued at $171,246. Lamond is Chief Executive Officer at Jaguar.
The insider purchases are certainly a positive sign - especially given the run-up in Jaguar's share price over the past year. But I'm not a buyer of shares here.
I think the company is a bit unproven as a gold miner and faces some downside risks given its elevated cash costs (AISC over $1,000 per ounce) and its debt position.
Personally, I would prefer a gold miner of this size (<$200 million market cap) to have $0 debt, given the high-risk nature of the business. So, I'm on the sidelines, as I think there are better opportunities in the sector.
Aurico Metals (OTCPK:ARCTF)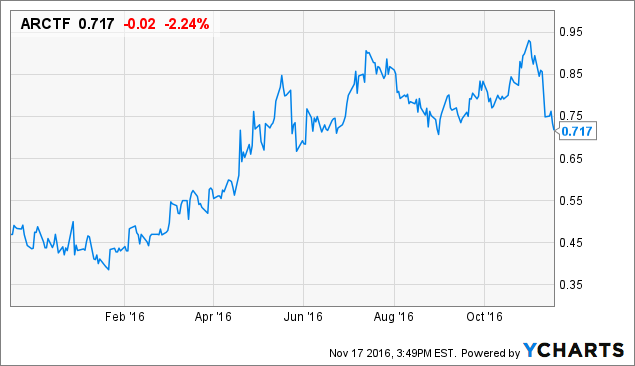 Aurico Metals is one of my top picks in the gold sector. The company was created following the merger of Alamos Gold (NYSE:AGI) and Aurico Gold.
The new company (called Aurico Metals) was formed to hold the Kemess Project (which contains over 10 million gold equivalent ounces), plus a 1.5% royalty on the Young-Davidson mine, and to hold Aurico's existing royalties on two Australian gold mines called Fosterville and Stawell. Aurico Metals now owns 5 producing gold royalties and forecasts royalty revenue between $7.7 million and $8.1 million for 2016.
I think the stock continues to trade at a low valuation, and insiders clearly feel the same way as they recently made the following purchases:
- On Nov. 11, John Miniotis purchased 4,000 shares at $1.03 per share and 25,000 shares at $1.08 per share. On Nov. 16, Miniotis also bought 25,000 shares at $1.01 per share and 19,740 shares at $1 per share. Miniotis is VP of Corporate Development at Aurico.
- On Nov. 11, Christopher Hans Richter bought 10,000 shares at $1.06 per share, 5,000 shares at $1.03 per share and 5,000 shares at $1.02 per share. Richter is the President and CEO of Aurico.
- On Nov. 14, David William Flahr bought 15,000 shares at $.97 per share. Flahr is VP of Finance at Aurico.
I think the insider buying at Aurico Metals is certainly a positive sign, and I may look to join insiders and add to my position shortly. I think the stock remains one of the most undervalued plays in the sector, and several catalysts lie ahead, including the release of new drill results at Kemess East (expected in Q4), as well as a resource update and an updated feasibility study. The stock remains my top pick for the rest of 2016 as a result.
Disclosure: I am/we are long ARCTF.
I wrote this article myself, and it expresses my own opinions. I am not receiving compensation for it (other than from Seeking Alpha). I have no business relationship with any company whose stock is mentioned in this article.
Editor's Note: This article covers one or more stocks trading at less than $1 per share and/or with less than a $100 million market cap. Please be aware of the risks associated with these stocks.