Interest rates are soaring and bond prices are plunging in the wake of Trump's victory. The treasury bill auction on Nov.14 resulted in the highest yields since 2008. The price of the 1.5% '26 U.S. treasury note has dropped to 93.0781 from 98.1953 on Sept.16 (The day after my article was published recommending selling bonds based upon my expectation of a Trump victory.) The price of the longest dated treasury, 2.25% '46, dropped even more from 95.8087 to 85.2031. This is just the start of a drastic change in the credit market.
The Nov.14 three-month bill auction resulted in a discount rate of 0.515 versus 0.420 from the prior week and the six-month was 0.625 versus 0.535. The entire yield curve has moved higher since I recommended selling bonds.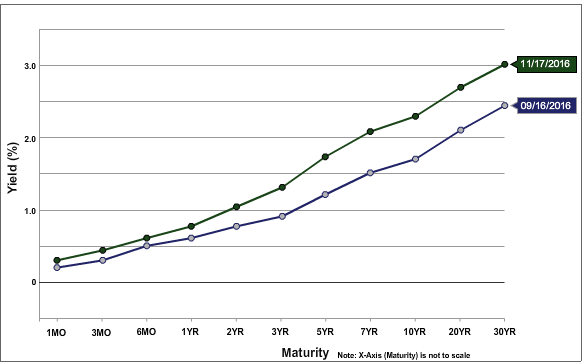 The CRB Index is often used to measure inflation and the strength of the economy. I disagree. I feel it mostly measures: 1) The impact of weather. (Success/failure of crops and heating/cooling) 2) Geo-political events (Sanctions on oil producing countries and government regulations). I think that the price of copper and zinc is a better way to measure the pulse of the economy. Zinc prices have increased to their highest level since early 2008 and copper prices have risen sharply the last few months, but still are much lower than a few years ago. These price increases suggest that investors are anticipating a more robust economy in the near future.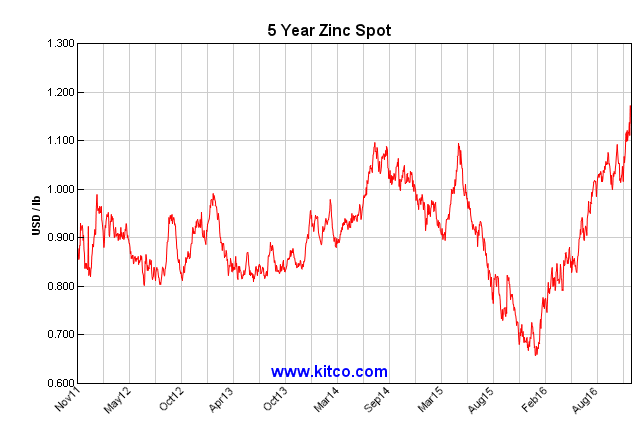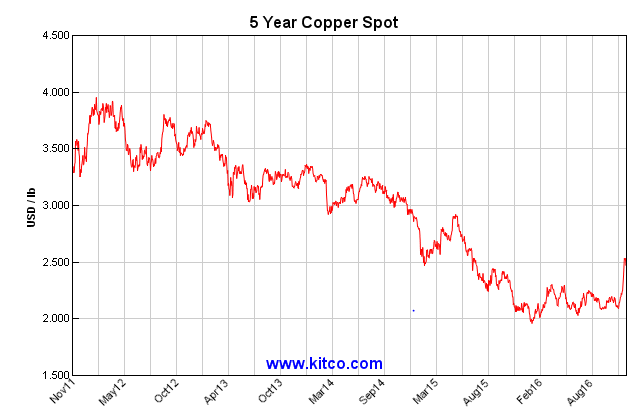 Economists who follow the monetary theory feel that inflation and interest rates will increase once the Fed ends its policy of keeping interest rates artificially low. This reasoning is based upon the dramatic increase in the money supply the last few years. In theory, when the money supply increases faster than GDP there is inflation and higher inflation leads to higher interest rates.

Click to enlarge
Federal Reserve Policy
Janet Yellen testified before Congress on Nov. 17 and stated:
At our meeting earlier this month, the Committee judged that the case for an increase in the target range had continued to strengthen and that such an increase could well become appropriate relatively soon if incoming data provide some further evidence of continued progress toward the Committee's objectives...Were the FOMC to delay increases in the federal funds rate for too long, it could end up having to tighten policy relatively abruptly to keep the economy from significantly overshooting both of the Committee's longer-run policy goals. Moreover, holding the federal funds rate at its current level for too long could also encourage excessive risk-taking and ultimately undermine financial stability.
From these comments, I would anticipate a vote in December to increase the Federal Funds target 0.25% unless some geo-political event occurs prior to the meeting.
While the Fed's quantitative easing programs have ended and they are not buying additional securities, there is the issue that the Fed still reinvests maturing securities it owns. As stated in a recent forecast from the treasury, "Treasury's borrowing from the public could rise sizably if the Federal Reserve ceases reinvestment of maturing Treasury securities held in the SOMA portfolio." This policy issue has not received much media attention, but if and when the policy changes, it could have a dramatic negative impact on credit markets.
Trump's Election
The economy was gaining some momentum (GDP growth was almost 2.9% in 3rd Q, up from only about 1% earlier in the year) prior to the election of Donald Trump. Now the focus is on his expected policies when forecasting the direction of the economy in 2017 and a possible dramatic increase in economic activity. Trump's actual statements about his specific economic ideas have been all over the map, but he has stressed increasing spending on infrastructure, re-negotiating trade deals, and reducing/eliminating government regulations. Re-negotiated trade deals could in particular result in higher domestic prices, but consumer complaints could be offset by increased domestic activity/employment.
Long-Term Issues
It will take a long time before we have a downward sloping or even a flat yield curve, which results from very restrictive Fed policies. If you look at the beginning (Sept.'07) of the Great Recession, the yield curve was flat and the rates were much higher than current rates.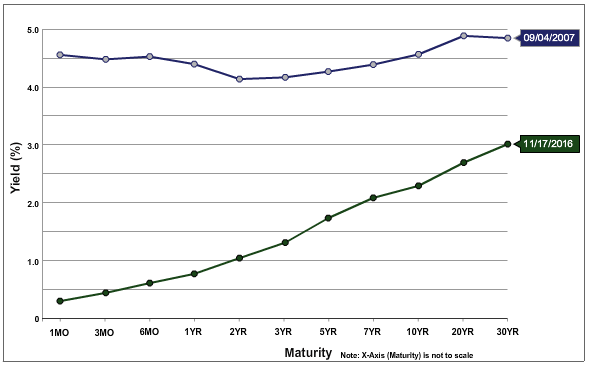 Besides looking at just the yield curves, the average marketable U.S. Treasury interest rate has dropped to 1.984% on Oct.31'16 from 4.946% on Aug.31'07. If the average interest rates do increase to 2007 levels, the federal budget deficit/borrowing would increase by $600 billion a year [(4.946%-1.984%) x over $20 trillion] just to cover the increase in borrowing costs. This drastic increase in annual borrowing could push interest rates even higher, which leads to even more borrowing. This vicious cycle could be a critical problem in the future.
Conclusion
Interest rates are ready to rise and the Fed is expected to raise its Federal Funds target at its next meeting. Key raw material prices are also increasing and the money supply continues to rise, all of which point to higher inflation and higher interest rates. When the Fed stops reinvesting its maturing U.S. treasuries portfolio, more purchases of debt by the public will be needed, putting upward pressure on rates. If the average interest rate on treasuries increases to 2007 levels, the government will have to borrow an additional $600 billion per year. Trump's aggressive program to spend more on infrastructure and stimulate business spending will also put upward pressure on rates.
The credit market could get ugly. I strongly recommend selling bonds, especially long-date and/or low coupon bonds that are more price sensitive to rate increases. I would also recommend reconsideration of other investments that trade basically on their yield.
Disclosure: I am/we are short U.S. TREASURIES.
I wrote this article myself, and it expresses my own opinions. I am not receiving compensation for it (other than from Seeking Alpha). I have no business relationship with any company whose stock is mentioned in this article.