Next Thursday, groups of eager discount shoppers will flock to nearby malls and town centers in search of holiday gifts at a low price. This is post nap-inducing meals, of course. Over the past few years, retailers have pushed the start of the event well into mid-day Thursday in hopes of attracting more consumers.
Before getting into predictions for this year's turn-out and the state of the retail sector, let's do a little re-cap of 2015.
The shopping frenzy seemed a bit muffled last year, causing retailers to panic. According to Bloomberg:
"More than 103 million people shopped online over the four-day weekend, which started Thursday on Thanksgiving and continued with Black Friday, according to an annual survey commissioned by the National Retail Federation. That compares with fewer than 102 million who ventured into traditional stores, the trade group said."
The internet was immediately bombarded with headlines such as "Forget Black Friday" or "Clicks Defeat Bricks."
Despite this, we gave the retail sector the benefit of the doubt by naming it our "Mensch of 2015." This is in part due to the fact that 40% of consumers started their holiday shopping as early as Halloween in addition to the number of big deals and investments in the sector that year. However, we also named President-Elect Trump "Schlemiel of 2015." Like Trump, the title clearly didn't hold over for certain retailers this year.
Traditional Retailers in Trouble
2016 has been the year for traditional retail store closures. According to Time, an estimated total of over 2,500 store closures will have happened in 2015 and 2016. Here's a quick overview of some of the big guys:
Wal-Mart (NYSE:WMT) is closing 269 stores, 154 in the U.S.
K-mart/Sears (NASDAQ:SHLD) plans to close 78 stores.
Macy's (NYSE:M) to close 100 of its nationwide store.
460 Sports Authority stores to shut down.
In addition, retailers such as American Apparel (OTCPK:APPCQ) have filed for bankruptcy this year as well.
The Death of Black Friday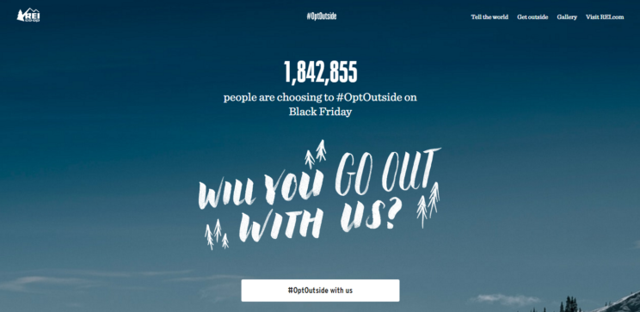 Click to enlarge
Some retailers are taking a much different strategy in order to boost sales. In mid-October, outdoor gear and apparel retailer REI announced that it would be closed on Thanksgiving and Black Friday for the second year in a row. It also will not process online sales on Black Friday, but pay all 12,287 employees to take the day off.
The strategy worked for the retailer last year. In 2015, their social media hashtag #OptOutside gained national media attention and started a movement to abstain from Black Friday Frenzy. What a way to stand out, right?
Unlike the above-mentioned companies, REI is showing a promising 6%-7% increase in sales for 2016.
A State of Change
We're clearly trending towards a changing retail landscape. Let me reiterate: retail is NOT dead. But Black Friday may be.
Throughout the year we saw the sector shift in a number of ways:
Food & Beverage: Barnes & Noble (NYSE:BKS) plans to incorporate beer and wine cafes in 2017.
Digital Natives move to B&M: Companies which gained traction on the internet, like Julep and Warby Parker, opened a number of stores this year.
Social Sharing: Bigger brands are offering Wi-Fi in their stores in hopes that shoppers will promote their brand via Instagram or Snapchat. What's better than free marketing?
Spectacle & Experience: Millennials value experience more than anything. Knowing this, brands have experimented with making their stores more than just a place to shop. For instance, Levi's incorporated a mini-museum into their flagship store.
Augmented Reality: Remember Pokemon Go?
Gravitating away from chains, into alternative methods such as pop-up shops have also been retail trends we've seen throughout the year. After all, bigger isn't always better.
We talked to Herb Heiserman, Managing Principal at Streetsense, a few months back and he had a good bit to say on the matter. In terms of creating experience in brick and mortar, Herb commented:
"You can't fake texture. I think it's about connecting to the story on a subconscious level. For example, the stories behind Warby Parker and Toms are about giving back and they resonate with today's consumer. Not only that, but they're economical, very strategic about their real estate, and are actively relating to their customer. They're very smart about using the retail environment as a billboard and using the in-store experience to drive brand loyalty more so than direct sales. They're a prime example of brick-and-mortar alive and kicking. They're expanding tremendously."
In the age of E-commerce, Amazon (NASDAQ:AMZN) (which is opening physical stores, by the way) and the "everyday discount," of course Black Friday sales would decrease. And, guess what? I highly doubt sales are going to skyrocket this year. But don't let that or failing department stores and chains speak for an entire sector which is simply evolving.